A lot of buzz about nothing over the past two days about the alleged remarks of Nokia's CEO contemplating the possibility of Nokia (NYSE:NOK) building an Android phone.
The whole incident has to do with a mix-up in the translation and Nokia itself had to provide a transcript to clear things up.
The original text from the Spanish-language newspaper El Pais was reported by many different sources as:
In the current ecosystem wars we are using Windows Phone as our weapon. But we are always thinking about what's coming next, what will be the role of HTML 5, Android... HTML5 could make the platform itself-being Android, Windows Phone or any other-irrelevant in the future, but it's still too soon to tell. Today we are committed and satisfied with Microsoft, but anything is possible.
However when Nokia sent its own transcript, the translation reads like this:
So, the way I think about it is, in the current war on ecosystems, we are fighting with Windows Phone. That's what we're doing. Now, what we're always doing is asking, how does that evolve? What's next? What role does HTML5 play? What role does Android or other things play in the future? We're looking further into the future, but it terms of what we're bringing to market, and what we're immediately focused on, we're focused on Windows Phone.
There are many reasons why Nokia should not - even if it could - incorporate the Google (NASDAQ:GOOG) Android operating system in its smart-phone lineup at the present time.
The first reason is that Windows 8 just came out and it would be a very premature move on the part of Nokia. First you have to give your new smartphone lineup and Windows 8 a chance and then contemplate such a move. Even the thought that Nokia might do something like that would be enough for the stock to tank overnight.
Another reason is that Microsoft (NASDAQ:MSFT) at the moment is Nokia's biggest partner in the smartphone operating space. Nokia has been given wide support from Microsoft in many respects. When you have a partner like Microsoft, it's not so wise to make them an enemy and lose that support and respect. Part of that support (as many analysts speculate) has to do with the fact that Microsoft is probably funding a portion of the Lumia phone carrier subsidy. Nokia can use all the help it can get at the moment, because it doesn't exactly have Microsoft's cash hoard.
Also, Nokia offers the premier handset for the Windows 8 operating system. There are tons of Android makers but only Nokia has such a value added smartphone lineup. Why would anyone want to lose this status and incorporate Android at the moment? As you probably read, HTC's profits fell 79% amid competition in the recent quarter. The Android space is not exactly a free ride.
There really is no reason I can find for Nokia to make such a move at the moment - or probably in the future either. And if by some chance Nokia decided to pull a stunt like this in the future, I would change my stance on the stock in the blink of an eye.
Where I come from a saying goes, "it's better to be someone important in the village than an ordinary person in the city." And right now Nokia is the king of the hill in the Windows 8 smart-phone space. There is no reason to change that.
And last but not least, Nokia's stock is performing very nicely over the past several months. Why would anyone want to mess things up now?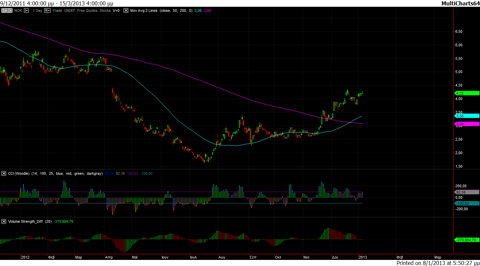 On a pure technical note, the stock is trending above both its 50 and 200 day moving average. That is not only bullish, but it is also a sign that the stock be in a long-term uptrend.
Once again let me reiterate my buy recommendation on Nokia (read all my Nokia logic here) with the possibility for the stock to be a multiple bagger (ever from these levels) if the new line of Lumia phones are a success. Any meaningful correction should be seen - until further notice - as a buy opportunity.
Disclosure: I have no positions in any stocks mentioned, and no plans to initiate any positions within the next 72 hours. I wrote this article myself, and it expresses my own opinions. I am not receiving compensation for it (other than from Seeking Alpha). I have no business relationship with any company whose stock is mentioned in this article.