One stock that I have been buying on the dips is Map Pharmaceuticals (NASDAQ:MAPP). It has been consolidating since the highs and I expect a breakout soon. In late November, MAPP reported that the FDA has accepted for filing its New Drug Application (NDA) resubmission for the Lexadex orally inhaled migraine medication for the potential acute treatment of migraine in adults. The agency has set a target date of April 15th under the Prescription Drug User Fee Act. The company's application for LEVADEX was rejected by FDA back in March 2012. Rejection was as a result of some issues with chemistry, manufacturing and controls. Interestingly, there was no clinical or safety issues.
MAPP, a development stage company, focuses on the enhancement of the therapeutic benefits and commercial attractiveness of proven drugs in the field of neurology through its formulation and inhalation technologies. The company's lead product candidate includes LEVADEX, an orally inhaled version of dihydroergotamine mesylate (DHE) that has completed Phase III clinical trials for the acute treatment of migraine in adults.
Overview
Fundamentally, MAPP has been strong. Here are some of the key factors.
Market capital - $566m
Total cash - $114.22m
Float - 29.72m
% of float short - 25.40%
% held by Institutions - 86.7%
Total debt - $0
As you can see the company has no debt, and thus the risk of a secondary offering (most commonly seen in biotech companies) is quite low. A low float with such a high 25% short interest can initiate a short squeeze and with the upcoming PDUFA in April, I expect higher prices into the next 4 months.
Also note that net institutional purchases in the current quarter was at 3.9M shares, which represents about 13.12% of the company's float of 29.72M shares.
Technical analysis
If we look at the daily chart, one can see that MAPP has been consolidating nicely between the $12 and $16 range. What I find interesting, however, is that the volume has been greater on green days versus red days. The spike at the end of November looks good for higher prices going into the next few months. Resistance currently at around $16, once this breaks out, next target is $20$.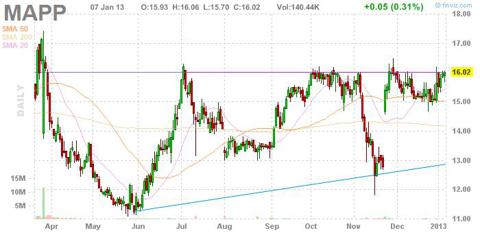 More of the same can be observed in the weekly chart. Great consolidation.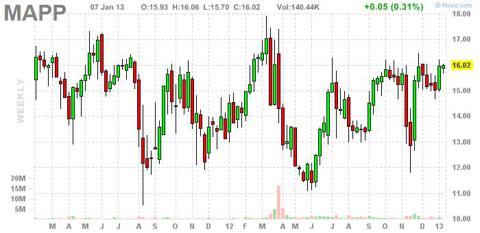 Recent analysts recommendation
JPMorgan continues to believe that Leavdex will be approved and maintained an overweight rating on the stock. Levadex could provide annual sales of as much as $500 million if it's approved, said J.P.Morgan analyst Jessica Fye in a research note. She is optimistic about its chances of approval.
Partnership
MAPP's CEO stated last year "Allergan is an established leader in neurosciences with a proven track record of scientific innovation, securing FDA approvals and commercializing products to neurologists and pain specialists in the United States," said Timothy S. Nelson, MAP Pharmaceuticals' President and Chief Executive Officer. "Their commitment to neurosciences and their understanding of the needs of our target physicians for LEVADEX™ have been demonstrated through the ongoing evolution of BOTOX®, including its recent FDA approval for Chronic Migraine patients. They are the ideal partner to help us best serve this specialty segment and to provide the resources needed to successfully launch and commercialize LEVADEX™ upon potential FDA approval."
MAP will receive a $60 million up-front payment from Allergan (NYSE:AGN) and up to $97 million in additional payments upon meeting certain regulatory milestones associated with the initial indication. If LEVADEX™ receives FDA approval, the companies will equally share profits from sales of LEVADEX™ generated from its commercialization to neurologists and pain specialists in the United States.
Conclusion
My target for MAPP remains $20 until April. FDA approval, which is highly likely, will push this over new highs and since there is no resistance above $20, I expect a new uptrend going forward. Target of $30 by end 2013.
Disclosure: I am long MAPP. I wrote this article myself, and it expresses my own opinions. I am not receiving compensation for it (other than from Seeking Alpha). I have no business relationship with any company whose stock is mentioned in this article.