Company Profile
DreamWorks Animation (NASDAQ:DWA) was originally a business division of Old DreamWorks Studios, the diversified entertainment company formed in the early 1990's by Steven Spielberg, Jeffrey Katzenberg and David Geffen. In October 2004, DreamWorks Animation was spun-off and its Class A common stock began trading on the New York Stock Exchange. DreamWorks Animation creates high-quality entertainment, including CG animated feature films, television specials and series and live entertainment properties, meant for audiences around the world. The company has world-class creative talent, a strong and experienced management team and advanced filmmaking technology and techniques. DreamWorks has been named one of the "100 Best Companies to Work For" by FORTUNE Magazine for four consecutive years. The company currently ranks #14 on the list. All of DreamWorks Animation's feature films are produced in stereoscopic 3D. The company has theatrically released a total of 25 animated feature films, including the franchise properties of Shrek, Madagascar, Kung Fu Panda, How to Train Your Dragon and Puss in Boots.
Feature Film Business
During the last fifteen years, DreamWorks has created some of the best and most memorable CG animated films of all time. For example, Shrek 2, which was released in May of 2004, is currently the highest grossing animated film of its kind, grossing over $560 million domestically (inflation-adjusted) and over $1 billion worldwide (inflation-adjusted). In fact, if we look at the top 20 CG animated films ranked by domestic gross revenue, we see that DreamWorks makes up almost half that list.
The main problem that I have is with the company's limited release schedule, a box-office flop could significantly impair annual earnings and cash flows. For example, a movie that bombs for a larger studio like Warner Bros. (NYSE:TWX) is much easier to absorb given the high number of films released each years. Although, I do have to give management credit; it is trying to create more films per year. When DreamWorks was spun off back in 2004, it was producing two films per year. In 2009, it accelerated to five films every two years. More recently, the company announced that it will now do three films per year from 2013-2016. I believe that this larger annual release schedule is likely to create more stable financial results for the company.
Here is a list of the upcoming releases:

Investors might notice that a good portion of the future release schedule is comprised of sequels. The company's long-term goal is to release at least one sequel film every year. With an entrenched fan base, sequels are inherently less risky and provide the opportunity to generate additional profits through increased home video sales, merchandising, and licensing.
The first film that the company will release in 2013 will be The Croods. The story is about the world's very first prehistoric family going on a road trip to an uncharted and fantastical world. The trailer looks amazing and I expect the film to do very well. Another movie that I am looking forward to is Turbo, which will be the company's second release in 2013. This film is about a freak accident that might just help an everyday garden snail achieve his biggest dream: winning the Indy 500. The third and final film getting released in 2013 is called Mr. Peabody & Sherman. It is about a young boy and his dog, who happens to have a genius-level IQ, they spring into action when their time-travel machine is stolen and moments in history begin to be changed. The trailer is not out for this yet, but it sounds like it will be another excellent film.
Usually the opening week determines whether or not a film will be a success. Historically, the average DreamWorks release earned approximately $52 million, or 27% of its total domestic gross in the opening week. Additionally, the average DreamWorks film grosses approximately $500 million worldwide. If just one of these movies happens to be the next Shrek, it could gross over $1 billion worldwide. From what I have seen so far, there is a good chance of this happening. Overall, I expect the company to have a very good year in 2013.
Non-Feature Film Business
In recent years, DreamWorks has commenced a number of initiatives aimed at further capitalizing on its franchise film properties, such as Shrek, Madagascar, Kung Fu Panda and others. These business initiatives seek to diversify the company's revenue streams by exploiting the film properties in other areas of family entertainment, including the following:
Television Specials and Series
The animated television series, The Penguins of Madagascar, based on the company's film Madagascar, debuted on the Nickelodeon network in March 2009. The company also has a television series called Kung Fu Panda: Legends of Awesomeness, which debuted on Nickelodeon in late 2011. The company's newest series, Dragons: Riders of Berk, based on the company's film How to Train Your Dragon, first aired on Cartoon Network in August 2012. The company is also bringing its Monsters Vs. Aliens film to the small screen with a new animated television show. So far 26 episodes have been ordered and should debut on Nickelodeon some time in 2013.
The company has also produced many half-hour television specials based on its films. Christmas specials include Shrek the Halls, Kung Fu Panda Holiday, and Merry Madagascar. Halloween specials include Monsters Vs. Aliens Mutant Pumpkins From Outer Space and Scared Shrekless.
Live Performances
From December 2008 until January 2010, the company's Shrek the Musical ran on Broadway. The play is based on the Company's 2001 theatrical release, Shrek. From July 2010 until July 2011, the company also operated a national touring production of the play. A separate production of the play opened in London in May 2011. During 2011, the company operated a live show in the United States based on the film Madagascar. The company is also currently doing a live show based on its highly successful film, How to Train Your Dragon and is developing a live show based on Kung Fu Panda.
Online Virtual World
The company's online virtual world based on the film Kung Fu Panda became available to the public in March 2010. The virtual world is aimed at children ages seven through thirteen. The company currently realizes revenue from the virtual world through user subscription fees and advertising.
Recent Events
Chinese Joint Venture
In February of 2012, DreamWorks announced that it will create a China joint venture called "Oriental DreamWorks." According to management, the purpose of the joint venture will be to create a leading China-focused family entertainment company engaged in the acquisition, production and distribution of original content originally produced, released or commercially exploited in the Chinese language for China and, as agreed upon by the partners, for the rest of the world. The joint venture will encompass animated and live action motion pictures and television programing, an interment distribution platform, live shows, theme parks, animation parks, mobile, online, interactive games and related consumer products. The business of the joint venture will be conducted in China, with the potential for expansion into such other markets in the world as may be approved by the board of directors of the joint venture.
So far things seem to be moving according to plan. In a recent article by Reuters, DreamWorks and its Chinese joint venture partners announced that they will open a theme park in Shanghai by 2016, with a total investment of over $3 billion. They will also cooperate to produce Kung Fu Panda 3, which should get released in early 2016.
In my opinion, the expansion into China makes economic sense. In the first quarter of 2012, China overtook Japan as the world's second-biggest cinema market. China's film industry is growing at an astonishing rate. For example, China added on average eight screens per day in 2011. No nation in the world grew at that fast pace. Despite its rapid growth, China's film industry is still largely untapped as the average Chinese person only goes to the cinema 0.3 times per year, compared with over five times annually in Iceland, the top movie-going country.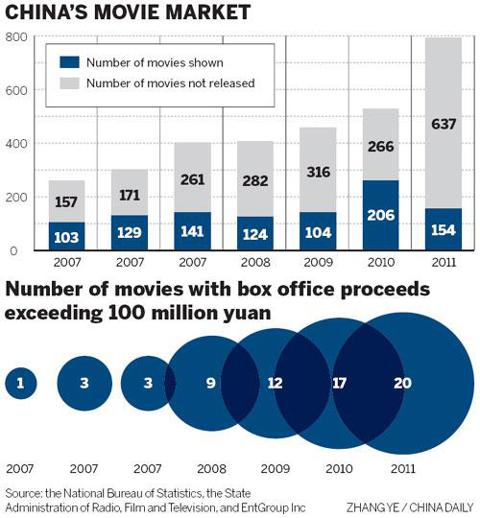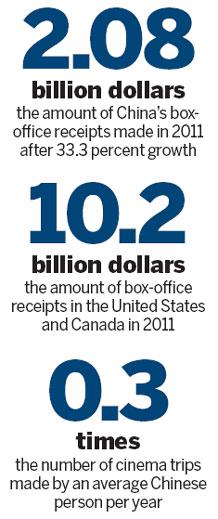 Source: china.org.cn
Business Acquisition
On August 29, 2012, DreamWorks completed its acquisition of Classic Media by purchasing all of the stock of its parent holding company, Boomerang Media Holdings. Classic Media is a global media company with an extensive portfolio of family-oriented television, film and publishing properties. Classic Media now operates under the brand name "DreamWorks Classics." The company paid approximately $158 million in net cash consideration for this transaction. For the twelve months ended February 29, 2012, Classic Media earned net revenue of $82 million and operating profit of approximately $19 million. DreamWorks had to pay 8.3 times operating profit in order to acquire some of the most beloved cartoon franchises in history. The price paid was very reasonable, in my opinion. It is important to note, however, that there might be some complications in the future. For example, Classic Media does not own all of its characters outright so it might take a couple of years to get rights issues sorted out. However, I think this is only a minor setback and should not be a long-term problem for the company.
In case you are wondering, here is a full list of Classic Media's characters, which appear in over 450 titles and 6,100 episodes of their respective shows:
Archie, Baby Huey, Basil Brush, Boris & Natasha, Bravestarr, Casper the Friendly Ghost, Dick Tracy, Doctor Solar Man of the Atom, Dudley Do-Right, Ethelbert the Tiger, Fabulous Funnies, Fat Albert, Felix the Cat, Finley the Fire Engine, Fractured Fairy Tales, Frosty the Snowman, George of the Jungle, Gerald McBoing Boing, Godzilla, Groovie Gollies, Guess with Jess, Gumby, He-Man, Hot Stuff, Lamb Chop, Lassie, The Little Drummer Boy, Little Golden Books, Little Lulu, The Lone Ranger, Magnus Robot Fighter, Mr. Magoo, Mr. Peabody & Sherman, Pat the Bunny, Peter Cottontail, Postman Pat, Richie Rich, Rocky & Bullwinkle, Roger Ramjet, The Roy Rogers Show, Rudolph the Red-Nosed Reindeer, Rupert Bear, Sabrina the Teenage Witch, Santa Claus is Comin' to Town, The Secrets of Isis, Sergeant Preston of the Yukon, Shazam!, She-Ra, Tinga Tinga Tales, Transformers: Animated, Turok, Underdog, Voltron, Wendy the Good Little Witch, Where's Waldo?
There are three main reasons why I believe DreamWorks made this acquisition. The first thing that the company plans on doing is to develop new adventures for this library of characters on the big screen. In fact, DreamWorks has already gotten started on a Mr. Peabody and Sherman movie, getting released in the fourth quarter of 2013. Furthermore, the acquisition of Classic Media's extensive library revenue stream will support its ongoing diversification strategy. And lastly, this acquisition coincides with the company's recent announcement of a DreamWorks' themed amusement park, which I will talk about next, so maybe we will be able to see a lot of the characters walking around that park in the near future. There are also plans to start a DreamWorks branded channel in the near future. However, management has stated that it was too soon to say if the channel would be cable or digital, or in what part of the world it would debut. We should get more information on this in the next couple of quarters.
Theme Park
DreamWorks recently announced that it will open a theme park in New Jersey. According to management, at this time it will only be involved in this project by licensing the rights to its characters and storytelling. The "American Dream" mall would be the first wholly themed DreamWorks park. It would be the first theme park based on the studio's animated movies since DreamWorks's earlier plan for a park in Dubai failed to work out. The indoor theme park would include rides, attractions and a glass-enclosed wave pool incorporating characters from the studio's movies. Dreamworld, a theme park in Australia, features some DreamWorks characters but not exclusively. The New Jersey theme park is set to open in early 2014.
Management
Jeffrey Katzenberg is DreamWorks Animation's CEO and sits on its board. Before co-founding DreamWorks LLC ("Old DreamWorks Studios") with Steven Spielberg and David Geffen in 1994, Katzenberg ran Disney's motion picture division and was responsible for developing such hits as Who Framed Roger Rabbit (1988), The Little Mermaid (1989), Beauty and the Beast (1991), Aladdin (1992), and The Lion King (1994). Mr. Katzenberg has helped turn DreamWorks into one of the best animation studios in the world. Under Mr. Katzenberg's leadership, DreamWorks became the first studio to produce all of its feature films in 3D and in 2010 became the first company to release three CG feature films in 3D in a single year. It would be difficult to name anyone better suited for this job than Mr. Katzenberg.
DreamWorks has two share classes with different voting rights, and members of the founding group still control more than two thirds of DreamWorks' votes. Given this, outside investors have little say in what happens at DreamWorks. Currently Mr. Katzenberg controls approximately 15% of Class A common stock (including convertible Class B shares).
Risks
Piracy and shifting consumer preferences could severely weaken DVD sales, a major source of profits for all movie studios for the last decade.
Because of the company's limited release schedule, a box-office flop could significantly impair annual earnings and cash flows. It is extremely difficult to forecast a movie's performance before its release, especially for non-sequel movies.
The company currently derives substantially all of its revenue from a single source, the production of animated family entertainment, and the lack of a diversified business could adversely affect the company. For example, unlike DreamWorks, many of the major studios are part of corporate groups that include television networks and cable channels that can provide a stable source of earnings and cash flows that offset fluctuations in the financial performance of their feature films.
Animated films typically take longer and are more expensive to produce than live-action films, which increases the uncertainties inherent in their production and distribution. The typical DreamWorks animated film takes three to four years to produce after the initial development stage, as opposed to an average live-action film, which can be produced in less than one year. Additionally, the average budget for a DreamWorks film is $150 million, which is much higher than even that of a big-budget live action film.
A more near-term risk that investors should consider has to do with the company's most recent theatrical release Rise of the Guardians, which so far has been a huge disappointment. The film cost about $145 million to make, and it has generated $260 million in global box office ticket sales since its debut in late November, well below that of a typical DreamWorks Animation movie. Before DreamWorks can make a profit on the movie, its distributor needs to recoup all its expenses plus pocket 8% for itself. That is the hurdle a DreamWorks movie has to clear before it even reports any revenue. Since the entire undertaking shared by the studio producing the movie and the distributor is approximately $300 million, DreamWorks will most likely be forced to record a large write-down next quarter. In other words, the company will report lower earnings than investors expect and the share price will most likely suffer because of it.
Fundamentals
Financial Health
As of September 2012, the company had $131 in cash and $200 of outstanding debt. The company also has some operating leases (off-balance sheet), which amount to approximately $63 million when capitalized. Overall, DreamWorks' financial health is solid.
Profitability
DreamWorks has not been the most consistently profitable company in the past; this is due to its limited film release schedule, which I said was one of the risks associated with investing in this company. However, as the company continues to grow its film library and as it continues to diversify its business operations, I believe this will change.

As can been seen from the table above, the company's most profitable year was in 2004, which is the same year Shrek 2 was released and ended up being the highest grossing CG animated film of all time. That alone gives further proof about why this company is so dependent on the limited number of films it releases each year. During the last decade, the company's average net margin was 9.5% and its average owner margin was 3.7%. I expect margins to improve significantly in the next few years as the company begins releasing more movies per year and further diversifies its business.
Growth
DreamWorks is not what one would call a "growth company." Because of the timing and varied success of its films, the company's revenue growth ranged from 258% in 2004 to negative 57% in 2005. While the hit-and-miss nature of the film business will lead to some volatility in revenue, I believe the company's revenue will be a bit more stable than in the past. Since the company is releasing three films in 2013, which from the looks of it could be very successful, I would not be surprised to see revenue growth exceed 15% for the year.
Valuation
DreamWorks is an extremely difficult company to value. The company's past earnings and cash flow have been so inconsistent that it would be impossible to make any reliable projections. However, it is not necessary to make precise projections in order to know whether a company is attractively priced or not. First, I want to talk about the company's earning power (historical owner earnings). The company's ten-year weighted average owner earnings are approximately $59 million.

The company's current enterprise value is $1.5 billion, which gives us an earnings yield of about 3.9% (owner earnings/enterprise value). If this is all we had to go on, DreamWorks would seem like it is overpriced. However, after spending countless hours studying this business, I believe the current price per share is a good entry point for long-term investors. I am very optimistic about the company's future revenue opportunities both within and outside the United States. As I already mentioned before, the company will increase the number of films it releases annually. One extra film per year can make a huge difference for this company, even if it happens to be only moderately successful. Furthermore, the company's growing film library, its diversification into other areas such as theme parks in China and the United States, the possibility of a DreamWorks branded channel, the various television series and specials, the live performances, and numerous other initiatives will ensure a more stable future revenue stream for the company. In other words, I expect this company to have significantly higher revenues and profit margins in the coming years, and I expect those revenues and margins to be more consistent than they were in the past. These two things will have a positive effect on the company's share price.
Conclusion
With a stock price below $17 per share, DreamWorks is an extremely attractive investment for patient investors. The next few months are an excellent time to begin accumulating shares for a long-term position. Although, investors who want to minimize their potential losses should wait until after the company releases its annual report. I expect the company to report a substantial loss since its most recent film has been a disappointment at the box office. However, this is only a short-term setback for the company and I expect it to have a great 2013. In fact, this is one of my highest conviction picks for 2013!
Disclosure: I have no positions in any stocks mentioned, and no plans to initiate any positions within the next 72 hours. I wrote this article myself, and it expresses my own opinions. I am not receiving compensation for it (other than from Seeking Alpha). I have no business relationship with any company whose stock is mentioned in this article.