It was only a few years ago when Colombia emerged as one of the hottest oil plays in South America and it saw a number of Canadian oil explorers and producers enter the country. On the back of new discoveries companies such as Pacific Rubiales (PEGFF.PK), Petrominerales (OTCPK:PMGLF) and Gran Tierra Energy (NYSEMKT:GTE) saw their share prices surge. It also saw a number of micro-cap companies like Canacol (CAAED.PK) and C&C Energia (CZE.TO) enter the fray.
Yet over the last year, many of these Canadian-domiciled independent oil and gas explorers and producers have fallen into disfavor with investors and seen their share prices fall significantly. This sharp decline in share prices, in conjunction with emerging positive catalysts, including signs of Colombia's decade-long civil conflict ending, has created a number of value investment opportunities for risk-tolerant investors. Pacific Rubiales, the second-largest operator in Colombia by proven reserves and production, is down by 28% from a March 2012 high of $31.36. I believe this has created a deep value investment opportunity for investors seeking exposure to Colombia's oil boom, with more than 50% upside for risk-tolerant investors.
The company
Pacific Rubiales is the second-largest oil producer in Colombia on a proven reserves basis, and it engages in the exploration, development, and production of oil and natural gas in Colombia, Peru and Guatemala. The majority of its assets are located in Colombia, including operations in all of the major oil basins as well as interests in a number of oil pipelines and other midstream operations as the chart below illustrates.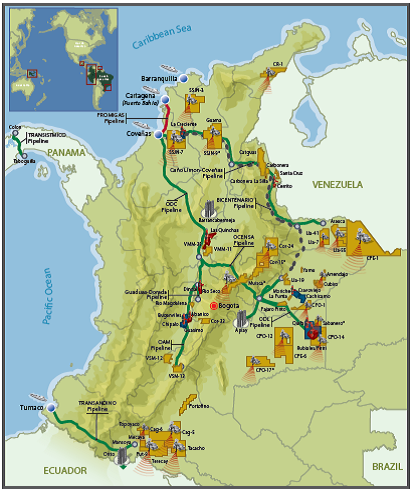 Source: Pacific Rubiales Investor Handout December 2012.
The company also has a number of assets outside of Colombia, including offshore assets in Brazil and Guyana and onshore assets in Peru, Guatemala and Papua New Guinea, as the chart below illustrates.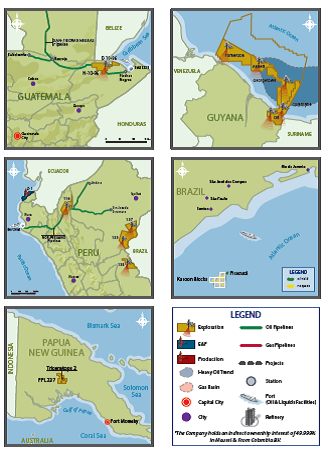 Source: Pacific Rubiales Investor Handout December 2012.
Pacific Rubiales currently has 72 blocks consisting of 14.4 million net acres across the six countries where it holds assets. The company had 409 MMBOE of 2P reserves, but with the recent acquisition of C&C Energia this has increased to 427 MMBOE, cementing its position as the largest operator in Colombia by proven reserves after state controlled Ecopetrol (NYSE:EC), as the chart below illustrates.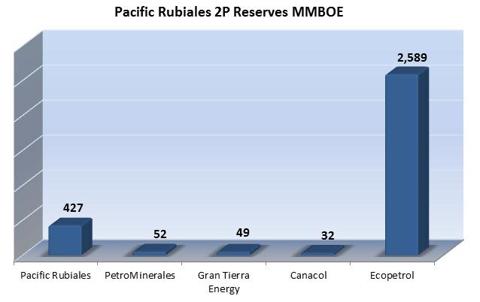 Source data: Pacific Rubiales Investor Handout December 2012,Petrominerales' Exploring Beyond Corporate Presentation July 2012', ,Canacol Energy Investor Presentation December 2012, Gran Tierra Energy Inc AGM Presentation June 2012 and Ecopetrol Q2 2012 results.
*NB: Pacific Rubiales 2P Reserves include those acquired part of the late December 2012 acquisition of C&C Energia totaling 18.5 MMBOE.
The company is also the second-largest producer in Colombia, reporting for the third-quarter 2012 average daily production of almost 241 MBOED in Colombia, and total production of almost 244 MMBOED across its fields in Colombia and Peru. This daily production is projected to increase by around 11.5 MBOE with the acquisition of C&C Energia. Furthermore, in 2011 the company was the single-largest contributor to Colombian national production growth accounting for 41% of total production growth, outstripping even Ecopetrol as the chart below shows.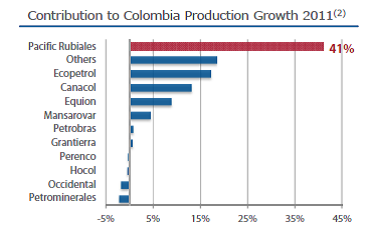 Source: Pacific Rubiales Investor Handout December 2012.
All of these attributes illustrate that Pacific Rubiales has a strong base, solid production levels and diversified exploration opportunities, all of which bodes well for the company's ongoing growth. These attributes I believe also indicate that Pacific Rubiales is incorrectly valued by the market and in conjunction with a number of growth catalysts now emerging Pacific Rubiales now presents as a value investing opportunity.
Key Catalyst One: Improving Security Situation
As I have written in two recent articles on Canacol and Ecopetrol, the Colombian government is currently engaged in peace talks with the largest belligerent guerrilla group the FARC. In conjunction with this the second-largest belligerent group the Ejército de Liberación Nacional (ELN) has expressed a desire to enter into peace negotiations with the government. This has seen a marked decline in the number of attacks on oil infrastructure, in particular the highly vulnerable oil pipelines, which the oil companies operating in Colombia rely upon for transportation due to the poor road and other transportation infrastructure in the majority of the regions in which they operate. This has therefore reduced the risk of production outages for all operators in Colombia, and allowed them to focus on increasing production.
This also contributes to reduced transportation costs and allows operators to develop new discoveries at full throttle rather than having development constrained by an erratic transportation infrastructure. The improving security situation now allows operators greater scope for exploration in a country where only 30% of it has been explored for the presence of hydrocarbons. All of which bodes well for Pacific Rubiales to be able to reduce its transportation costs, focus on continuing to grow production and expand its exploration operations.
Key Catalyst Two: Strong Cost Control Creates Solid Margins
Pacific Rubiales continues to maintain solid control of costs as seen by the company's COGS to revenue ratio, which for the third-quarter 2012 was 35%. While this ratio is higher than many of its small-cap peers in Colombia, such as Gran Tierra and Petrominerales with 22% and 28% respectively, it is superior to Ecopetrol at 62% as the chart below illustrates.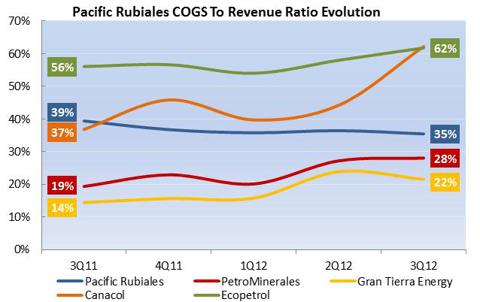 Source data: Pacific Rubiales, Petrominerales, Gran Tierra, Canacol and Ecopetrol Financial Statements 3Q11 to 3Q12.
This has allowed Pacific Rubiales to consistently maintain solid margins that have allowed it to remain profitable in a difficult operating environment.
As the financial snapshot below illustrates the company's third-quarter performance was disappointing, with revenue falling QoQ by 17% but increasing moderately by just fewer than 7% YoY to around $867 million. Net income fell significantly both QoQ and YoY by 69% and 63% respectively to just under $69 million. EBITDA also declined QoQ by 19%, but grew by 4% YoY to $483 million.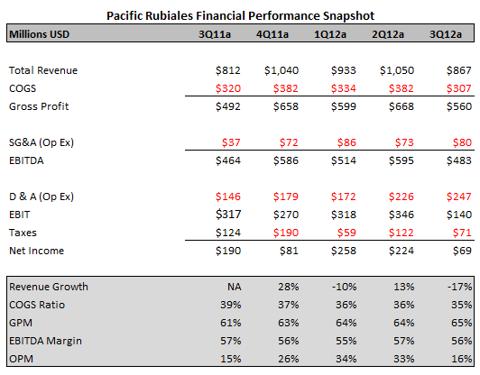 Source data: Pacific Rubiales Financial Filings 3Q11 to 3Q12.
The significant decline in net income can be attributed to higher general and administrative expenses relating to a series of asset acquisitions completed in the third quarter, non-cash losses on hedge contracts and losses on equity-accounted investments. I would expect to see financial results improve in 2013 as these acquisitions are bedded down, although on December 31, 2012, Pacific Rubiales closed the acquisition of C&C Energia. This will see further cost impacts as the business is integrated through 2013.
Surprisingly despite the disappointing financial performance Pacific Rubiales was able to maintain an impressive EBITDA margin of 56% in the third quarter, which is the second best among its Colombian peers as illustrated by the chart below.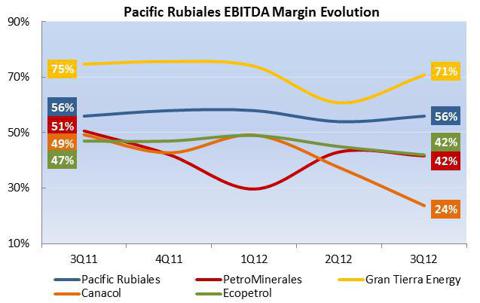 Source data: Pacific Rubiales, Petrominerales, Gran Tierra, Canacol and Ecopetrol Financial Statements 3Q11 to 3Q12.
The company's ability to consistently maintain a high EBITDA margin gives me confidence that the decline in net income can be primarily attributed to declining revenue and increased one-off expenses associated with acquisitions. It also bodes well for Pacific Rubiales' future profitability.
Key Catalyst Three: Increasing Production Combined With Hedges Will Offset The Forecast Fall In Oil Prices
The outlook for oil prices through 2013 and 2014 is bearish at this time with it predicted by Citigroup that in 2013 Brent prices will average $99 per barrel and WTI prices will average $85 per barrel. It is further forecast that in 2014 Brent will fall to an average price of $93 per barrel and WTI $83 per barrel. These forecast prices will have a negative impact on Pacific Rubiales' revenue.
However, the company has established a series of hedges using zero cost collars, swaps, call and put options to mitigate the risk created by movements in the oil price. These instruments are benchmarked against the price of WTI and have established a floor of $70 per barrel, with the details of those instruments set out in the chart below.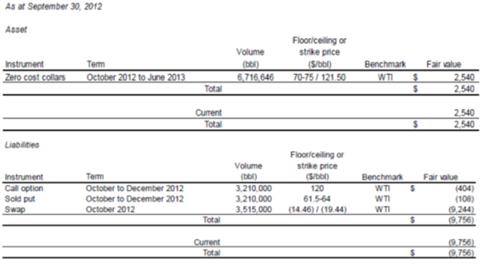 Source: Pacific Rubiales Management Discussion and Analysis For the three months ending 30 September 2012.
This fall in the price of oil will also be offset by increased production with Pacific Rubiales aggressively growing production over the last year. For the third-quarter 2012 production grew by 3.4% QoQ and 11.4% YoY to almost 244 MBOEPD as the chart below illustrates.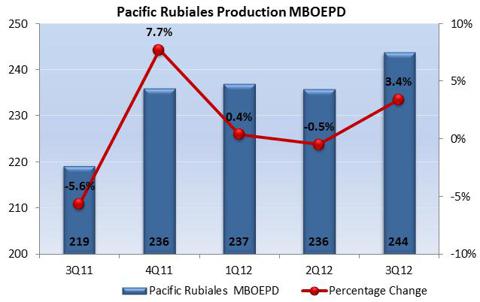 Source data: Pacific Rubiales Management Discussion and Analysis 2Q11 to 3Q12.
Another particularly positive aspect of Pacific Rubiales production is that the company is continuing to report strong netbacks. For the third quarter its crude netback was a solid $64.70 per barrel and its combined oil and gas netback per barrel was $61.42 per barrel, which was an increase QoQ of 15% and 14% respectively. The overall growth of Pacific Rubiales' netbacks over the last year is set out in the chart below.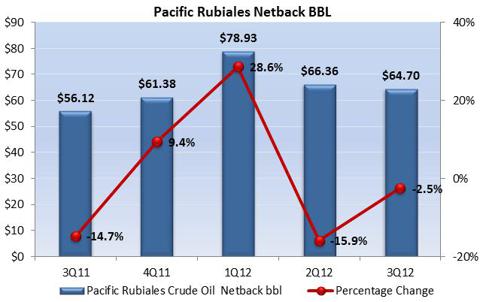 Source data: Pacific Rubiales Management Discussion and Analysis 2Q11 to 3Q12.
Overall Pacific Rubiales is generating a solid netback that is superior to many of its peers and this underscores the company's profitability. However, with the forecast fall in oil price through 2013 and 2014, I would expect this netback to fall. But increased production in combination with the company's ability to obtain a solid netback per barrel bodes well for future profitability despite the forecast drop in the price of oil.
Key Catalyst Four: Continuing Growth Through Quality Acquisitions
Pacific Rubiales has been particularly active throughout 2012 growing its operations through a series of acquisitions both inside and outside of Colombia. In July 2012 Pacific Rubiales made two acquisitions, the first being a 40% participating interest in the Portofino block. This was completed through a participation assignment agreement with Petromont for a cost so $23.5 million in cash and $2.2 million of carry obligations related to an approved exploration program. It is anticipated that the carry obligations will be recovered from the proceeds of production. The second acquisition was the purchase of PetroMagdalena for almost $227 million, which contributed an additional production of 3.6 MBOEPD, which works out at around $63,000 per flowing barrel.
The company has also just recently closed the acquisition of C&C Energia by way of plan of arrangement. This I believe is an important catalyst for Pacific Rubiales because this acquisition was made on particularly attractive terms at a cost of around $50,000 per flowing barrel. This is cheaper than many of the other small-cap operators in Colombia, such as Gran Tierra, which is priced at $73,000 per flowing barrel. In addition to which, C&C Energia reported in third-quarter 2012 a solid netback of just $59 per barrel.
This acquisition has also seen Pacific Rubiales' 2P reserves boosted by 18.4 MMBOE and added an additional 11.5 MBOEPD to its daily average production. It is also estimated that C&C Energia's production can be quickly ramped up to 15 to 16 MBOEPD, which would see Pacific Rubiales production boosted by 16% to almost 260 MBOEPD. Finally, this acquisition has diversified Pacific Rubiales production, given it access to high quality light oil production and reduced costs through marketing and transportation synergies. As a result I would expect to see the company's COGS to revenue ratio fall and this additional production will help to compensate for the loss in revenue as a result of the forecast drop in oil prices.
Pacific Rubiales is also continuing to expand its midstream business, which has seen the company actively invest in a range of oil infrastructure in Colombia. These investments include a 33% equity interest in the Bicentenario pipeline, a 33% equity interest in the Carmentea-Araguaney Pipeline and a 48% interest in the Puerto Bahia new oil export terminal. All of which bodes well for increased revenue diversification and growing exposure to Colombia's ongoing oil boom.
Key Catalyst Five: Solid Exploration Upside
Pacific Rubiales has some of the highest potential exploration assets in Colombia with 72 blocks comprising 14.4 million net acres. For 2013, the company has projected total exploration and development capital expenditures of $1.7 billion, which is a 30% increase over its 2012 expenditure. Much of this is driven by expanded exploration activities outside of Colombia, and increased development drilling within Colombia.
Of further interest is that Pacific Rubiales holds what are considered to be the most valuable set of blocks in the Southern Llanos basin where the company and its neighbors have proven the presence of a heavy oil trend. These blocks as shown by the map below are; Rubiales, Quifa, CPE-6, CPO-17, Sabanero, CPO-12 and CPO-14.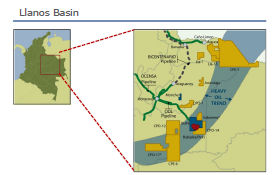 Source: Pacific Rubiales Investor Presentation December 2012.
Of particular interest is that is believed that the adjacent unexplored blocks surrounding those that are producing contain the same heavy oil formations. This essentially means that Pacific Rubiales would be able to replicate its development model from the producing blocks and rapidly bring these blocks online. The details of these blocks including those that are not producing or have proven reserves are set out in the chart below.

Source: Pacific Rubiales Investor Presentation December 2012.
It is estimated that the non-producing blocks have total combined reserves of 295 MMBOE, indicating that Pacific Rubiales is well positioned to rapidly boost its heavy oil reserves, boding well for not only increased 2P reserves but also reserve life and the company's ongoing profitability. All of which, I believe indicates that Pacific Rubiales' exploration prospects are particularly positive and will see the company able to continue increasing its proven reserves, boosting its production life and building its profitability.
Shareholder Remuneration
In the current environment dividends are particularly important for investors to consider, because historically speaking dividends have provided a considerable share of the stock market's total return. Pacific Rubiales unlike many of its smaller Colombian-based peers currently pays a dividend. But it has only been doing so for a short period, having commenced quarterly dividend payments in 2010 as the chart below illustrates.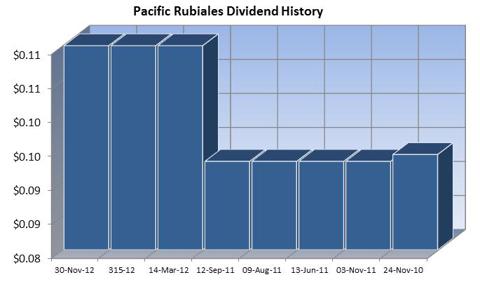 Source data: Pacific Rubiales Investor Relations.
On a trailing twelve month basis Pacific Rubiales has a dividend yield of 2%, which is significantly lower than Ecopetrol's yield of 6%. Foreign investors in Canadian companies also need to be aware that withholding tax of 25% is payable on dividends. But this can be reduced depending on the nationality of the investor, and whether there is a tax treaty in place between Canada and the country in which the investor is domiciled.
For U.S investors the tax treaty between Canada and the U.S reduces this withholding tax to 15%. In addition, there is no withholding tax payable for dividends paid to an approved pension or retirement plan, provided they are generally exempt from tax in the country of residence.
Valuing Pacific Rubiales
It is clear that these catalysts should act to boost Pacific Rubiales' share price, but the key is trying to determine what Pacific Rubiales is really worth per share and how it compares on a valuation basis with its peers. I believe that at this time Pacific Rubiales has been unfairly valued by the market with the company currently trading at a 28% discount to its 52-week high.
This sharp fall in the company's share price can in part be attributed to investors losing their tolerance for foreign risk and selling off international oil juniors from the end of 2011 and through 2012. This occurred because of a series of international events such as the 2011 Arab spring, regional events like Argentina's nationalization of YPF (YPF) in 2012 and local events such as the significant rise in guerilla attacks on oil and energy infrastructure in Colombia in the first half of 2012.

However, it this risk-averse behavior that I believe has created an opportunity for investors with regard to oil juniors operating in Colombia and in particular with regard to Pacific Rubiales. On a flowing barrels per oil basis Pacific Rubiales is particularly attractively priced at $34,216 per flowing barrel, which as the chart below illustrates, is far more attractive than many other Colombian operators.
As the chart also illustrates in comparison with the other four largest Colombian operators Pacific Rubiales also has an attractive EV/BOEPD and EV/2P reserves, which also makes it appear undervalued by the market. While these ratios underscore the value to be found in Pacific Rubiales I don't believe that they provide a complete picture as to the value investment opportunity that exists.
Accordingly, I have valued Pacific Rubiales using a net-asset-value methodology to determine the company's indicative fair value per share. To do this I have determined the present value of Pacific Rubiales' after-tax cash flows from its reserves and then divided this by the number of common shares outstanding. In using this methodology I have made the following assumptions:
I have taken Pacific Rubiales' 2P reserves of 427 MMBOE and discounted the difference between its 1P reserves of 127.6 MMBOE by 50% to represent the accepted average likelihood of those probable reserves becoming proven reserves.
I have discounted the present value of future cash-flows derived from the company's reserves by 10%.
I have discounted the price of oil (both Brent crude and WTI) over the period of the valuation by 14% to represent the bearish outlook for oil prices. This still gives an oil price that is above the floor established by the company's zero cost collars.
I have conducted the valuation over a seven-year period, which represents the production life of the company's 2P reserves.
I have calculated the present value of debt and asset retirement obligations using a 3% growth rate (representing the long-term GDP growth rate) over the period of the valuation, thus factoring in the likelihood that these will continue to grow in value as the company expands.
I have not factored in any positive increase in reserves from the company's exploration operations, despite the positive outlook assigned to these operations, because of the uncertainty that surrounds oil exploration.
After applying all of these assumptions and factoring in each of the catalysts discussed, I have determined an indicative fair value per share of almost $35 as illustrated by the chart below.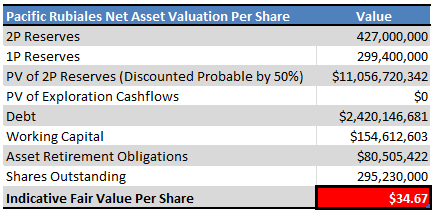 At the time of writing Pacific Rubiales is trading at around $23 per share, which means that this indicative valuation represents upside of almost 54% for investors. This I believe makes it a compelling deep value investment opportunity. It should also be remembered that this indicative fair value has been calculated using a conservative valuation methodology that has also not taken into account the probability of success of the company's exploration operations. Nor does it take into account the additional value, that any significant boost in reserves would add to the company, which given the positive outlook for its exploration operations is likely.
Bottom Line
I believe that Pacific Rubiales is the best alternative for exposure to the Colombian oil and gas industry because it has solid geographically diversified reserves, along with strong exploration upside potential. Furthermore, the company was oversold by investors on the back of risk-averse sentiment emerging from a range of events, which saw the overall political and economic risk associated with international oil juniors increase significantly.
This has created a deep value investment opportunity for risk-tolerant investors seeking exposure to Colombia's booming oil and gas industry, with the company trading at around a 50% discount to its indicative fair value. The upside potential is further underscored by the company trading with some attractive metrics, including an EV/BOEPD of around 34,000 and a price per flowing barrel of around $32,000. Finally the company's geographically diversified reserves, growing midstream business and high exploration upside bodes well for substantial long-term low risk growth.
Disclosure: I have no positions in any stocks mentioned, but may initiate a long position in PEGFF.PK over the next 72 hours. I wrote this article myself, and it expresses my own opinions. I am not receiving compensation for it (other than from Seeking Alpha). I have no business relationship with any company whose stock is mentioned in this article.