My readers know that I'm not particularly bullish about the long term prospects of Advanced Micro Devices (NASDAQ:AMD). Despite being the only company in the world other than Intel (NASDAQ:INTC) that has the rights to develop and sell X86 compatible micro-processors, and the only other company that develops high end discrete graphics processors (the other is Nvidia (NASDAQ:NVDA)), it has managed to be a long term disaster of an investment.
The company is hemorrhaging money and is playing a lot of "tricks" in order to improve short-term cash flow. An example of this is when the firm took a $320M charge in order to reduce a wafer order to its foundry partner Global Foundries from $500M to $115M. You read that right: AMD paid $320M in order to save $65M, presumably because the inventory build up of its older chips is already sky-high. The upshot, though, is that these charges don't all hit at once, but instead are spread out over multiple quarters.
So why in the world would I recommend going long this company that has managed to destroy a massive amount of shareholder value over the years and is in a precarious competitive and financial situation? Simple. AMD is amping up its hype machine and investors seem to be believing it, as per the price action in the stock. This will ignite further short covering (~20% of the float is short) until the reality of the situation sets in, hence this is an excellent time to "jump on board" for a ride to the $3.50 - $4.00 level. However, keep in mind that the company's fundamentals do not support an increase in share price and that this is strictly a trade. Here's why.
AMD Is Hyping Up A Strong Roadmap
AMD is great at over promising and underdelivering. However, the great idea here is that despite the firm's horrendous track-record, investors still seem to get excited and bid the stock up, forcing the shorts to cover.
Take the most recent roadmap that the company presented at CES 2013: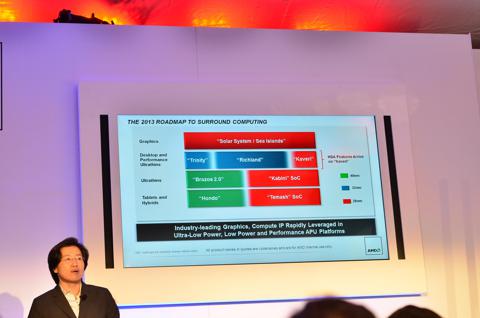 The company went ahead and announced three new major products:
"Richland" APU (a refined version of its existing "Trinity" APU built on the same 32nm process)
"Kabini" APU, which is a successor to AMD's low cost notebook/desktop offerings, built on GlobalFoundries' 28nm process
"Temash" APU, which is a scaled down version of "Kabini" for use in fanless/tablet device built on GlobalFoundries' 28nm process
To the uninitiated, this seems competitive. AMD is going to be "first to market" with a "true quad core x86 system-on-chip." This means that AMD has out-executed Intel, right? To most investors unfamiliar with what's going on, that's exactly what this looks like, which explains to rapid rise in the share price. However, there's a little more depth to the situation:
"Release" Is Not The Same As "Avai

lability"

: Th

e "Temash" SoC will be available in 1H 2013, but does that mean that devices containing the chips will actually be selling then?
The Osbourne Effect: If the above is true, then why is AMD playing up the design wins of its "Hondo" Z-60 APU? If this just-released product is so uncompetitive that it is going to be replaced in a matter of a few months, then why would OEMs have any reason to buy the current products? Why did AMD spend so much time hyping up the Vizio design win for its chip if it is going to be obsolete this quarter?
Low Power Chips Can't Sustain A Company: Notice how the least competitive part of the roadmap ("premium ultrathins" and "desktop") is the one that is the most important to the top and bottom lines. It's nice that "Kabini" and "Temash" are apparently on schedule, but the roadmap seems to indicate that the firm's 28nm update for its desktop and notebook lines will be a late 2013 affair. Keep in mind that Intel is rolling out ~7W 22nm "Ivy Bridge" products today and will refresh this lineup with even lower power and higher performance "Haswell" products all throughout 2013. AMD is not going to be competitive in the high end of the market, and will be relying on chips with ASPs of $20 - $40 to potentially drive sales in the "tablet" and "convertible" markets. Down here it not only competes with Intel, but all of the ARM (NASDAQ:ARMH) system-on-chip vendors such as Samsung, Qualcomm (NASDAQ:QCOM), and Nvidia

. There is fierce competition for the pie, of which AMD is likely to get only a small piece.

AMD's Foundry Arrangement Is Predatory: While AMD's chief competitor has a technological advantage, it also has a cost advantage. 22nm chips cost less to make (since you get more chips per wafer) and Intel does not have to pay for a foundry's margin. AMD, on the other hand, is fabless, and as such the foundry has to get its cut. But it's much deeper than that. Over the last two years, there seem to be many "Wafer Supply Agreement" amendments that always result in "one time" charges that cripple AMD's profitability. Further, AMD is now locked into an arrangement to fab all of its microprocessors at Global Foundries, and is even moving GPUs there too. It is unlikely that AMD is getting a particularly good deal there, especially given AMD's terrible gross margin profile (~44-48% traditionally) compared to other fabless semiconductors (>50% is not uncommon).
Valuation: Less Cash, More Debt, Still No Bankruptcy
AMD now believes that as a result of its restructuring, the "optimal" cash balance is about $1.1B. At the most recent update from management, the CFO noted that the firm would be at about this level by the end of the quarter.
So ... AMD was at $1.48B at the end of last quarter and will be at about $1.1B at the end of this quarter. What does this mean? AMD has already told us that it will have burned about $370M during the quarter. It's no surprise that AMD will post yet another net loss this quarter, especially with all of the "one time charges" and "payments to Global Foundries" that is has to incur.
Now, the debt situation isn't really as bad as it seems. The company has $2.04B of debt against what will likely be $1.1B in cash. With a slew of graphics and X86 processor patents, I do not see the case for bankruptcy. In the worst case, AMD downsizes even further, cuts development of internal processor cores (and sells all of its CPU patents to Intel), gets an ARM core license, and builds semi-custom system-on-chip solutions for a variety of end markets, including tablets, game-consoles, and other embedded systems. It would also have the high margin discrete graphics business to go head-to-head with Nvidia, since it no longer had to spread its resources so thinly.
Share Dilution Not Likely
Since the stock price seems to be on a nice run, another fairly easy way out for the company would be to just do a secondary offering once the share price gets to the $3 - $4 level. This wouldn't cover the entirety of the debt, but I'm sure the company could raise a solid $500M - $1B from such an offering. This would of course significantly dilute the shareholders, but the rationale there would be that this would help "fuel future shareholder returns."
That being said, I don't think it's likely. As of the most recent 10-Q, the company had $683M in accounts receivable and $744M in inventories, most of which was either work-in-progress or finished goods (only $39M in raw materials). A fire-sale dumping of this inventory (with potentially another write-down) could ease any liquidity problems that should arise. I state again: bankruptcy is not a near- to medium-term consideration.
Conclusion
As I stated before, >20% of AMD's float is sold short. If AMD doesn't go under, then these shorts will eventually have to cover. We are seeing some significant short covering now as the stock is up over 40% from the lows, and I do not believe that the covering will stop until a really negative catalyst hits. And what's the worst that could happen? Earnings estimates are lower-than-dirt, the stock price is near all-time lows, and the company is at least making an effort to look competitive, and who knows? AMD's "Kabini" and "Temash" could find a nice niche like "Brazos" and "Brazos 2.0" did. AMD just needs to realize that it can't fight Intel directly, so it needs to scale down and take its own path. It's not glamorous, but it's one way to slowly and steadily build shareholder value.
Buy AMD if you don't mind volatility and if you know what you're getting: a ticket to the short covering show. AMD isn't going to out-maneuver Intel and it's certainly going to have a tough time competing with both Intel and the ARM players in mobile SoCs. But AMD has a lot of good technology and smart engineers, and they will hopefully find a profitable niche.
Disclosure: I am long INTC, NVDA, AMD. I wrote this article myself, and it expresses my own opinions. I am not receiving compensation for it (other than from Seeking Alpha). I have no business relationship with any company whose stock is mentioned in this article.
Additional disclosure: I am short ARMH. I am short QCOM puts.