Potash Corporation of Saskatchewan (POT) is the largest and one of the lowest cost potash producers in the world. The potash segment provided 46% of the company's revenue last year, followed by phosphate (28%) and nitrogen (26%). However, profitability is largely driven by potash sales; the segment contributed 64% of the total company's gross profit in 2011, followed by nitrogen (21%), and phosphates (13%). The company's profitability is highly levered to potash prices and market outlook for the nutrient.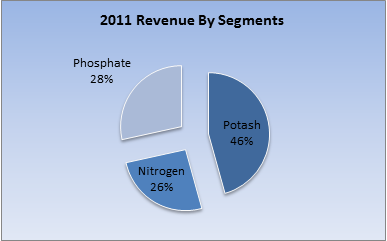 Source: Company Documents
Market Update
After a long delay, China finally settled a potash contract last week with Canpotex, the major Canadian potash export consortium representing POT, Mosaic (NYSE:MOS) and Agrium (AGU). Canpotex signed a six month (1H13) supply agreement with Chinese distributor Sinofert for 1 million tons of potash at a price of $400 per ton, a reduction of $70 from the last year's contract (March 2012). While the reduction in price was expected, the $400 per ton settlement came slightly lower than the average street expectations. On a positive side the contract volume of 1 million ton is higher than the expectations (March 2012 contract volume: 500,000 tons of potash) and more than offsets the lower contract price.
The settlement should provide a floor to global potash prices and should provide some clarity on the market for early 2013. The volumes should start to flow more smoothly now and possibly tighten towards the second half of 2013, leading to a possible price recovery in 2H13. 2013 starts with some uncertainty removed and strong demand compared to 2H12. The high volumes of shipments also indicate that inventory levels in China are not as high as previously thought.
The Chinese contract came earlier than expected, and it should prove to be a positive catalyst for global potash demand. India and the other big potash consuming regions can now also settle new contracts in the near term (earlier than previously expected). The Chinese contract should set a floor for any Indian contract price. China might end up gaining a first mover advantage. As a reminder in July/August 2011 China settled the contract first for $470 per ton and India paid a premium of $20 to $30 for settling second.
The North American inventory levels, which have risen in recent months due to a drop in exports, most notably to China and India, should also witness a favorable impact of these new contract settlements.
In addition, Mosaic's earnings release late last week gave the market what it was hoping for after the China contract settlement, an earnings beat driven by a strong domestic demand and a positive outlook on phosphate and potash demand for 2013.
POT being the largest and also a low cost producer of potash is well positioned to benefit from these improving market fundamentals. Although some uncertainty remains around the timing of the Indian contract, the settlement of the Chinese contract provides a price floor for the global potash buyers and will help unlock demand in other regions.
Financials And Valuations
POT is trading at a price to earnings (P/E) ratio of 15.6. It has a forward P/E of 12.2 and a PEG ratio of 1.0. The company has a price to book ratio of 3.7 compared to the company's own 5 year average of 4.9. It has a price to sales ratio of 4.5 against its 5 year average of 5.3. POT has price to cash flow ratio of 11.3 compared to the company's 3 year average of 12.4. POT has a dividend yield of 2.0%.
The company has debt to equity ratio of 0.42, a little higher than the industry average of 0.37. However POT is managing its debt well. It has an EBITDA to interest ratio of 33.68 much better than the industry average of 12.85, debt to EBITDA ratio of 1.04 again better than the industry average of 1.40, and CFO to total debt ratio of 0.80 slightly better than the industry average of 0.74.
Conclusion
We have a buy rating on POT. Although some uncertainties remain, such as Indian contract settlement, we expect a solid year ahead for fertilizer producers particularly POT and MOS. The total global shipments of potash and phosphates are still expected to grow substantially over 2012 volumes.
The Chinese contract settlement and positive earnings release by MOS are pointing in the right direction. MOS said in its recent earning release that it expects a settlement on an Indian contract by the end of 1Q13. Completion of supply contracts with China and India should not only improve market sentiment but should also set a floor for global prices and help unlock demand in other key export markets.
North American demand remains strong. While 2012 was one of the strongest years for the farm income, leaving farmers with ample cash to spend on crop inputs. We expect a strong 1H13 seasonal pick-up in demand ahead of a large planting in the US. As said earlier, we remain positive on both POT and MOS.
Note: Other than our own research and company documents, data in our reports is also sourced from Yahoo Finance, Google Finance, Y-Charts, Morningstar, Reuters, and Bloomberg.
Disclosure: I have no positions in any stocks mentioned, and no plans to initiate any positions within the next 72 hours. I wrote this article myself, and it expresses my own opinions. I am not receiving compensation for it (other than from Seeking Alpha). I have no business relationship with any company whose stock is mentioned in this article.