Investors should think carefully before investing in MetLife (NYSE:MET) due to its large exposure to interest rate and foreign currency exchange risks, a decrease in organic growth, and an increase in competition. This article will look at MetLife's performance during the first nine months of 2012. Also, it will detail why interest rate and currency exposure risks could spell trouble for MetLife. In other words, the next couple of years could be rocky for MetLife. While MetLife stock price is up over 20% since my last discussion of the company (see chart below), it is still trading below its tangible book value, signifying investors awareness of the problems and uncertainties that MetLife will likely face in the future.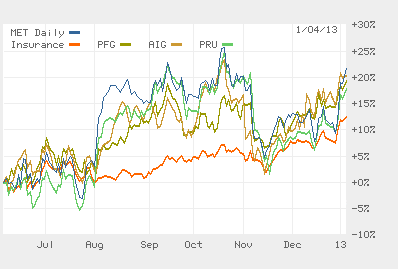 1. Nine-Month Performance
When investors read a 250-plus pages long quarterly report, they can certainly get a lot of insights into a company's operations and financial situation. This was the case when reading MetLife's form 10-Q for the quarter ending Sept. 30, 2012. Some of the interesting things in this report were that revenues declined by 5% for the nine months ending Sept. 30, 2012, compared to the same period of 2011 (to $50.8 billion from $53.5 billion). While revenues declined significantly, cash flow from operating activities for the first nine months of 2012 increased to $15.3 billion compared to $9 billion for the same period last year or a rise of about 70%.
To compare, here are the revenues and cash inflow from operating activities for the first nine months of 2012 of some of MetLife's competitors, vs. the same period in 2011:
Prudential (NYSE:PRU) -- revenues up by 4.3% and cash inflow from operations up 8.6%.
AIG (NYSE:AIG) -- revenues increased 13.6% and cash inflow from operations turned positive.
Principal Financial Group (NYSE:PFG) -- revenues were up 4.6%, while cash from operations was up 25.9%.
MetLife is the company that had the largest increase in cash flow from operations, but the only company to record negative revenue change. The point is that past performance should not be used to predict future performance.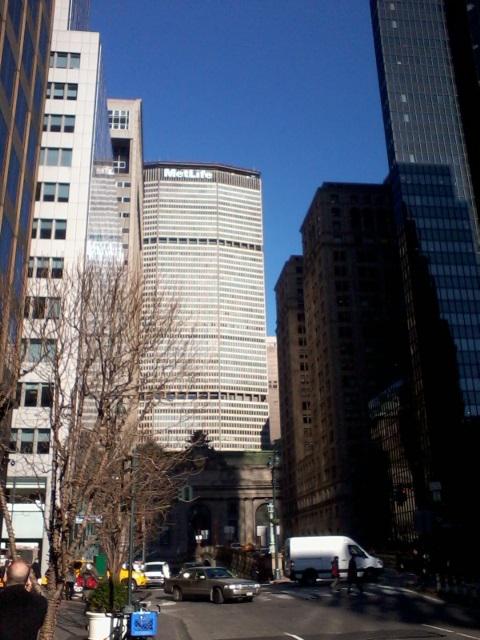 A more troubling piece of information from the quarterly report is that MetLife recorded a goodwill impairment of $1.9 billion. While this is not a cash expense, it represents a significant amount of the company's goodwill and calls into question why this expense was written off in one quarter, as the impairment in the retail annuity business certainly did not occur over one three-month period.
The last two items from the 10-Q that caught my eye were toward the end, under the title "Risk Measurement: Sensitivity Analysis." According to the two tables, a 10% increase in the yield curve would cause a $5.6 billion loss, including $1.6 billion from derivatives and $4.0 billion from assets (net of liabilities). The information in the table is not very revealing and its accuracy and usefulness could be questioned. The yield curve rarely rises by 10%. Usually one part of the curve (short-term rates, for example) increases much more in percentage terms than another part (the right hand side, for example). Also, derivatives -- when used as a hedge -- are supposed to soften the rise of interest rates, but apparently this is not the case.
In addition, a 10% increase in the exchange rate would cause a loss of $6.5 billion. There are no details as to which foreign exchange rate this refers to (U.S. dollar to euro, euro to British pound, or yen to U.S. dollar). Currency markets can be volatile: In 2012, the U.S. dollar rose 12.8% vs. the yen, while declining by 2.4% compared to the euro. With interest rates likely to rise in the future, MetLife could experience significant losses caused by declining bond prices and exchange-rate volatility.
2. Businesses Changes
MetLife recently disposed of two businesses: its online banking deposits business and its mortgage servicing portfolio to GE (NYSE:GE) and JPMorgan Chase (NYSE:JPM), respectively. The online banking business had deposits of $6.5 billion, while the mortgage servicing division was responsible for $70 billion in assets. MetLife not only committed capital to enter these two businesses (the deposits in 2001 and the reverse mortgages in 2008), but it is also investing heavily to exit them. The company spent $155 million during the first nine months of 2012 trying to exit these two businesses, and the tab is likely to rise.
While MetLife is exiting the bank deposit and mortgage businesses, it is also scaling down one of its core businesses -- variable annuity origination. The company's variable annuity sales in the third quarter of 2012 were $4.6 billion, or 46% lower from the same period last year. During the third-quarter conference call, management confirmed that it is intentionally reducing its exposure to the variable annuity business.
One area of opportunity that MetLife plans to explore is the third-party asset management business. In a world where passive investment strategies are gaining popularity, MetLife is entering the active management business for third parties. It will take a lot of hard work and time to see the fruits of this venture. While it is too early to judge this initiative, the regulatory picture is not very clear and it would not be a complete surprise if MetLife exits this business in a few years due to new regulatory requirements or other, business-related factors.
3. Increased Competition
According to a 2011 ranking by National Underwriter Health & Life, MetLife is a leader in four out of 10 categories. These categories included No. 1 in net investment income, net premiums written life/group life, net premiums written/individual annuity, net premiums written/group annuity, and total assets (only life). Without a doubt, MetLife is the leader in group life and annuities. However, the competition in the insurance industry, as evidenced from the number of companies in the ranking, is intense.
There are a number of companies that are much smaller than MetLife, but due to their focus on a single insurance product are able to compete with MetLife. For example, in individual annuities, MetLife sold $19.6 billion in annuities during 2011, and was closely followed by Pruco Life Insurance ($17.3 billion) and Jackson National Life ($16.4 billion). Also, its total life assets (excluding annuities) were $338 billion at the end of 2011, followed by Prudential with $255 billion, Teachers Insurance & Annuity Association with $237 billion, John Hancock Life Insurance with $219 billion, and Northwestern Mutual Life Insurance with $190 billion. The first company whose assets were below $100 billion was the No. 18 company in the ranking. These numbers show that more than a handful of companies are in close competition with MetLife, and while this should be a positive for consumers, it is likely less beneficial to MetLife.
Conclusion
MetLife's large exposure to interest rate and currency risks coupled with a fierce competition and increased regulatory pressure make MetLife a questionable investment at this time. Critics may say that MetLife is expanding into fast growing emerging markets and the employee benefit business. However, most emerging markets have cultures that do not endorse life insurance and annuities and many companies are increasingly reducing benefits in order to decrease costs. While the stock may go up in the short term, it appears that MetLife might have reached its long-term potential. Accordingly, now could be a good point for investors to diversify away from the stock.
Disclosure: I have no positions in any stocks mentioned, and no plans to initiate any positions within the next 72 hours. I wrote this article myself, and it expresses my own opinions. I am not receiving compensation for it (other than from Seeking Alpha). I have no business relationship with any company whose stock is mentioned in this article.