The PC industry is affected by both cyclical trends and secular shifts. Affects on the PC industry funnels though all sub-sectors of the PC industry, including PC manufacturers like Hewlett-Packard (NYSE:HPQ) and Dell (NASDAQ:DELL), semiconductors like Intel (NASDAQ:INTC) and Advance Micro Devices (NASDAQ:AMD), and hard-drive makers like Seagate (NASDAQ:STX) and Western Digital (NYSE:WDC). This article will look at the cyclical risks (average 3-4 years PC replacement cycle, product upgrade cycles) and secular risks (mobile smartphones and tablets replacing desktops) of investing in the PC industry, and its affects on the various companies within its sub-sectors.
Cyclical versus secular
What does cyclical and secular mean exactly? Broadly speaking, just remember cyclical means short-term and secular means long-term. Keep in mind that you can have both cyclical and secular trends co-exist within an industry.
Cyclical means that the industry's growth will go through peaks and troughs. Each growing or declining phase is short-term, because eventually the other side of the equation will come around. For example, industrial or commodity-related industries are high cyclical industries, because they are heavily tied to overall spurts and slowdowns of the economy. Also, think about durable goods such as automobiles, TVs, and desktops/laptops (versus non-durable goods such as food, health and beauty, cleaning products, etc.). Durable goods are typically cyclical, because they have long replacement life cycles (average lives of cars 8-9 years, TVs 6-7 years, computers 3-4 years). If there was a big spike in demand in a given year (peak), then it would take multiple years of slower growth in-between (trough), before the buyers from year one bought replacement products (peak). Non-durable goods companies, such as Proctor and Gamble (NYSE:PG) and McDonald's (NYSE:MCD), typically are not cyclical because their products have short-shelf life and require you to make purchases regularly (well, besides commodities where you can have significant seasonal and cyclical spikes).
A secular shift means a long-term, sustainable and permanent shift in consumer preferences within an industry. For example, cars replaced horses as the primary means of transportation, airplanes replaced railroads for traveling long distances, and wireless replaced wireline telephones for making phone calls. A more recent example would be the shift to soft-copies and online versus hard copies and physical stores. Think newspaper industry and bookstores getting replaced by online news sites and e-books, or e-commerce affecting traditional brick-and-mortar retail businesses. Finally, the shift toward mobile would be considered a recent secular trend, whether its mobile devices (laptops/smartphones/tablets) over desktops, or mobile revenue/traffic/apps over online revenue/traffic/websites.
Semiconductor Companies
One of the cyclical sectors in the tech industry is the semiconductor industry (makers of microprocessors, chipsets and motherboards for computers and laptops), which would include companies such as Intel, Advanced Micro Devices, Taiwan Semiconductor (NYSE:TSM), Broadcom (BRCM) and Nvidia (NASDAQ:NVDA). The semiconductor industry is traditionally cyclical due to the demand cyclicality for computers (a durable good), which is affected by the average 3-4 year PC replacement cycles and product refresh cycles (PC sales typically get a boost with each new Windows OS launch).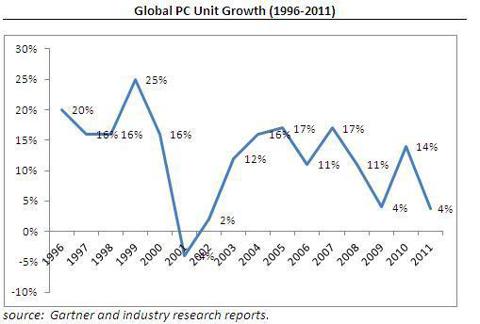 You can see the various peak and troughs of the cycles. In addition, if you were to draw a trend line, you would see a declining, long-term trend. This has to do with a secular shift of mobile products such as smartphone/tablets that replace traditional desktops/laptops. Mobile chip makers like Qualcomm (NASDAQ:QCOM) and ARM Holdings (NASDAQ:ARMH) are well-positioned, while Intel was late to mobile chips and playing catch up.
Anyways, let's get back to the traditional semiconductor companies. Intel dominates the PC microprocessor industry with 80% market share. And not surprisingly, if you compare Intel's sales growth to PC unit growth, you can see that Intel's sales mirror the cyclical ups and downs of the PC industry.
In terms of valuation, you can see that Intel's valuation reflected through P/E multiples will also vary depending on what part of the cycle the semiconductor industry is in. Similar to the overall PC industry negative trend line, there appears to also be a declining secular trend line in Intel's valuation.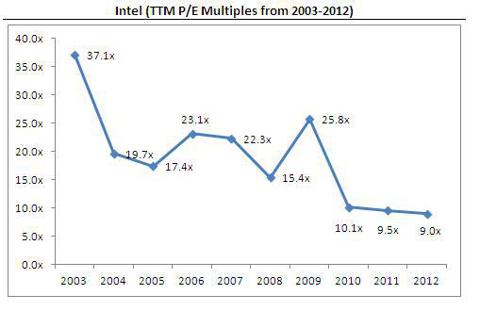 Hard-Drive Manufacturers
Another major component that goes in PCs is hard-drive storage, and as a result, hard-drive manufacturers such as Seagate and Western Digital also are affected by the peak and trough cycles of consumer PC demand and the threat of PC cannibalization by smartphones/tablets. In addition, hard drive demand is also being negatively affected NAND flash drives becoming more cost competitive. NAND flash drives have numerous advantages over traditional hard drives, including faster read/write times and lower energy consumption. NAND flash drives currently cost 5-10x more than hard drives ($0.65 per GB versus $0.05-$0.10 per GB), but prices are becoming more and more competitive. Not only do smartphones and tablets use flash storage, but laptops are incorporating flash storage for its faster start-time and longer battery life benefits. Apple's (NASDAQ:AAPL) popular Mac laptop lines are all built around flash storage architecture, and the latest Ultrabooks are shifting toward incorporating flash storage use as well.
Seagate and Western Digital have recently consolidated the industry, in efforts to combat the above mentioned negative trends. Following Seagate's $1.4 billion acquisition of Samsung's HDD unit in December 2011 and Western Digital's acquisition of Hitachi Global Storage for $4.3 billion in March 2012, the two companies now control over 80% of the hard disk market (Toshiba is a distant third).
Below are the historical P/E multiples of Seagate and Western Digital. The volatility is much more extremely than Intel, given Seagate and WDC has only recently consolidated the industry, while Intel has dominated the semiconductor space for the past 20 years (Intel's market share of PC microprocessors was 73% in 1993 and 80% in 2011).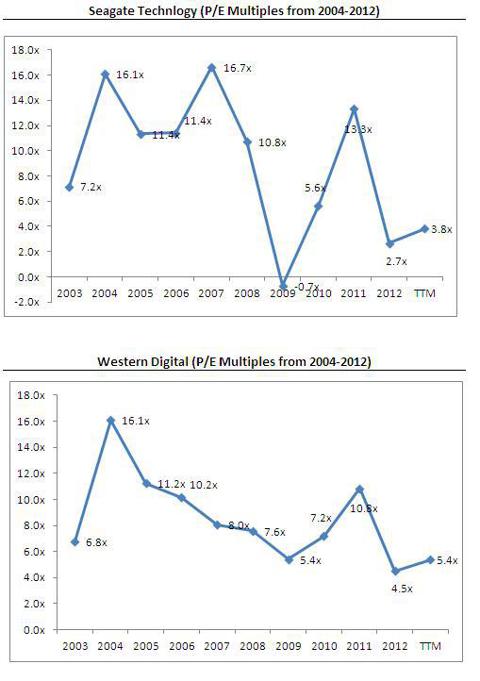 PC Manufacturers
Now let's move on the PC manufacturers such as Hewlett-Packard and Dell. Note that PC manufacturers are no longer as dependent/affected on PC sales, given they have diversified into different businesses including service, storage, enterprise, printing and others.
HPQ 2012E Revenue: 29% PCs / 28% Services / 20% Printing / 17% Storage and Enterprises / 6% Others
DELL 2012E Revenue: 23% PCs / 31% Mobility / 17% Software and Peripheral / 13% Servers and Networking / 13% Services / 3% Storage
Let's look at historical P/E multiples of these two PC manufacturers. As you can see, there also appears to be a negative secular trend line, similar to semiconductors and hard drive manufacturers.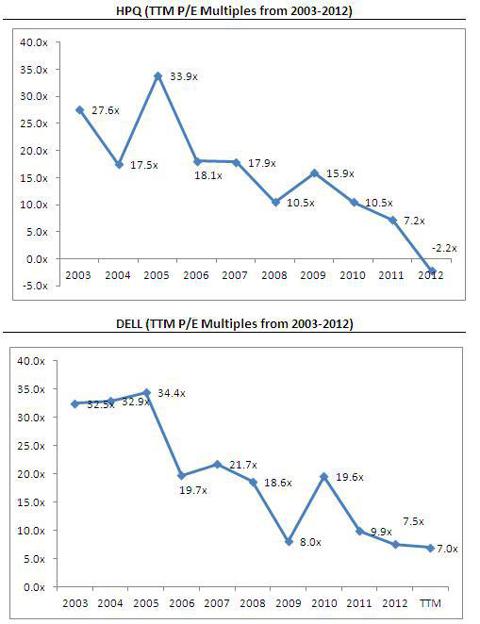 Conclusion
The PC Industry is a cyclical industry that's also potentially in a long-term, secular decline. Valuations may look extremely cheap for many of the companies involved in the traditional PC business, but note that this could be a potential value trap if the negative secular trends continue. For example, if trailing P/E is 10x now and looks cheap, but net income or EPS falls by 50% next year, then trailing P/E next year will increase to 20x (not so cheap anymore). Furthermore, and this may seem counter-intuitive, remember that for cyclical stocks the P/E multiples are the lowest when net income is at its peak and expected to decline. This is because investors know that the cycle is about to reverse and current earnings will decline, therefore they will place a low multiple on current earnings. A look at Seagate's net income and trailing P/E multiple will illustrate this point. Seagate's P/E multiple was just 2x in 2003-2004, because investors anticipated net income to decline materially in 2005-2007 (which then brings the P/E multiple up). Now, let's look at 2011, when P/E multiples were 10x. Investors were paying a high multiple then, because they expected earnings to increase in 2012, which it did (which then brings the multiple down).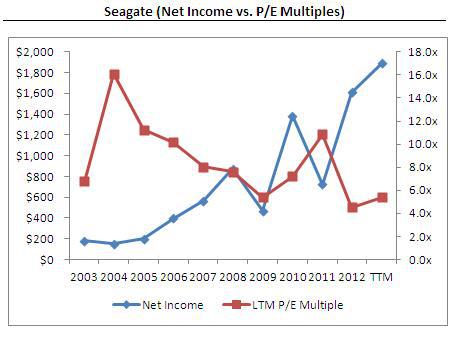 Companies that should benefit positively from the secular shift include companies with successful mobile consumer products such as Apple and Samsung (OTC:SSNLF), and mobile chip-manufacturers like Qualcomm and ARM Holdings.
Disclosure: I am long AAPL. I wrote this article myself, and it expresses my own opinions. I am not receiving compensation for it (other than from Seeking Alpha). I have no business relationship with any company whose stock is mentioned in this article.