Stocks To Trade:
Today, we are looking at an earnings trade in Sirius XM Radio (NASDAQ:SIRI), longs in YPF (NYSE:YPF) and Amazon.com (NASDAQ:AMZN), and shorts in Sony (NYSE:SNE) and Texas Instruments (NYSE:TXN).
For an earnings trade, we are looking at Sirius XM. The satellite radio company has had a tumultuous run since becoming a stock, spending most of its time below $5. However, 2013 could be a very good year for the company. Sirius XM is expected to see about 12% growth in sales in 2013 with a lot of positive momentum from as its radios continue to be put into vehicles before they are even bought. The company, for example, recently announced that its service will be put into the majority of Toyota's lineup. Sirius XM offers trial periods to new car owners that can be extended to pay subscriptions once the trial runs out. It gives the company lots of exposure, and has helped it see stronger growth in users and sales. The Sirius XM saw its user base increase 2% in Q3, and it has a goal to add nearly 2M new subscribers for 2012. Its initiative to get into vehicles as been one of the leading reasons for this growth. The company is expected to see a 100% increase in EPS in the next quarter, as well as 15% growth in revenue -- two very solid numbers. The key for the company, though, is subscribers. Sirius XM has noted that it will hit its subscriber goal, and we believe with continued growth that the stock will continue to move higher into earnings. Earnings are expected to come on February 4, and we look for the stock to be able to increase 5-10% into that report with another solid round of earnings expected and solid recent deals.
Trade: SIRI, Long
Buy Point: 3.05 - 3.15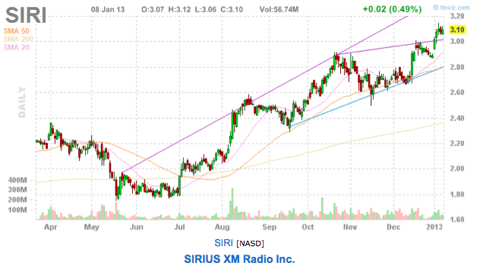 For longs, we like the looks of YPF and Amazon. YPF is a oil company in Argentina, and we believe this stock could be ready to breakout. YPF has building a very nice base below $16, and could see a strong breakout from that level. The catalyst has to be earnings growth in 2013. Q4 earnings for 2012, for example, are expected to show a 50% increase in earnings, along with 4% growth in revenue. Further, in 2013, the company is expected to see around 17% growth in earnings along with 6% growth in revenue. The company's shares, though, are not properly reflecting this growth. The company's future PE sits below 5 and is dirt cheap. Further, the company has a lot of positive momentum that should be expected from the decision by Chevron (NYSE:CVX) to do a pilot program with YPF to tap into the company's large oil shale reserves. The pilot program could turn into a massive program in the future that could take YPF from a mid-cap to a large-cap oil producer. The problem for YPF has been getting the necessary funding to tap into what the company believes is 23M barrels of oil shale it has in its reserves, and the CVX program would start to tap into that. We believe that YPF looks very good right now and should be bought on a break of 15.50, which has been resistance as of late. YPF could easily be a major breakout stock in 2013 if the program goes well and does not suffer any legal issues.
AMZN continues to look very strong in this market, and we believe it should continue to be bought. The company is expected to have had a very promising earnings season for Q4 due to the holidays and success of online sales, and AMZN continues to be a great growth story. Online sales in the holiday season increased 14% year/year, and with a healthy cut of the market share in e-commerce, we can expect AMZN saw roughly a 10-15% increase. The continuation of a movement from "brick and mortar" retail shops to online retail continues to be one of the prime reasons for AMZN's continued dominance. Many criticize the company for its lack of earnings, but it is about to see an earnings explosion in 2013. Expectations are for earnings to increase from negative EPS in 2012 to over 1.70 in 2013. The reason is that the company has dedicated a strong amount of potential earnings to building new facilities and developing fulfillment centers. Amazon, though, is starting to completely dominate the retail scene as online sales grow, in addition to the fact that AMZN should have about 1/4 of the market share of online sales by the end of 2015. Further, the company also has 27% of the e-book market, which continues to grow. Amazon is the retailer of the future, and until e-commerce starts to decline in growth, AMZN will continue to be a prominent stock. Ignore the valuations, because AMZN is one of the perennial growth stocks for the market. One of the best ways to play AMZN, in addition to being long, is a long-term options play. We like adding the 230/225 bull put spread for the company for April expiration. Its worth 25% right now, and 225 has been very strong support for the stock.
Equity Trade: YPF, Long
Breakout Point: $15.50
Options Trade: AMZN, Apr20, 230/225 Bull Put Spread
Max Gain: 25%
For shorts, we like the looks of Sony and Texas Instruments. Sony is looking very weak right now, and we believe that its upside is limited. The problem for SNE is that the company is at its core a consumer electronics business. Why is that an issue? Japan is in a recession, and during recessions, consumers tend to be less likely to make big ticket purchases of unnecessary items like televisions, stereos, gaming systems, etc. These items are at the core of Sony's business. The company's video game industry especially looks weak for the mid term. Japan showed -0.9% growth for Q3 GDP, putting the country in a recession. While consumer staples may be able to do okay during those times, consumer discretionary will suffer. Further, video games sales have been very bad as of late, and Gamestop (NYSE:GME) earnings on Tuesday was a signal that the holiday season was not good to gaming companies. The company showed a 3% decline in hardware sales, and the core of Sony's gaming business is the hardware. Further, GME showed software sales declining 5%. These results reflected holiday sales, so we expect it was a soft quarter for SNE in the gaming department. The company makes money from video games to be licensed on its Playstation gaming system or through its own development. Soft sales in software is a detriment to the company. No exact numbers have been released, but using GME as a indicator should make investors cautious. The gaming market is not all of SNE's business, but with the combination of weakness in Japan and one portion of consumer electronics, we have limited expectations for SNE moving forward. We like shorting the stock under 10.80 where the 20-day MA is sitting. We are looking for a move to 10.00 over the couple weeks.
Additionally, we are worried about TXN and semiconductors as a whole right now. Cypress Semi (NASDAQ:CY) released guidance today for Q4 with expectations at $0.03 - $0.04 for EPS. The company was expected to see an EPS at $0.14, and the drop in guidance is definitely worrisome for us. Cypress' CFO Brad Buss commented that the "anemic macro environment impacting the semiconductor industry continued in Q4, and in the last two weeks of December we saw further weakness, mainly within our distribution channels, as customers across all geographies and end markets purchased less product than previously was forecasted by our distribution partners." The comment is much more macro in conclusion than micro to the company. That worries us for semi companies. TXN is expected to see a 14% decline in revenue year/year as well as a 30% decline in earnings. The company seems to have a significant amount of resistance at $35 for the past several years and $33 for some time. We like the 33/34 bear call spread for Feb16.
Equity Trade: SNE, Short
Breakout Point: 17.80
Option Trade: TXN, Feb16, 33/34 Bear Call Spread
Max Gain: 23%
Tomorrow's Outlook:
The market continued lower on Tuesday as the market awaited the start of earnings season with Alcoa (NYSE:AA). Earnings were in-line with expectations (EPS of $0.06), and the revenue beat forecasts ($5.9B vs. 5.58B expected). As such, we are expecting that the market will increase on Wednesday. As for economic data, we get crude inventories tomorrow, but we will not get much in the way of data until Thursday. Wednesday morning, we will also get earnings from Constellation Brands (NYSE:STZ), which will have minimal impact on the market as well.
Charts courtesy of finviz.com
Disclosure: I have no positions in any stocks mentioned, and no plans to initiate any positions within the next 72 hours.
Business relationship disclosure: The Oxen Group is a team of analysts. This article was written by David Ristau, one of our writers. We did not receive compensation for this article (other than from Seeking Alpha), and we have no business relationship with any company whose stock is mentioned in this article.