by Edward Faubert
We examine performance of the major soft commodities during the fourth quarter of 2012.
Despite a year of more quantitative easing, soft commodity markets slump amid newfound surpluses.
Coffee
Coffee prices as measured by the ICE futures contract (KC) finished the fourth quarter at $1.438 a pound, down 38 cents, or 21 percent, on the quarter (down 78 cents or 35 percent for all of 2012). The market has been in an almost continuous slide since May 2011, when prices peaked at just over $3.00 a pound.
Lack of demand from manufacturers for Central American washed arabica coffees, the type deliverable against the ICE Futures contract, resulted in weakening cash market premiums and an increase in certified stocks. Manufacturers reformulated blends back in 2011, when ICE prices were soaring above $3.00 a pound in favor of other coffees from Brazil and South East Asia, notably Vietnam. These coffees trade at discounts of 10 to 40 percent below ICE Futures prices even at today's lower levels.
The harvests in Central America are now in full swing and producer selling is traditionally heaviest January through March. Market participants are expecting the new crop pressure to continue to weigh on prices over the next several months. Fund managers dramatically increased their short positions ahead of the harvest during the fourth quarter and are profitably net short 22,000 lots from 6,000 lots three months ago.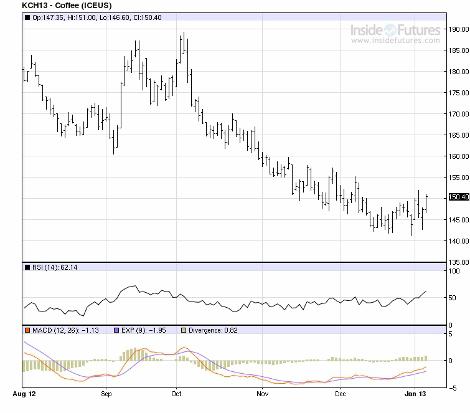 Cocoa
After posting a gain of 9 percent in the third quarter, ICE Futures cocoa prices gave it all back during the fourth quarter to settle at $2236 a ton, a decline of $228 or 10 percent (up $208, or 10 percent during 2012).
Ghana, one of the world's largest cocoa producers, triggered the slide in prices beginning in November, aggressively marketing new crop cocoa into a market with weak demand as manufacturers appeared to be already well covered. Additionally, concerns persist about long-term demand prospects for cocoa, especially from Europe, the largest consuming region.
In late November, the International Cocoa Organization also revised its final estimates for the 2011/2012 (Oct-Sept) crop by raising world production estimates and lowering grindings (which roughly approximates consumption). The result was a swing from a small supply deficit of 19,000 tons to a surplus of 90,000 tons. Year-over-year, the ICCO also estimates the key stocks/grinding ratio to have increased from 45.2 to 47.5 percent, reflecting more supply and weaker demand. West African crops, which account for 70 percent of the world's cocoa, appear to be adequate and weather conditions have been generally favorable.
Money managers are painfully net long 39,000 lots, actually increasing their contrarian long positions in a declining market from 31,000 lots at the end of the third quarter.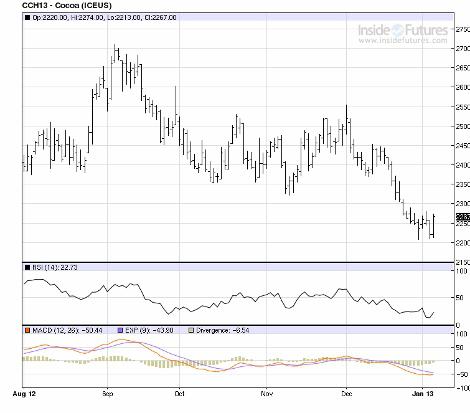 Cotton
Cotton prices as measured by the ICE Futures #2 contract (CT) finished the third quarter at 75.14 cents a pound, up almost 3 cents, or 4 percent, during the quarter (down 21 cents, or 24 percent, for 2012).
Prices seemed to have bottomed after the exuberant highs of March 2011 and the jaw-dropping collapse a few months later, and have found a trading range over the past six months of between 70 and 78 cents a pound. According to the USDA, year-end cotton stocks for the 2012/2013 year are expected to be a record 79.6 million, 480-pound bales, up nearly 10 million bales from a year earlier.
Fund managers are betting that prices have bottomed out as well. They've been building a net-long position currently at 27,000 lots compared with 10,000 lots three months earlier.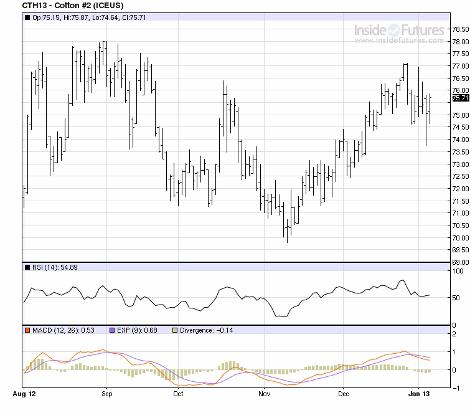 Sugar
International sugar prices as measured by ICE Futures NY 11 contract (SB) finished the fourth quarter at 19.51 cents a pound, down 1.62 cents, or 7 percent, during the quarter (down 3.78 cents, or 16 percent for 2012). Estimates for a fourth year of ample production, especially from Brazil and Asia, have driven sugar prices to a 2 1/2 year low.
In its Foreign Agricultural Services circular in November, the USDA projected that world sugar production will remain flat for 2012/2013 (Oct-Sept) at 172.3 million tons after having grown by 20 percent over the last three years. Brazil, and in particular its Center-South region, will produce another record crop of 37.5 million tons, taking up the slack for lower production elsewhere. However, consumption is expected to lag at only 162.8 million tons. Ending stocks for 2012/13 are projected to rise to 38.3 million tons compared with 36.2 million tons a year earlier.
Money managers had been holding contrarian and unprofitable long positions for more than six months, and are still net long 25,000 lots compared with 33,000 lots three months ago, and 107,000 lots long six months earlier.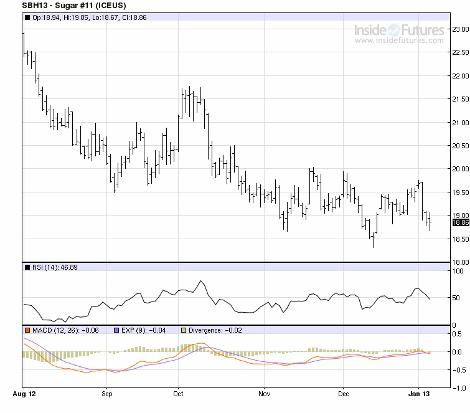 Individual soft-commodity ETFs are available for:
Coffee: The Dow Jones-UBS Coffee ETN (NYSEARCA:JO) issued by Barclay iPath and Café Pure Beta Coffee ETN also issued by Barclay iPath (NYSEARCA:CAFE)
Cocoa: The Dow Jones-AIG Cocoa Subindex (NYSEARCA:NIB) and the iPath Pure Beta Cocoa ETN (NYSEARCA:CHOC)
Cotton: The iPath Dow Jones-UBS Cotton Total Return Sub Index (NYSEARCA:BAL) and the iPath Pure Beta Cotton (NYSEARCA:CTNN)
Sugar: The Dow Jones-AIG Sugar Total Return Sub Index (NYSEARCA:SGG) the iPath Pure Beta Sugar (NYSEARCA:SGAR) and the Teucrium Sugar Fund (NYSEARCA:CANE)
All are based on futures contracts.