January crude oil was slightly higher in the overnight markets ahead of this morning's Energy Information Administration inventory report. The bullish tone carried over into the morning floor session as January NYMEX crude oil opened $1.73 higher.
By the time the report was released, bulls had pushed the spot contract up another dollar. EIA says crude oil supplies increased 400,000 barrels last week, twice the build that Oil Patch analysts expected.
Refinery usage shot up 3.1% to 87.4% last week, according to the energy agency. Insiders had forecast an uptick in utilization of only about 0.2%. Both gasoline and distillate fuels production rose.
Gasoline stocks, expected to fall by 100,000 barrels, instead increased by 3.8 million. Demand for motor fuel was clocked 3.2% lower than year-ago levels.

Distillate fuel inventories, including heating oil and diesel, climbed 5.6 million barrels, skunking calls for a 1.3-million-barrel drawdown. Distillate fuel demand is off 4% from this time last year.
In part, recent production increases have been fostered by improving refining margins. Measured from NYMEX futures crack spreads, margins improved 1.5% last week to 14.7%.
NYMEX-Implied Refining Margins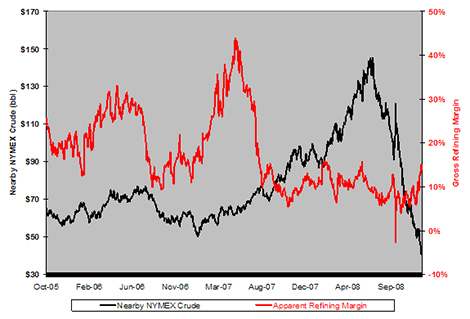 Heating oil has been the margin driver this season. Prices throughout the petroleum complex have fallen this year, but heating oil's fallen less. Year-to-date, heating oil's off 43%, gasoline's down 59% and crude oil's slid 54%.
Gasoline prices have been so weak that, when measured on a gallon-for-gallon basis, refining it is a losing proposition. The RBOB (reformulated blendstock for oxygenate blending) crack, in fact, turned negative in October.
Tuesday, February RBOB gasoline settled 2.8 cents lower to just under 99 cents a gallon. Against January crude oil's $42.07 settlement, the implied loss for producing gasoline was 49 cents a gallon. That's much closer to breakeven than last week's $1.25 loss. The deepening contango in the oil market has helped narrow the loss in the RBOB forward spread.
NYMEX Product Cracks (1:1)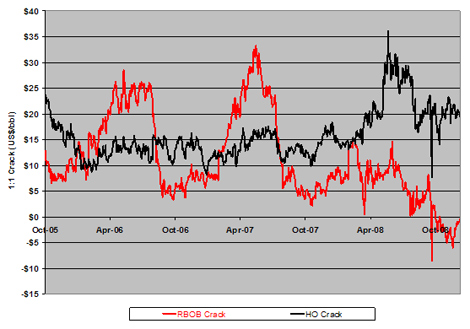 Yesterday's EIA short-term forecast called for further declines in global demand for crude oil.
Global oil consumption, says the agency, should decline by 450,000 barrels a day in 2009, bringing West Texas Intermediate spot crude's price down to an average $51 a barrel. Year-to-date, WTI has averaged $103.47 a barrel.
Adding to the market gloom is the World Bank's Global Economic Prospects report, which has called the commodities boom at a permanent end. Still, the bank predicts spot oil to recover to about $75 a barrel within the next three years.

Technically, the crude oil market remains oversold. A close above $51, basis the January NYMEX contract, would be needed to signal a short-term turnaround. Resistance rests above $65.
NYMEX Spot Crude