Ultra-deepwater drilling specialist Pacific Drilling (NYSE:PACD) provided an overview of the current very positive trends in the offshore drilling marketplace in a recent presentation. These positive trends include a very tight supply-demand balance, rising dayrates, planned new field developments, and customer preferences. All of these trends are beneficial for contractors operating in the ultra-deepwater niche of the offshore drilling industry. Shareholders in these companies should also benefit by extension.
One trend that positively benefits the players in the ultra-deepwater market is the average age of the worldwide ultra-deepwater fleet. Currently, more than 50% of all the ultra-deepwater rigs are more than ten years old. More than 40% of the rigs in operation are at least twenty years old.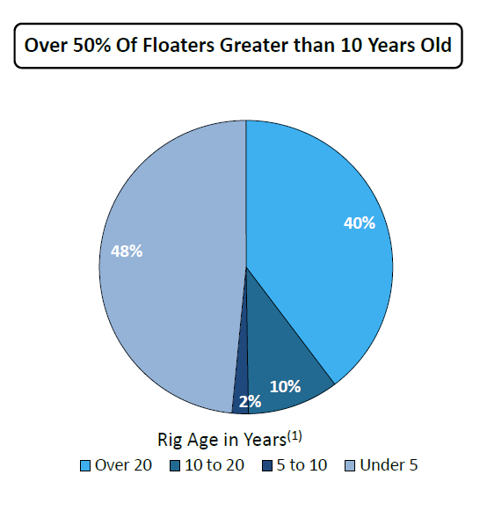 Source: Pacific Drilling
This trend will be beneficial for those companies that have their respective fleets concentrated in newer ultra-deepwater rigs such as Pacific Drilling or Seadrill (NYSE:SDRL). The reason for this is that the oil companies that contract out these rigs are expressing a marked preference for newer rigs for the following reasons:
An increasing number of new offshore projects require rigs that have more technical capabilities. This is due to the increasingly demanding downhole environments (such as high pressure and temperature) of today's offshore projects compared to projects of the past.
Newer rigs have better safety equipment than older rigs. This is necessary in today's increasingly demanding regulatory climate.
Newer rigs are more efficient than older ones. Customers are increasingly favoring rigs that are more efficient as a way to reduce the total costs of drilling a well.
These factors have all been driving a demand for newer ultra-deepwater rigs. As a result of this growing demand, prices for these rigs have been climbing. These higher prices mean that owners of these rigs are able to contract them out at higher prices than in the past and thus earn more revenues and profits from their existing assets. However, this customer preference for modern rigs means that this has only affected newer rigs. Older rigs have not seen the same benefit here and so we have a situation where the dayrates of new rigs are rising more rapidly than those of older rigs.
These rising dayrates are immediately apparent if we look at several recent contracts and compare them to the dayrates that rigs have been awarded over the past few quarters. Pacific Drilling provided this chart in its presentation that shows the market dayrates for fifth generation and newer rigs (roughly speaking, these rigs left the shipyard in 2000 or later) over the trailing five quarters: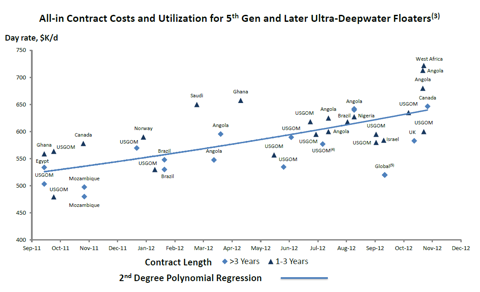 Source: Pacific Drilling
As this chart shows, dayrates have been rising steadily over the past five quarters. In September 2011, dayrates stood at roughly $525,000 depending on location and contract length. Today, dayrates are in the mid-600s, with shorter-term contracts carrying dayrates of more than $700,000 in some areas.
Dayrates could still continue to climb going forward. One reason for this is that customer demand for ultra-deepwater drilling rigs exceeds the supply of such rigs and this could continue for at least the next few years. On average, it takes at least two to three years to construct an ultra-deepwater rig. It is also a multi-year project to develop an offshore oil field. As a result, we can predict with some accuracy both the number of rigs that customers will be demanding and the number of rigs that will be available for a few years out. Pacific Drilling provided these numbers in its presentation.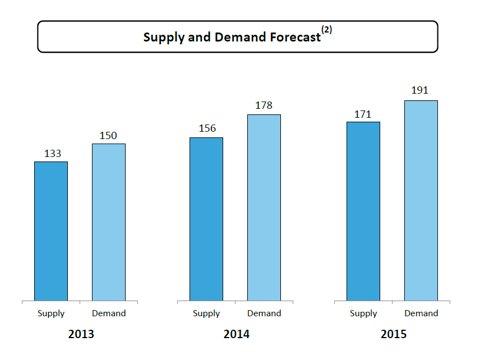 Source: Pacific Drilling
As you can see, for each of the years from 2013-2015, oil companies are expected to require more rigs than what will exist to service this need. This will put upward pressure on dayrates as oil companies bid to obtain the offshore rigs that they require for their development plans.
There may also be another factor that tips the supply-demand balance in favor of offshore drilling contractors. As I previously discussed, oil companies have expressed and shown a marked preference for younger and more modern drilling rigs. This can be clearly seen by looking at the worldwide rig fleet utilization broken down by age of the rig.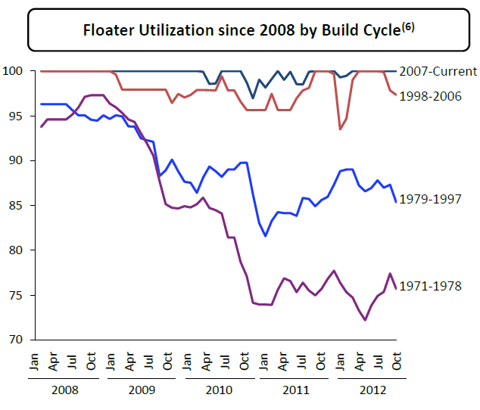 Source: Pacific Drilling
As the chart shows, nearly all of the ultra-deepwater rigs built in 1998 or later are currently in operation. However, this is not the case with older rigs and that clearly shows the preference of customers. Pacific Drilling's peer Seadrill has stated in a few of its recent presentations that owners of older jack-up rigs have been retiring older units due, at least partly, to customer preferences for newer rigs. There is a chance that we could see the same thing happen in the ultra-deepwater market. In this case, rig contractors would begin to retire older ultra-deepwater rigs. This would further constrain supply of these rigs.
All of these trends are quite positive for offshore drilling companies operating in the ultra-deepwater sector, particularly those that have younger rigs. These companies include Pacific Drilling, Seadrill, Ensco (NYSE:ESV), and Noble Corp (NYSE:NE).
Disclosure: I am long PACD, SDRL. I wrote this article myself, and it expresses my own opinions. I am not receiving compensation for it (other than from Seeking Alpha). I have no business relationship with any company whose stock is mentioned in this article.