Last week, the biggest American fertilizer producer Mosaic (MOS) posted mixed results for its second fiscal quarter. The company's operating profits have taken a hit on the back of lower phosphate and potash volumes amid falling potash prices but the business managed to beat Wall Street's expectations.
The company's net sales and operating earnings have fallen by 16% and 30% to $2.54 billion and $560 million respectively from last year. The net profits have remained fairly flat showing an increase of just 0.8% to $628.8 million but it has come on the back of a tax benefit of $179 million. However, excluding the extraordinary items, the earnings per share were $0.99, which is 11 cents more than analysts' estimates.
Phosphates and Potash are two of the Mosaic's primary revenue drivers. The performance of both of these is far from satisfactory as both sales and volume have continued to slide. The business recorded $1.8 billion in phosphate sales - which shows a 19% decline from the year ago quarter -and have come from shipments of 2.963 million tons which is 7.3% lower from the same quarter last year. On the other hand, while Potash's net sales fell by 7% to $780 million, its sales volume has dropped by 15.11% from the same quarter last year to 1.49 million tons.

The phosphate net sales in North America have not registered any growth but potash sales are up 41% from last year. However, the international sales for both of these products have fallen significantly which is shown in the table below. The only positive is the increase in North American potash sales by $176 million.
| | | |
| --- | --- | --- |
|   | North America | International |
| Phosphate | 0.00% | -27.20% |
| Potash | 41.25% | -56.96% |
Not surprisingly, the gross profit margins for the two are showing a declining trend. Mosaic's customers in India and China are pushing a downward pressure on prices but the new Chinese contract will cause the much needed increase in international potash sales. However, in the new contract, which covers a period of the first half of 2013 and has been signed by a consortium representing Mosaic, Agrium Inc (AGU) and Potash Corporation of Saskatchewan (POT), the Chinese have successfully negotiated the price down by $70/ton to $400/ton for a million tons of potash. The price is at the low end of market's expectations.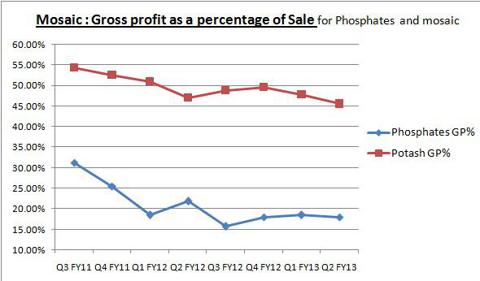 India (and other smaller buyers) has been monitoring the Chinese developments closely and since that agreement has been finalized, the country is expected to sign its contract in the current quarter with a price of around $420/ton.
The prolonged negotiations in 2012 have caused a delay in shipments. This will result in better volumes in the current fiscal year. For 2013, Mosaic has revised its shipments downwards due to weak demand and expects to reach a sales volume of 63-65 million tons for phosphate and 55-57 million tons for potash, but this would still represent an increase from 2012. The demand for fertilizers will continue to grow in the long term due to the increase in world population but analysts have pointed out that the industrial capacity is simply too big to sustain the current levels of income and coupled with the intense competition from smaller rivals, the profit margins are going to slide.
| | | | |
| --- | --- | --- | --- |
|   | MOS | AGU | POT |
| Stock 6m | +5.39% | +12.32% | -7.05% |
| P/E | 13.59 | 12.17 | 15.72 |
| EPS | 4.3 | 8.4 | 2.67 |
| Yield | 1.70% | 1.00% | 2.00% |
| ROA | 8.48% | 9.95% | 12.31% |
| ROE | 15.07% | 21.34% | 27.47% |
The business has a consensus "overweight" rating and the shares are a "buy" at the moment. The demand from North America remains strong and with the low phosphate stocks and an expected increase in demand will have a positive impact on prices. However, the potash prices will remain low. In the past six months, Mosaic's stock has been up 5.4% whereas AGU and S&P 500 (SPY) have increased by 12.3% and 7.3% respectively. The business offers lower yield and return on equity as compared to its peers. The stock was currently trading at $58.47. Most of the analysts compiled by MarketWatch expect it to touch $64.60. Similarly, Barclays Capital and Morgan Stanley have recently set a price target of $66 and $70 for the company's shares.
Disclosure: I have no positions in any stocks mentioned, and no plans to initiate any positions within the next 72 hours. I wrote this article myself, and it expresses my own opinions. I am not receiving compensation for it (other than from Seeking Alpha). I have no business relationship with any company whose stock is mentioned in this article.