Sturm Ruger & Company (NYSE:RGR) stands to experience a leap in sales due to the gun buying mania that the industry is currently experiencing. (Covered here)
In this article we will cover:
1. The current events fueling the hysteria and the corresponding speculation in gun and ammo purchases.
2. Evidence that sales are up... WAY up. The latest FBI figures will be utilized to get an idea of how much demand the industry is facing and how this could affect Ruger. This time of the year is the seasonal high point of sales for the gun industry, yet the demand we are seeing is abnormal, unprecedented, and not factored into the stock price. Thus the stock is undervalued.
3. We will look at Ruger's product backlog and average selling prices to try to get an idea what the seasonal pattern looks like, and how a spike in units sold could affect Ruger in the future.
4. Details of the proposed legislation; when we are likely to see it; details of what is in it; and its affect on Ruger.
5. Risk and rewards for Ruger, along with financial information. Is the company financially healthy? What about the dividend? How would we mitigate the risk in case of a gun ban?
Empty Shelves
Before we begin, take a good look at the picture below... notice anything missing? This is what is left of the ammo section at Academy Sporting Goods in Gulfport, MS. The shelves should be chock full of ammo 'several layers deep' to the point that you should not see any of the back wall whatsoever.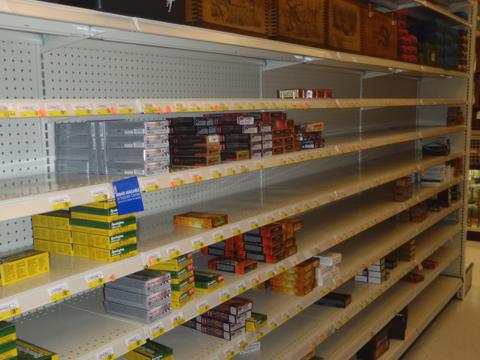 We have visited 20 retail stores in the Louisiana and Mississippi area observing stocks of ammo and weapons (or lack of) and interviewing employees. The story is virtually the same in each one -- unheard of runs on ammunition and AR rifles and unusually high levels of pistol sales. Phone calls to friends, relatives, and dealers in far-flung states such as Georgia, Idaho, and New Hampshire yield the same results: AR rifles and ammo are flying off the shelves.
In the above picture, large game rounds and shotgun shells are still available; however, the entire top shelf normally would be full of .22 and .223 ammunition, with the middle shelves stocked with .40 cal and 9mm bullets. As it stands, every last box of: .22, .380, 9mm, .40 cal, and .223 are simply sold out. Do we have your interest yet?
The situation for online retailers is no better. Cheaperthandirt.com, one of the biggest online ammo and firearms sellers, reports:
Consumer reaction caused a rush of online orders at Cheaper Than Dirt! which led to the largest backlog in the company's history. Firearm orders were being placed faster than the inventory system could update.

Ammunition and shooting accessories orders more than tripled, resulting in week-long shipping delays.

Firearms that are in high demand are not currently available from manufacturers due to the lack of inventory. This includes most modern sporting rifles (aka AR rifles).
What is going on?
With the recent reelection of President Obama and the firearm related events, various politicians are discussing anti-gun legislation. In response, people are scared that the Federal Government will ban various weapons and high capacity magazines -- much like the government did back in 1994.
This had an overnight effect on AR rifle sales and prices as people rushed out to buy anything AR related they could find both in retail and online. Prices of the 30 round Magpul magazines that go into the AR rifles rose in price several hundred percent. What would have cost $12.50 for a standard 30 round magazine now runs $40.00 dollars if not more on auction sites. The premium top-of-the-line magazines run even higher. Online retailers are completely sold out of Magpul magazines, with some no longer taking backorders.
The sudden price increase caused speculators to snatch up any remaining stock of weapons at local pawn shops -- in the hopes of reselling them on auction sites.
FBI Background Checks up 39%
January 2, 2013 FBI figures for December show an amazing 39% leap in background checks over November 2012.
The FBI said it recorded 2.78 million background checks during the month, surpassing the mark set in November of 2.01 million checks - about a 39 percent rise.

The latest monthly figure was up 49 percent over December 2011, when the FBI performed a record 1.86 million checks.
Postcrescent.com reports:
The number of background-check calls may not translate directly to the number of firearms purchased, however, since buyers who are purchasing multiple guns at once would still account for a single call.
Stop and think about that for one minute... 2.78 million background checks and some of them involve multiple weapons per check. That is a LOT of people looking to buy a LOT of weapons. This will translate into higher revenues and profits via an increase in sales of pistols, modern hunting weapons (aka AR rifles), as well as an increase in accessories and parts sold. We can not really even begin to describe the enormity of this leap in sales. Once the January FBI numbers are released, they will demonstrate an escalation in background checks.
Who Else Stands To Gain?
Both Alliant Techsystems (ATK) and Olin Corporation (NYSE:OLN) manufacture ammunition. These companies will obviously see a positive boost from ammo sales as demand is red-hot for weapons. Just a quick trip to the hunting section in any retail store and you will encounter shelves that are virtually empty of ammo such as .223 and 9mm.
Revenue Backlog
Looking at the revenue backlog for Ruger, we can see in the 4th quarter orders started picking up with the start of the hunting season followed by a massive spike in the 1st quarter of 2012. Ruger states in its 10Q:
Orders of many models of firearms from the independent distributors tend to be stronger in the first quarter of the year and weaker in the third quarter of the year. This is due in part to the timing of the distributor show season, which occurs during the first quarter.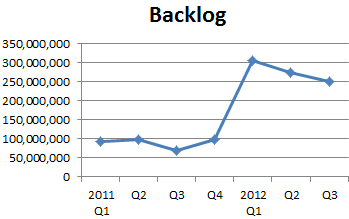 We can assume that Ruger will see another massive spike in revenue backlog due to historic sales trends and the current remarkable demand for modern sporting rifles and pistols.
Average Selling Prices
Looking at the average selling price (in millions) we see that Ruger is selling products for less revenue, but the volume of units sold has rapidly increased. This is important because it will affect revenue going forward for weapon parts and accessories.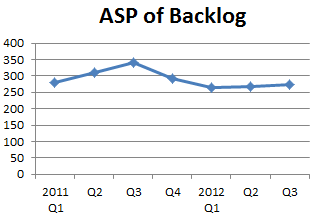 More Units Sold = More Parts Sold
The more weapons that Ruger sales, the more parts and accessories it can sell down the road. Ruger sells an assortment of accessories: sights, slings, holsters, magazines for ammo, and grips just to name a few; also, weapons need proper maintenance as parts wear out. An increase in unit sales and unit backlog will ultimately boost the parts category.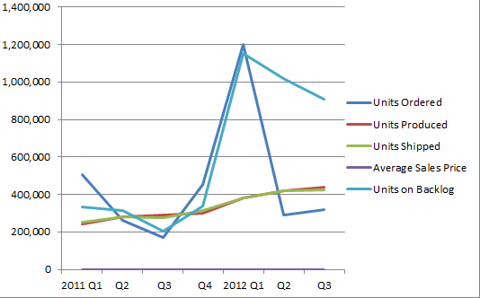 Proposed Legislation
According to the NRA, we might see the anti-gun bill introduced to the Senate on January 22nd:
The new ban would, among other things, adopt new definitions of "assault weapon" that would affect a much larger variety of firearms, require current owners of such firearms to register them with the federal government under the National Firearms Act, and require forfeiture of the firearms upon the deaths of their current owners

Sen. Dianne Feinstein (D-Calif.)--author of the federal "assault weapon" and "large" ammunition magazine ban of 1994-2004--has said for weeks that she will soon introduce an even more restrictive bill. Leaders in the U.S. Senate have stated that January 22 will be the first day on which new Senate legislation can be proposed, so that is the most likely date for the new, sweeping legislation to be introduced
The Washington Post reports that politicians are also proposing a public relations push:
The Biden group plans to submit a package of recommendations to President Obama this month. Once Obama's proposals are set, he plans to lead a public-relations offensive to generate popular support.
This public relations push will only add fuel to the gun ban fear. Gun and ammo sales will continue to be sold at a frantic pace or possibly even increase.
Financials and Dividends
Ruger at $48.93 per share has a market cap of $937 million and a trailing PE of 15.68. The PEG ratio stands at .223 according to YCharts.com. Net income stands at $61.36 million for last quarter. Profits are healthy at 13.84%, while cash is $105 million with 0 debt!
Ruger has a floating dividend based upon how profitable the company is. If net income is higher, then the dividend yield will be higher as well. The current estimated dividend yield is 3.20%. This will increase with favorable earnings.
Risk
The obvious risk is that gun bans will go into effect. The proposed bans would affect AR rifles, large magazines, and even some shotguns and pistols. Ruger has products in all these markets and would be affected negatively if the legislation is passed. Expect at least a 25% 'knee jerk reaction' drop if this were to occur.
However, in order to play it safe, investors may consider buying puts on a portion of their investment just in case the shorts are correct and a ban does go into effect. Each put contract covers 100 shares and would allow you to sell your stock at a set price during a specific time frame no matter what Ruger is currently trading at.
Interestingly, the short interest is 48.8%. Obviously many people feel as though the stock is overvalued or maybe they are shorting it because of the soon-to-be proposed gun bans. If they are wrong and the gun ban is not passed, then they may be facing one heck of a short squeeze.
Reward
Only a mere 2 analysts cover Ruger and they have not updated their estimates since last summer. The FBI data alone should propel the stock northward yet Wall Street gave a collective shrug. This shows a clear lack of interest and understanding by Wall Street.
The 3 month stock chart of Ruger versus Smith & Wesson (SWHC) yields the same results, we can see that they are underappreciated.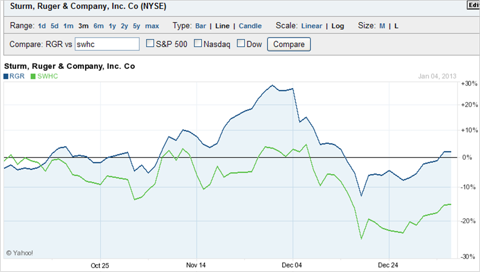 Conclusion
Ruger will see an increase in revenue, profits, and unit backlog next quarter. This is due to potential gun bans which are fueling unprecedented demand due to fear and speculation.
The inability of the industry as a whole to fulfill demand for modern sporting rifles (aka AR rifles) has caused prices to rise. Speculators are purchasing semi-automatic AR type weapons in the hopes of flipping them on auction sites. It is virtually impossible to find a semi-automatic AR rifle at retail stores or even online. The only places that they are not on backlog is gunbroker.com and similar auction sites. Prices are typically up 100% from where they were just 1 short month ago. Pistol sales have also rocketed northward, this should impact Ruger's backlog favorably as retail and online sites will have to reorder weapons to replenish inventory.
For Ruger, and its industry peers such as Smith & Wesson, having a problem of too much demand is always a good thing.
Disclosure: I am long SWHC. I wrote this article myself, and it expresses my own opinions. I am not receiving compensation for it (other than from Seeking Alpha). I have no business relationship with any company whose stock is mentioned in this article.
Additional disclosure: I will open a position in RGR in the next 72 hours.