As someone who often writes about value stocks and consumer goods names, I get a lot of questions about the large beverage names. That includes names like Coca-Cola (NYSE:KO), PepsiCo (NYSE:PEP), and Dr Pepper Snapple (NYSE:DPS). For the most part, Coca-Cola has been my favorite, but the gap has narrowed as we enter 2013. Today, I'll show why I still like the name, but that the company will need to increase its dividend to increase the attractiveness of this stock.
Coca-Cola, the dividend favorite:
This stock has always been a dividend favorite because as the website says, "The Coca-Cola Company has paid a quarterly dividend since 1920 and has increased dividends in each of the last 50 years." You won't find many companies that have paid dividends for that long, and even less that have raised their dividends for 50 straight years. I put together the following chart, showing the company's quarterly dividend over the past 10 years, adjusted for the 2-for-1 stock split that took place in August 2012.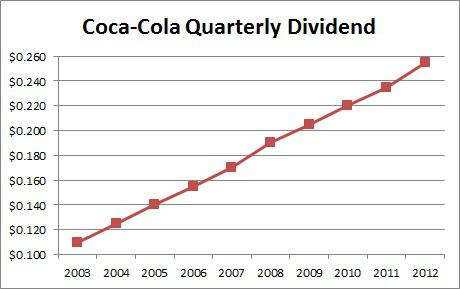 From 2003 to 2012, the quarterly dividend more than doubled, going from $0.11 per quarter to $0.255 per quarter. That represents a compound annual growth rate of about 9.8%, a nice dividend increase over a longer term.
Stock Buyback / Balance Sheet:
Not only are shareholders in KO receiving a 2.75% yield currently on the name, but the company is engaged in a sizable buyback plan as well. According to the company's most recent 10-Q filing, the company is projected to buyback between $2.5 billion and $3.0 billion of treasury shares during 2012. Additionally, the company announced a new buyback plan in October of 2012, to purchase up to 500 million shares of the company's stock. That's more than 11% of the roughly 4.5 billion shares outstanding.
To pay a decent-size dividend and buy back this much stock, a company needs to have a solid balance sheet. The following table shows some key financial ratios at the end of Q3 in 2012, compared to the same time period a year earlier.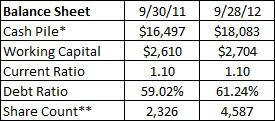 *Includes cash, short-term investments, and marketable securities.
**Company split stock 2 for 1 in August 2012.
Over the past year, the company has increased the size of its cash pile, along with its working capital balance. The current ratio has stayed flat over the past year, while the debt (liabilities to assets) ratio increased a few percentage points as the company increased its long-term debt amount. Thanks to the buyback, the average shares outstanding amount, assuming dilution, has come down, when you account for the stock split.
Industry comparison:
I mentioned the three large names in the industry in my opening, so the following table shows some comparisons between the three. Coca-Cola is expected to show a fair amount of growth in 2012, while PepsiCo will show a revenue and earnings decline. All of the growth numbers below are based on current analyst estimates. The P/E number is the price-to-earnings valuation based on Tuesday's close and the current expectation for 2013 earnings for each name.

As you can see, Coca-Cola is projected to show the most revenue and earnings growth in 2013. However, you are paying a bit of a premium for that growth. All three names are engaged in sizable stock buybacks, so there really is no advantage gained there. I expect Pepsi's valuation to increase a little as we move into 2013, as the company's restructuring led to a transitional period in 2012. When I mentioned in my opening that Coke's lead as my favorite was narrowing, this is what I was referring to. Coke's growth makes up for the smaller dividend, but you are still paying a premium.
Increasing the dividend:
When Coca-Cola increases the dividend, it is for the first payment of the year. The company usually declares this dividend in mid-February, so we're about 5 week away from the announcement. I expect them to raise it for the 51st straight year, but how much is the question.
Well, enough to make this a more attractive investment. Since you figure that PepsiCo and Dr Pepper Snapple will increase their dividends a little, so I figure Coca-Cola should try to get the gap down a little. I put together the following table that shows what the new yield will be. The table shows the range I expect the new quarterly dividend to be in, and the yield is based on Tuesday's close.

The range of percentage increase from my estimate is about 3.9% to 13.7%. That would fit perfectly in with recent raises.
Conclusion - waiting for the raise:
Shares of Coca-Cola currently trade at a premium to the two other beverage names. Investors seem to be fine with that premium, as this company has been a dividend favorite for decades and is buying back plenty of stock. The company is expected to post more growth than the other two names in the space, but the dividend yield is about 10% less than what PepsiCo and Dr Pepper Snapple currently pay. Coca-Cola should announce its next dividend raise in about 5 weeks, and I think that a decent size raise will make this name a more attractive investment.
Disclosure: I have no positions in any stocks mentioned, and no plans to initiate any positions within the next 72 hours. I wrote this article myself, and it expresses my own opinions. I am not receiving compensation for it (other than from Seeking Alpha). I have no business relationship with any company whose stock is mentioned in this article.
Additional disclosure: Investors are always reminded that before making any investment, you should do your own proper due diligence on any name directly or indirectly mentioned in this article. Investors should also consider seeking advice from a broker or financial adviser before making any investment decisions. Any material in this article should be considered general information, and not relied on as a formal investment recommendation.