By Jayson Derrick
In a reversal of trends set in 2012, stocks with greater international exposure should outperform in 2013. In 2012, investors were feeling the pressure associated with the uncertainty within the European Union and uncertainty regarding the growth of China and the threat of a hard landing. These fears put pressure on multiples and led to share price performance that did not keep pace with fundamentals. This trend should reverse in 2013 and companies with large international exposure such as Las Vegas Sands (NYSE:LVS), Starwood Hotels & Resorts Worldwide Inc (HOT) and McDonald's Corporation (NYSE:MCD) should outperform in an environment where expectations have been lowered and company fundamentals can beat, or at the very least meet consensus.
Starwood Hotels
Investors in Starwood saw a return of 20% in 2012, however the stock underperformed versus more domestically-oriented Marriott Hotels (NYSE:MAR) that rose 28%. It is reasonable to expect 2013 to be another year of solid price gains for Starwood as investor concerns dissipate regarding a weak economic environment in Europe and fears of a China hard landing that affects tourism and business travel to those regions. In fact, 2013 will be a year of celebration as the company will celebrate the opening of its 125th hotel in China.
Record low domestic supply growth and premium product positioning, combined with a strong international growth plan (especially in Asia) and the balance sheet flexibility and free cash flow to begin repurchasing larger amount of shares, should result in continued growth. Starwood is in a position to return approximately $2 per share- a 3.5% yield to shareholders in 2013- in the form of buybacks and dividends.
Risks Involved: Starwood face risks that include greater than expected deterioration in room rates that could result in lower revenue per room and greater than anticipated slowing of expansion plans. Continued strengthening of the U.S dollar against foreign currencies remains a potential downfall to international operations.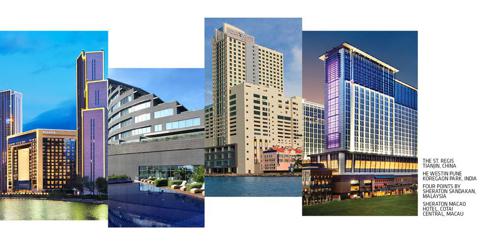 With over 200 properties and plans to open 65 new hotels by the end of 2013, Asia Pacific continues to fuel Starwood's growth.
Las Vegas Sands
Las Vegas' Sands' Macau property underperformed consensus expectations in 2012 owing to weak VIP growth and a slower than expected Cotai ramp. Looking forward to 2013, Las Vegas Sands is best positioned amongst gaming companies operating in Macau, given its large mass market footprint to capitalize on the infrastructure improvements. This includes high speed train connections that should continue to drive double digit mass market growth. Analysts at UBS expect growth to continue in 2013, upgrading their gaming revenue estimates on stronger VIP trends and solid mass market numbers. Meanwhile in Singapore, Las Vegas Sands faces easier compares as restrictions on marketing to local mass players lap in April.
Investor concern about capital allocation in the absence of attractive growth opportunities has been addressed by management. The recent special dividend payout and regular dividend increases has satisfied investor concerns who can look forward to higher dividend payouts in 2013. With a valuation now at 12.1x2013, a solid balance sheet (approximately 2.5x net leverage) and steady free cash flow (approximately 8% yield) these numbers should enable CEO Sheldon Adelson (one of the richest people in the planet) to continue returning capital to shareholders, especially given the fact that 2013 has no major capital expenditures and commitments.
Risks Involved: Las Vegas Sands risks include worse than expected results from operations across their properties within Asia as well as adverse regulatory changes.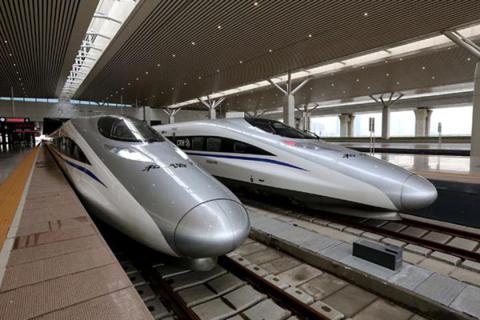 Guangzhou to Macau High Speed Railway will cut travel time from several hours to less than 1 hour.
McDonald's
The year 2013 should be a solid year of growth for McDonald's as same store sales growth re-accelerates from new premium product items, and with European sentiment calming down; Europe represents roughly 35% of McDonald's operating profits. The year 2012 was not a good one for McDonald's shareholders who saw their holdings decline 12.1% vs. a gain of 7.3% for the Dow Jones (of which McDonald's is a component). I believe this sets up the company nicely for a mean reversion trade should top-line growth re-accelerate. McDonald's continued remodel program, and the trade up of certain customers to new premium offerings in 2013 while still maintaining an everyday affordability offering across the line should drive sales up in the coming year. In Europe, McDonald's will continue to offer lower cost meal options to maintain market share growth.
McDonald's should also benefit from the lowest commodity inflation amongst its peers as McDonald's pre-bought 2013 commodities prior to the worst drought in 56 years in 2012. The impact of the drought will be minimized as McDonald's bought grains and other commodities prior to the run up in commodities prices.
McDonald's shares are currently yielding 3.4%, and the stock is trading at approximately 16.0x N4QE EPS, inline with its absolute historical average. McDonald's is trading at a 3.0x discount to its relative historical average versus its large-cap restaurant peers. Shareholders should look forward to a positive 2013, and McDonald's 37th year of dividend increase.
Risks Involved: The downside risk for McDonald's includes decelerating U.S or European same store sales growth, margin pressure created by volatile foreign exchange rates, changes or wage inflation, a contraction in broader market multiples.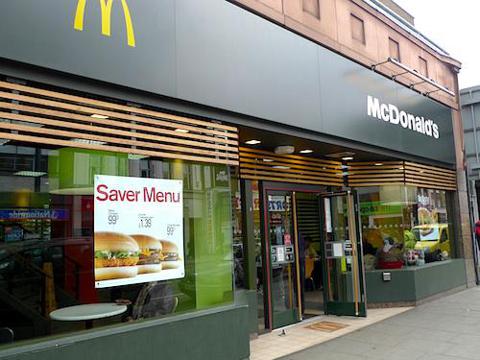 McDonald's caters to the European market by offering more of an upscale dining experience at a lower cost.
Disclosure: I have no positions in any stocks mentioned, and no plans to initiate any positions within the next 72 hours. I wrote this article myself, and it expresses my own opinions. I am not receiving compensation for it (other than from Seeking Alpha). I have no business relationship with any company whose stock is mentioned in this article.