Let me be clear from the start. When I refer to Sirius XM (NASDAQ:SIRI) as one of 2013's best investments I am not saying that Sirius XM will post the greatest gains. There are companies out there which are more speculative in nature which may return 100% or more over the course of 2013. You may find a biotech that has the small chance of possibly returning 1000%. What I am referring to is the degree of certainty and stability which I feel will follow Sirius XM throughout 2013 in order to end the year at gains between 27% and 43%.
With yesterday's close of $3.14 this represents an end of the year target between $4 and $4.50 per share. Why a range? Because I feel that as of now, this represents reasonable expectations for both the low and the high end of the share price as the year concludes. If I were asked for one price, I would say $4.25, but obviously share prices can and will trade (hopefully) above or (not hopefully) below one's expectations.
The Goal?
My goal here is to keep this painfully simple. Sirius XM is, in my opinion, the most over analyzed stock in the market. There is a very active investor community surrounding the stock and there are a large group of individuals who will follow not only percentage shifts in certain metrics, but even hundredths of a percent shift in metrics.
The comment sections in many Sirius XM articles are evidence of this fact. It can be overwhelming for many to read the rollercoaster of back and forth opinions from quarter to quarter. In order to remove some of the longer term "potential" issues I want to focus on what will matter for 2013 only. This means ignoring questions like "what will happen after a Reverse Morris Trust?" and "what will happen if Apple (NASDAQ:AAPL) comes out with an iCar in 2018."
Why Sirius XM?
The answer is easy; for very similar reasons that Sirius XM was one of the best investments of 2012.
The product is in demand.
The stock is in demand.
Product Demand
Let's consider what happened in 2012. Remember the stock closed 2011 at $1.82 and opened 2012 at $2.89 for a full year gain of 59% plus a $0.05 December special dividend, giving a total yield of 61.5%. How did it get there?
The company started out 2012 with a bang, announcing 1.7 million net subscriber additions for 2011, above previously stated company guidance.
Despite concerns that the recently instituted price increase may affect churn, Sirius XM posted lower than expected churn numbers along with exceeding expectations of net subscriber additions quarter after quarter. The company should soon announce nearly 2 million (or more) net subscriber additions after guiding a conservative 1.3 million net additions at the beginning of the year.
The product is in demand, and is showing considerable growth, and there is no indication that this will not continue through 2013. Automobile sales are at record levels since 2007 and are projected to increase in 2013 beyond 2012 levels. This should help boost Sirius XM's gross subscriber additions, and assuming that the conversion rate remains about the same Sirius XM will be on track to post another year of significant net subscriber additions to its total.
Investors should consider that net gains, once costs are paid for, drive profits. Sirius XM's added costs per subscriber are generally less for each new subscriber. Satellites are in place, employees are paid, content is paid for, and royalty fees are passed on to the customer on a per customer basis. Incremental cost increases per subscriber are marginal, such as customer service costs, and thus each additional subscriber is "worth more" in terms of profitability.
This is absolutely critical to understand. Assuming revenue per user, or ARPU, remains steady or increases, 2 million net subscriber additions in 2013 are more valuable than 2 million net subscriber additions in 2012.
Consider this simple graph :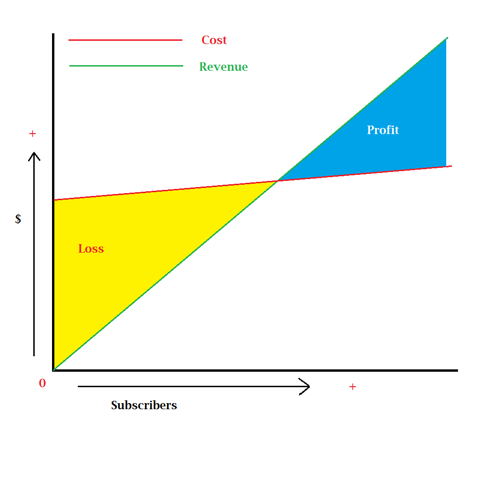 As subscribers increase, revenue increases at a rate which exceeds the rate that costs increase. This is the beauty of the Sirius XM subscription based model, especially since the company has long passed the break even point where the revenue / cost lines cross.
This is why a 10% increase in the net subscriber total is worth more than a 10% increase in share price. With Sirius XM in demand, and with Sirius XM on track to post significant subscriber additions in 2013, investors should expect significant appreciation in share price.
Stock Demand
There is no denying that Liberty Media's (LMCA) pursuit of de jure control of Sirius XM has not helped the company to appreciate to current levels. From the outset of 2012 Liberty Media had a third party, later determined to be UBS (NYSE:UBS) filling a forward contract for 302 million shares of stock, and throughout 2012, Liberty Media spent a considerable amount of money purchasing enough shares to bring its stake within striking distance of 50% ownership. Strategic and patient buying helped Liberty acquire the shares it needed while allowing the share price to hold the 50 day moving average as support. Even during a bearish market period from November through the end of the year, Sirius XM's share price held quite strong.

Ignore the questions of "What happens when Liberty stops buying?" The answer is already known. Sirius XM has announced up to $2 billion in share repurchases that may be underway any day now, and it should be expected that under Liberty Media's guidance these shares will be repurchased at or near the 50 day moving average. This benefits Sirius XM, in that it can buy strategically near relative lows, as well as benefitting Liberty Media in that it may get the cash back on the shares it bought for control by selling back at a 1:1 ratio at a profit to prices it paid for those shares in 2012.
The great part about this for investors? The share price should be supported. With strategically timed buybacks Sirius XM will be ensuring that this stock remains in demand throughout 2013.
Keep in mind that Sirius XM will absolutely be protected by Liberty Media as its greatest asset. I do not feel Liberty will harm Sirius XM in any way, and thus I believe it will handle buybacks in a fashion which benefits Sirius XM. Investors should not worry that Liberty may guide Sirius XM to over leverage or buy back at excessively high levels in order to extract cash from the company on a few percent of shares sold back. Remember, Liberty has a much much greater stake in the company that it owns and to gain a few million on one end through reckless activity could damage the larger stake worth billions.
It's That Simple
For some investors, such a simplistic view will not suffice. Luckily those investors have here on Seeking Alpha a host of authors and commenters who will dig into every minute detail about the company and its performance. There is value here for every type of investor, but for those who like to keep things to the most simplistic terms, it bears repeating :
Demand for the product driving upside
Demand for the stock limiting downside
These are the two major players for 2013 for Sirius XM, and these are the two factors which should keep Sirius XM on its current trajectory. If you're seeking the best buy points? I'd argue that buying near the 50 day moving average would be a good idea. Unless 2013 brings a strong overall bear market, I would expect 2013 to end the year for Sirius XM between $4 and $4.50 per share.
Because of this, I feel that Sirius XM is one of the best investments for 2013. Investors would be hard pressed to find another equity with similar or better prospects.
Disclosure: I am long SIRI. I wrote this article myself, and it expresses my own opinions. I am not receiving compensation for it (other than from Seeking Alpha). I have no business relationship with any company whose stock is mentioned in this article.