Commodity stocks have held in strongly over the past few days, with many of our oil and natural gas E&P plays actually rising in spite of markets being lower as buyout rumors persist and investors reposition their portfolios and continue to buy on any weakness. We do expect to see some deals over the next 30-60 days and think that for those hoping to close deals this year that it will be important to do them as early as possible as many properties are going to be making their way to market over the next few months.
We also expect to see more MLPs created and further drop downs as companies explore ways to fund their drilling commitments in a year which many have budgeted to be the last before they turn cash flow positive and/or can internally fund themselves on a continuing basis. We think these schedules will be revised as the year progresses, so investors would do well to simply invest where the growth is.
Commodity prices this morning are as follows:
Gold: $1663.10/ounce up by $0.90/ounce
Silver: $30.435/0unce up by $0.03/ounce
Oil: $93.00/barrel down by $o.15/barrel
RBOB Gas: $2.7726/gallon down by $0.0218/gallon
Natural Gas: $3.177/MMbtu down by $0.041/MMbtu
Oil & Natural Gas
Chesapeake Energy (NYSE:CHK) is cutting costs and doing it in a way that brings their executive pay back in line with the rest of their industry peers. The company cut across the board both pay and perks for executives, including no bonus for the CEO this year, but while announcing these cuts left the dividend unchanged.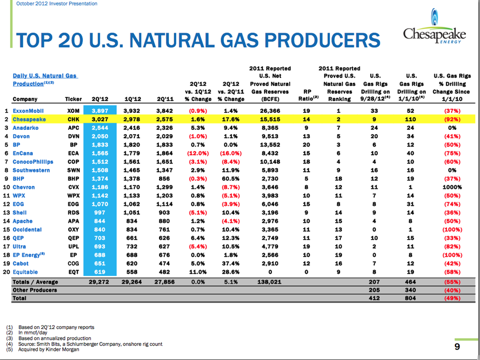 The above table comes from Chesapeake's latest IR presentation from its website, and it shows beautifully the issue we have discussed regarding dry natural gas. As a percentage of drilling its rigs are down dramatically, however, due to the nature of its liquids drilling it appears that its dry natural gas production continues to increase. We assume a bit of this extra production is due to the company needing to produce for the cash flow and that some of its cuts may have made their way back into the market, but regardless of that the bottom line is that although the company and peers are not drilling for dry natural gas, they still are finding a lot of it and having to produce it as a by-product of their new liquids focused plans.
One name where this extra dry natural gas production will become apparent over the next year is Gulfport Energy (NASDAQ:GPOR) which is going to be growing its natural gas production dramatically due to its drilling activities in the Utica. The company is not targeting the dry natural gas, but will produce it as a by-product of the NGLs it is targeting in the wet-gas window of the play. The reason Gulfport trades at 52-week highs versus others in the industry is that it is working down from oil and not up to it. Starting from a position of strength and working towards weakness is the ideal path to take as work up is quite difficult (look no further than Chesapeake).
While on the Utica we might as well throw in another one of our holdings, PDC Energy (NASDAQ:PDCE), which has bounced off of lows caused by comments about their production issues out west. It has nothing to do with their wells or poor planning but everything to do with the mid-stream players having issues getting their pipelines up to capacity. This has caused a few names, but most importantly PDC, to have to leave freshly drilled wells ready to produce shut-in until there is sufficient takeaway capacity to bring them online. The situation should be fixed by the 2H of this year, and long-term investors should have no problem buying the shares on dips, even if it deals with pipeline issues in the first six months of this year. Also, expect Utica success for the company moving forward.
Iron Ore
Vale (NYSE:VALE) had a nice run higher but has lagged the past few sessions as shares pulled back after their impressive run. Deutsche Bank sees iron ore prices rising from current levels, even after the recent run, as mills in China replenish their dwindling stocks but then decreasing after that wave of buying. It seems that other analysts agree with that opinion along with some industry executives as well (an excellent Bloomberg article on this here). If China stays strong like many think it will as it comes out of its recent economic funk and/or increased iron ore prices can be passed on by the steel mills, then prices should be fine and could even move higher from here. Everything is dependent upon economic growth, and whereas we would agree with the analysts and executives if there is a zero growth to slow growth situation we would argue for higher prices with normal growth.
Refiners
Tesoro (TSO) announced that they would be closing their refinery in Hawaii as they look for a buyer but would continue to distribute from the point to fulfill service contracts that they have. This move appears to be good for the company as it will free up further capital, however, it is not so great for the people of Hawaii who already pay some of the highest gasoline prices in the country at any given time and also must deal with electricity costs being at the high end as well. Hawaii is what the US used to look like, having to import much of its energy for consumption but with the rise in production in places such as Texas, North Dakota, Wyoming and other new shales in the US we have become much more self-sufficient and actually halted the dramatic rise in the cost of energy over the past few years.
Disclosure: I am long GPOR, PDCE. I wrote this article myself, and it expresses my own opinions. I am not receiving compensation for it (other than from Seeking Alpha). I have no business relationship with any company whose stock is mentioned in this article.