We had a lot of interesting news yesterday, most notable the news which came out after the close whereby Dish is making a move for Clearwire and trying to trump Sprint. It is obvious that their offer, which is probably best described as offers, is structured in a way so as to upset the Sprint bid. It is hard to say at this preliminary stage whether this move is a legitimate offer or a move of gamesmanship to repay Sprint for the headache with the FCC they caused earlier this year related to spectrum.
Companies have a lot of cash sitting around these days and debt is still cheap so it will be interesting to see how many more deals we will see get done in the next 12 months as there should be a push to lock in these low borrowing rates. It may also be companies' last opportunity to buy cheap growth and add to market share before asset prices increase with a recovering economy.
We have economic news due out today, and it is as follows (these are the consensus estimates):
MBA Mortgage Index (7:00 AM EST): N/A
EIA Crude Inventories (10:30 AM EST): N/A
Asian markets finished mixed today:
All Ordinaries - up 0.38%
Shanghai Composite - down 0.03%
Nikkei 225 - up 0.67%
NZSE 50 - up 0.32%
Seoul Composite - down 0.31%
In Europe markets are mostly higher this morning:
CAC 40 - up 0.09%
DAX - down 0.01%
FTSE 100 - up 0.24%
OSE - up 0.25%
Technology
We saw late yesterday in the early part of the after hours trading session Clearwire (CLWR) get halted to announce news pending. Over the past few sessions we had seen the shares tick higher so we had been watching this a bit closer and thus caught the Dish Network (NASDAQ:DISH) offer just about when it happened. Dish provided Clearwire with an unsolicited offer which would value the company's shares at $3.30/share cash which tops Sprint's (NYSE:S) deal by a bit over 10%. It is unclear whether Clearwire can now pursue the deal without violating their already agreed to deal with Sprint, but to get around this initially and further discuss the unsolicited offer the company has decided not to draw down on the credit line which Sprint provided them as part of their merger agreement.
This could have a big impact on Dragonwave (NASDAQ:DRWI) which provides network gear for Clearwire and had rallied strongly after the revelation that Sprint would be providing credit to the company while the deal is closed. By putting this off in order to negotiation with Dish, Clearwire is delaying the purchase of more gear to build out their network which could push shares of Dragonwave lower as investors realize that their earlier hopes for expedited revenues are either delayed at best or lowered indefinitely. It should be interesting to see the reaction here.
Biotechnology
Yesterday shares in Arena Pharmaceuticals (NASDAQ:ARNA) rose $0.91 (9.89%) to close at $10.11/share which puts the stock above the $10/share level which we have previously discussed as a target for the shares. The company's CEO discussed the process which the company was going through to find partners and stated that they were looking for companies to team with in both Europe and China. The company also believes that China is the largest market outside of the United States for Belviq. Before signing a deal in Europe with anyone they are awaiting approval and they have made it very clear that they are looking for partners who share their vision for a drug which is not marketed as a cosmetic drug but more of a health issue to address obesity and diabetes. As of December 14, 2012 there was still a considerable short position out there, so the shares could have further to run if a short squeeze takes place.
Another winner yesterday in the biotechnology space was Celgene (NASDAQ:CELG) which closed at $91.41/share after having risen $5.68 (6.63%) on volume of 11.4 million shares. The move was attributable to comments by the CEO the previous day where he discussed new drugs and the company's sales outlook which was coupled with a solid presentation at the J.P. Morgan Healthcare Confab, all of which led to quite a few upgrades for the company's shares.
RBC Capital Markets - upgraded shares to 'Outperform' from 'Sector Perform' and raised the price target to $100 from $90.
Piper Jaffrey - upgraded the company to 'Overweight' from 'Neutral'.
Jeffries - reiterates its 'Buy' rating and moves its price target to $100 from $94.
Stifel Nicolaus - kept its 'Buy' rating on the shares but increased its target price to $98 from $89.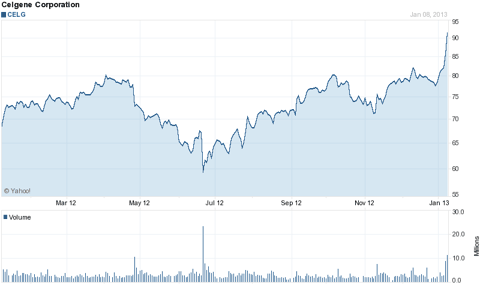 Chart courtesy of Yahoo Finance.
Looking at this one year chart, one can clearly see that the shares are breaking out here and based on recent comments by the CEO and rosy outlooks from analysts it appears as though the run can continue, especially with the lack of resistance levels ahead.
Retail
Over the past few trading sessions the price action in JC Penney's (NYSE:JCP) has caught our eye. Shares finished yesterday's session at $18.99 after falling $0.97 (4.86%) on news that retailers may have more bad news ahead as gift card redemptions were down and heavy discounting throughout the holiday season could drive numbers down across the industry. Investors had hoped that the company could turn things around this season, but it appears that they are at least one more year away from righting this ship. Those who have been looking to initiate a position here would do well to watch the price action in the near-term to see if the shares catch a bid near these levels as in the past the shares have found support around these levels.
Disclosure: I have no positions in any stocks mentioned, and no plans to initiate any positions within the next 72 hours. I wrote this article myself, and it expresses my own opinions. I am not receiving compensation for it (other than from Seeking Alpha). I have no business relationship with any company whose stock is mentioned in this article.