Warren Buffett once told me, "Only buy things you know and understand, like Coca-Cola (NYSE:KO), and Velocity Shares Daily 2x VIX Short-Term ETN (NASDAQ:TVIX)". Okay Warren never said that, but it does make the obvious point to buy what you know.
Many investors express skepticism in technology stocks for the long term. After being burned by the .com bubble of the late 1990s, they rightfully have a good reason to be shy around technology.
Remember the days when Cisco (NASDAQ:CSCO) was proclaimed to become the first company with a 1 trillion dollar market cap? Remember the phrase, "you can never go wrong buying Microsoft (NASDAQ:MSFT)?" Over a decade later, investors who bought these companies at the highs of the .com mania are still recovering their losses, and both companies have often been loathed, for most of the past 10 years.
Many investors share the feeling that technology companies will always come and go, initially providing massive returns, only to be instantly replaced in a zero-sum game where one winner takes all. For every seemingly unbeatable Apple (NASDAQ:AAPL), there is always a fallen angel like Kodak (EKDKQ.PK).
Back to the Future with 19th Century Technology
However, does that always have to be the case? Does technology always have to have a short lifespan? Let's take a look back, and build a portfolio based on disruptive, society-changing technology:
railroad
telephone
oil and
electricity.
These "hot" technologies of their day certainly had their equivalents of the .com mania bubble and bust cycle, and reached their apex, in terms of momentum and excitement, over 150-200 years ago. Yet they are still around and providing investors with significant returns.
A back-tested portfolio of 19th century technology, made up Union-Pacific for our railroad (NYSE:UNP), Verizon for telephones (NYSE:VZ), Chevron for oil (NYSE:CVX), and Consolidated Edison for electricity (NYSE:ED).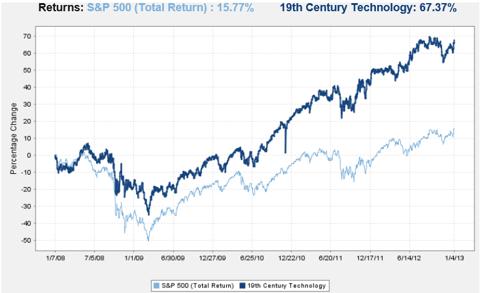 Chart: Folio Investing
As the chart shows, these 19th Century technologies clobbered the S&P 500 over the past 5 years. Not only that, all of the stocks above provided stable, steady returns, and all of them had nice income from rising dividends. All of these companies provide backbones for the economy, and are not going anywhere soon.
Technology Can Become Reliable as an Investment
Looking through history, many disruptive technology companies mature to a point where they take a cornerstone in the economy, providing dependent infrastructure in the same way as steel or coal. These electronic brick and mortar companies can be referred to as "Technology Staples."
These Technology Staples companies are often providing the hardware, software, and services that other newer, more niche technology companies, come to rely on to create the new, disruptive technology of the day. Traditional brick and mortar companies also rely on this foundational technology for their daily operations.
Technology in our Daily Lives
Dividend Growth Investors are often taught that if they are encountering a product in their daily lives, the chances of them understanding it is higher, and they can also understand the sheer scale of the company's growth prospects, by seeing that millions or billions of other consumers are purchasing or using these products daily, and purchasing them repeatedly.
Warren Buffett, who used to avoid technology, since he did not feel like he understood it, has taken up positions in some of these names, with past holdings in Intel (NASDAQ:INTC), and most recently, an increasingly large stake in (NYSE:IBM). Also, one of his best friends is none other than Bill Gates, the iconic name behind Microsoft, and board member for Berkshire Hathaway (NYSE:BRK.A).
Clichéd Buffett name dropping aside, the chance of you encountering a Technology Staple company in the course of your day, even if you do not realize it, is pretty high. If you are reading this article right now, you're passing through a Cisco router out on the Internet, and Intel chips are powering a big chunk of the gear, not only on the devices accessing the Internet, but also the backbone itself.
Technology Staples
Many Consumer Staples names, such as Coca-Cola, Procter & Gamble (NYSE:PG), and Johnson & Johnson (NYSE:JNJ), have been companies which many investors rely on to anchor their portfolio. While Technology is much more cyclical than Consumer Defensive/Staples, I believe that traditional Consumer Staples have been bid up to levels which make taking a second look at technology worthwhile.
21st Century Technology
Now, how would a portfolio of 21st Century technology look? Let's backtest a portfolio of the best of the best Technology Staples:
IBM - services
Oracle (NYSE:ORCL) - database software
Cisco - network infrastructure
SAP (NYSE:SAP) - enterprise software
Microsoft - operating systems software
Intel - processors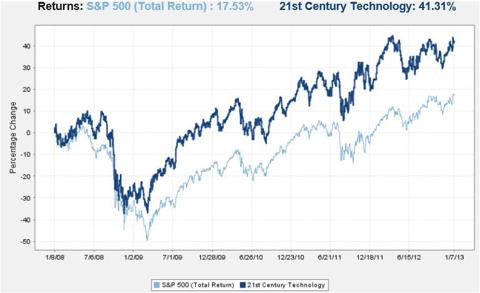 Once again, technology beats the S&P 500, by a mile, even during the financial collapse. The fall was not as sharp, and some, like Intel, even managed to raise their dividends during the fall.
Conclusion
Technology Staples provide investors with decades of leadership, abundant free cash flow, and huge cash stockpiles, increasing earnings and dividends, often providing investors with a large margin of safety, often defying their stereotype as being fragile and volatile.
Disclosure: I am long CVX, INTC, UNP, MSFT. I wrote this article myself, and it expresses my own opinions. I am not receiving compensation for it (other than from Seeking Alpha). I have no business relationship with any company whose stock is mentioned in this article.