On Nov. 8, 2012, Priceline (PCLN) purchased Kayak Software (NASDAQ:KYAK), a travel metasearch company, for $1.8 billion or $40 per share. While one Kayak investor is seeking to halt the purchase on the grounds that the deal shortchanges investors, it's easy to see from the chart below that the purchase price is significantly higher than the valuation of competitors in the travel space.
On Dec. 12, 2012, Liberty Interactive Corp. (LINTA) (NASDAQ:LINTB) bought control of TripAdvisor (NASDAQ:TRIP) for about $300 million, snapping up a majority of chairman Barry Diller's stake in the travel information website. While Diller only owned about 3% of the equity of the company, he held a proxy that allowed him to control the majority of the voting rights in TRIP owned by Liberty in an arrangement dating from 1995 with IAC/InterActiveCorp (IACI). This deal was included in the spinout from IACI of Expedia (NASDAQ:EXPE), TRIP's former parent company that spun out TRIP in 2011. Confusing, huh?
On Dec. 21, 2012, Expedia made a surprise move and agreed to buy a majority stake in Europe-focused travel metasearch engine Trivago (privately held) just a year after spinning out another ad-based business, TRIP. This came only two months after EXPE management stated that they weren't interested in the metasearch space.
So why all of the consolidation? I think the main catalyst for this consolidation has to do with Google's (NASDAQ:GOOG) push in the travel space. Over the past 18 months, Google launched Hotel finder and Flight Search, bought Zagat's and integrated their reviews into local business/restaurant search, bought Frommer's and is integrating this into their search services, and they launched Street View for inside hotels. The major players in online travel and hotel booking are clearly consolidating to help counter these efforts from Google.
After these recent transactions and consolidation in the travel industry, I thought it would be good to check up on the valuation of major players in the travel space that are publicly traded to see if there are any anomalies that might present investment opportunities.
Ultimately, each company in the travel space varies greatly in terms of offerings and specialties. While they all operate in travel offerings, some of them specialize in local deals or in metasearch or in hotels. So it's easy to see that they shouldn't all be painted with the same brush. However, ultimately, the space is very competitive yet very profitable.
Barriers to Entry
The argument against players in any internet industry has always been that barriers to entry are low. Any person can set up a website and run it with low overhead. While barriers to entry appear to be small, the reality is that it is very expensive to acquire traffic, and the number of subscribers each company has is a key metric to consider in terms of barriers to entry. For example, the entry by players like Yelp and Google over the past several years should have put a dent into TRIP's business; however, TRIP has well over 50 million loyal users of its website and as you can see from the chart below, TRIP's revenues and net income have approximately doubled in the past three years.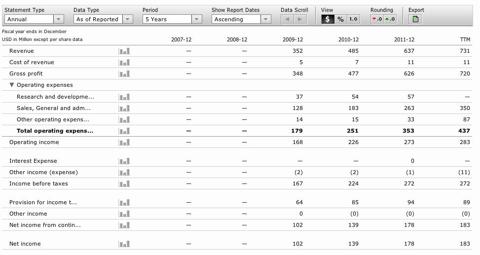 TRIP has evolved from a site focused on providing user reviews to one that offers booking services and local deals to its huge user base. It has tapped into the value of its users tremendously by offering aggregated search results from Expedia, Travelocity, Orbitz (NYSE:OWW), Priceline and several other search engines. Its offering now allows people to read reviews, see what your friends think about certain places, and also book travel or hotels. TRIP has been able to increasingly monetize its large user base and has made its website increasingly sticky by integrating reviews, deals, and booking services.
Below is a chart of 6 players in the online U.S. travel industry and their key valuation metrics, including price & market cap as of 1/8/13, estimated 2012 revenues and EPS, trailing twelve months (TTM) free cash flow, and net cash as of 9/30/12.

Also below is a list of the top 10 travel sites in the U.S. for December 2012 as well as a chart of the Alexa.com rankings for each site. I included in this a rough calculation of the percentage of total U.S. visits and Alexa.com rankings relative to the market caps of each company to get a sense of relative valuation.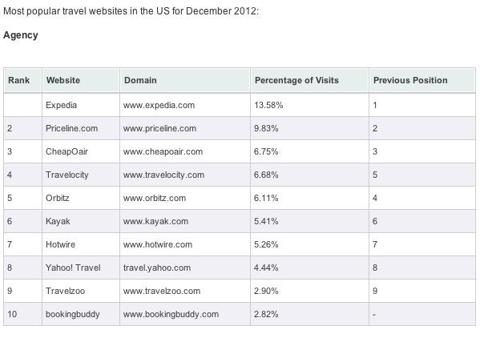 As you can see from this chart above, valuation varies tremendously. Based on all of the above metrics, it appears that Travelzoo (NASDAQ:TZOO) is by far the most undervalued and well-capitalized company in this space (note that while OWW has a cheap valuation in terms of price-to-sales and free cash flow, it has a terrible balance sheet with over $500 million in short-term and long-term debt and for that reason I believe it is wise to avoid it). So why the undervaluation? Below I'll cover the company, the issues it has, and the opportunities for growth.
About Travelzoo
Travelzoo Inc. , is a global Internet media company and trusted publisher of travel, entertainment and local deals. Our team researches, evaluates and tests thousands of deals to find those with true value. We recommend only deals whose accuracy and availability we can confirm. With over 25 million subscribers, we are the largest publisher of deals on the Internet.

More than 2,000 companies from around the world list their very best offers with us. We have deal experts (we call them producers) located in 25 offices across North America, Europe and Asia who work with these companies to sharpen their offers and provide you the smartest information.
Travelzoo differentiates itself in that it focuses primarily on deals, whether it is travel, entertainment, or local deals. Customers come to their site with the intention of finding good deals.
The Issues
First, I wanted to spend some time on Travelzoo.com to get a sense for what the user experiences when visiting the site.
One issue with their website that I see right off the bat is if I'm there and let's say I'm looking for a good deal on a hotel in San Diego and I find a place I'd like to book with but the hotel doesn't offer a deal for the date I want to travel, I have no way of booking with that hotel. That's a problem. I can do a search and see rates from HotelPlanner.com, Orbitz, Booking.com, Expedia, etc; however, I still don't have an easy way of booking a room with that hotel for the dates I need. Not only does this increase the likelihood of a user leaving the site but it also reduces the potential commissions and future revenues they can generate from users.
Another issue I found with the website is that it is too focused on providing deals to its users handpicked from its own staff instead of integrating feedback from its own subscriber base on deals or feedback generated by Yelp reviewers or other review generation sites like TRIP. For example, below is a local deal for a Luxe Texas Hill Country Resort with an additional $50 to spend: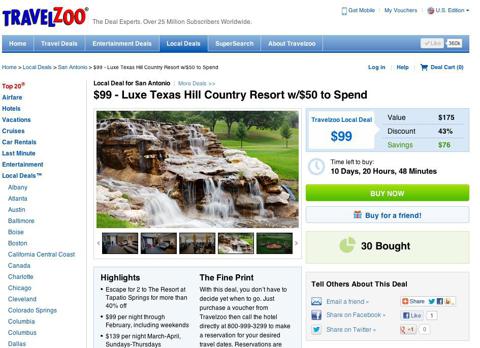 The deal provides all of the details you would need before deciding to book and integrates comments from Facebook (NASDAQ:FB) users; however, it doesn't integrate actual reviews from people that have visited it before from YELP or TRIP. I know the rationale for this might be that it doesn't want to send its users to a competitor like TRIP; the fact that it directs people to search through competing sites like OWW or EXPE as mentioned above negates this argument. YELP and TRIP are established brands that people recognize and that add credibility to the local deals they're publishing. There is a way to tap into those review sites while still keeping their visitor at their site.
Additionally, I found a similar issue as with the San Antonio local deal as I did with the San Diego hotel search: the company is losing out on potential monetization of its deal by not allowing people to book with that establishment directly from their site if the deal is not available on the day the visitor wants to travel. While you are able to contact the establishment directly online or over the phone, TZOO is losing out on an opportunity to gain a loyal customer and generate additional revenues.
The other issue I see from a fundamental standpoint is revenues have dropped recently. In Q3, they experienced an 8% drop in revenues as compared to the prior year driven by a $1.9 million drop in search revenues, the majority of which came from a decline in North American hotel search revenues, presumably caused by Google's integration of its hotel search services. Assuming by majority they say it is roughly $1.5 million, this ultimately shouldn't have a huge impact on the company since it still only makes up about 4% of total revenues.
The company stated that the 2nd largest factor contributing to the sales decline was that local revenue declined by $1.2 million. This was a result of a competitive deals market as well as an internal decision to keep the quantity of deals low so that its visitors wouldn't be bombarded with low-quality deals.
Opportunities for Growth
I do like that TZOO is directing its traffic on the "Today's Best Fares" section to its directly-owned website, www.fly.com. However, there is no reason why it can't direct all of its traffic directly to Fly.com since Fly.com is merely an aggregator of results from sites like Orbitz, Expedia, Hotwire, etc. Again, this is an area of potential lost revenues as it is directing a significant portion of its traffic off to those other sites. Since metasearch has been a big area of focus for Expedia and Priceline as evidenced by its recent purchases, directing more traffic to its own branded metasearch site could be a smart strategy by TZOO in ultimately becoming an attractive acquisition candidate if it so chooses.
In reading the comments on the last quarterly conference call, the company does mention that they see a significant opportunity for growth in the Getaway hotels offering and most importantly it appears they are addressing exactly what I mentioned as an issue I saw when I visited their site:
We continue to believe hotels are an opportunity for us to deliver value and earn additional revenue overtime. These revenue declines were offset with our continued growth in hotel's revenue which was driven by a 45% year-over-year growth in our Getaway format.

We are ramping our hotel sales for us to capture demand that we see for Getaways, both here in North America and in Europe. Getaways currently does not offer the ability for online bookings. This is something we are now working on. But with or without date bookings this remain a very popular product for our medium to small size hotels and non-brands.

With the hotel booking platform, we intend to offer our subscribers the ability to book hotel deals directly via our website through mobile products. The key difference between this and Getaways or Hotel Direct is that our subscribers will be able to book the rooms on any night. Our desire to introduce our own booking platform, follows successful commission trials in Q3, which I talked about on our last call. In those trials, we saw a strong adoption among hotels for commission solution. Good response from our subscribers.
Conclusion
It's obvious that TZOO is being punished for its slowing/falling revenue growth. After posting 35% revenue growth in 2011, revenues are expected to be flat to slightly up for 2012 and the most recent quarter experienced an 8% drop in revenues. The push that Google has made into the online travel space is affecting their business, as is the fiercely competitive local deals market in which it operates. So now it becomes an issue of what price is good enough for an investment.
The company does differentiate itself somewhat in that it offers more than just local deals (it also offers the ability to book travel) and its deals do appear to be somewhat higher quality than those you would see on Groupon (NASDAQ:GRPN). However, the real opportunity lies in monetizing its huge user base of 25 million and 30 million unique visitors per month. It currently generates roughly 2.9% of the entire US travel search traffic.
When comparing the amount of traffic it generates with larger competitors and taking into account relative market caps of each company, it certainly seems like TZOO is cheap. TZOO has a market cap to percent of visits of 107 vs. an industry average of 886, has roughly half the total number of monthly unique visitors of TripAdvisor with a valuation of 1/20th of it, has 20% of its market cap in cash, and has a price-to-sales and price to free cash flow of half of the industry average.
Part of the issue with its valuation is clearly that it is unable to monetize its assets (i.e., traffic and users) as well as the larger players. In the last quarterly conference call, the company talked about this, so it is pretty clear that it understands this and is addressing it:
CEO Chris Loughlin:
Well, let's just start with the industry as a whole. When you talk to the hotels, they are never sold out. Okay. So even with all of the OTAs out there, the hotel's are not sold out. And in New York City many hotels just -- they are always available on the weekend, even the nicest hotels. So there is a demand on the hotel side for more business. The second thing is, from an audience perspective we have just with our -- if you like to call it our flash sales approach, we have about 100 million clicks a year coming in on hotel deals.

Now many of these people leave, perhaps, I wouldn't say disappointed but maybe they leave and say well, it's a great deal but I couldn't get it on the date that I want and therefore they go and book somewhere else. Maybe they do go and book on an OTA. Still a lot of leakage coming out as a result of that. So we believe that it's a smart idea to say, okay, here is a great deal. It's still available for the dates that you have to travel to get the deal, but maybe if you don't want to travel on this date you can still go and get this other deal. And of course we have no intention in going head-to-head with the large OTAs. We don't want to be an OTA. We simply want to provide or audience with a service they are craving for from us. And also provide the hotels with a solution that really helps them on the everyday.

And the last point on it, we sort of -- we have to take more control of that hand off for the user. If you click from a hotel deal to a small hotel booking engine on a mobile environment, it's just not very good. And in many cases the consumer ends up calling and they would rather do it on their mobile device. So there is a key driver in there which is the world is changing. We are seeing a heavy shift to mobile. We are in a great position to take advantage of that. And if we get that platform in now, we will be good for the future.
While monetization is an issue, generating traffic is not. And for the bigger players that have learned how to monetize traffic successfully, it's easy to see why Travelzoo could be attractive as an acquisition candidate.
Given the relative valuation and recent industry consolidation, I don't see how larger competitors or a company like Yahoo (YHOO) (a significant player in the space with a 4.44% market share) would not find value in the traffic that TZOO generates, especially at what appears to be a very cheap valuation, in an effort to combat Google. A significant amount of Travelzoo's traffic is off boarded to a multitude of OTAs like Expedia, Orbitz, etc. By purchasing the site, a buyer would be able to direct all of its traffic to its own website and add a good chunk of the overall market at a very cheap price. Even at twice the current price, the company appears to be cheap. The market appears to have more than adequately priced in the recent short-term drop in revenues.
Disclosure: I have no positions in any stocks mentioned, but may initiate a long position in TZOO, OWW, EXPE over the next 72 hours. I wrote this article myself, and it expresses my own opinions. I am not receiving compensation for it (other than from Seeking Alpha). I have no business relationship with any company whose stock is mentioned in this article.