On Monday, shares of social media giant Facebook (NASDAQ:FB) continued their strong march higher, hitting levels not seen since late July. As the company works to gain more traction in the mobile space, analysts have become more positive on the name. Those analysts have continued hiking their 2013 revenue estimates on the name, and the stock has rallied higher and higher. Let's look at the current situation and what analysts have been saying lately.
The mobile base:
The turning point for mobile may have been CEO Mark Zuckerberg's speech at a tech conference in September, where he stated that everyone should "double down on Facebook's future." Zuckerberg stated "I think it is really easy to for folks to underestimate how really fundamentally good mobile is for us", and maintained the view that Facebook would figure out numerous ways to profit from the more than 955 million worldwide users. At that time, people just didn't understand Facebook's mobile strategy, and the quote below described the situation (taken from the news piece in my original article above).
"Zuckerberg shouldered some of the blame for the misperceptions about Facebook's mobile prospects, saying he made a mistake by initially relying on a computer coding called HTML 5 so the company's applications could run on a multitude of different mobile operating systems without making a lot of changes. That resulted in sub-par experiences for many users, Zuckerberg acknowledged, prompting Facebook to use more customization tools to account for the differences in the software that run different devices such as the iPhone and Android phones."
Are things getting any better in the space? Well, researcher Benedict Evans has provided some figures on Facebook's mobile push, and they include the following:
Facebook's Android app base nearly tripled from September 2011 to November 2011, now at about 192.8 monthly active users.
The iPhone's app base rose about 62% to 147.2 million.
Facebook had approximately 70% penetration on the iPhone.
Android penetration was about 35%, but that figure is hurt by the large amount of users in China and other emerging markets that don't have access to Facebook.
The analyst community chimes in:
When Facebook went public and the stock started dropping, there was a disconnect between Facebook's stock price and analyst expectations. Analyst expectations were very bullish, and price targets in the mid to high $30s seemed rather lofty. In October, I detailed how Facebook would have trouble holding $20 with analysts being so negative. The main premise was that too many analysts were cutting revenue and earnings forecasts, along with their price targets. However, the turning point was Facebook's Q3 results, which were fairly impressive. Since then, there have been a ton of positive analyst notes on the name, and I'll cover just a few of the recent ones in this section. There is no need to cover every single one over the last two plus months, you'll get the idea.
Right before Christmas, Needham analyst Laura Martin raised her Facebook price target from $25 to $33. She believed that "the company's mobile monetization efforts will show strong growth in the current quarter and exceed Street expectations in 2013." She thinks mobile revenue will be about $250 million in Q4, up from $150 million in Q3. Additionally, she raised her 2013 revenue forecast from $6.27 billion to $6.5 billion, and her non-GAAP earnings per share forecast for the year from $0.59 to $0.65.
Just before 2012 ended, one of Facebook's big bears turned positive, when BMO raised its rating from Underperform to Outperform, and the price target was upped from $15 to $32. Analyst Daniel Salmon believes the company is "experiencing a reacceleration of ad spending from large brands that are returning for mobile "reach & frequency" and more video ads." On the basis of those comments, Salmon raised his Q4 revenue estimate to $1.696 billion or 30% growth, compared to the previous estimate for 22%. Also raised was the 2013 non-GAAP earnings forecast from $0.60 to $0.72.
Last week, the positive analyst comments parade continued. JP Morgan reiterated its buy rating on the stock, and raised its price target from $29 to $35. JP Morgan's Doug Anmuth says mobile will generate $2.13 billion for Facebook in 2013, up from his previous $2 billion estimate. Morgan Stanley's Scott Devitt thinks Facebook's Gifts could do $1 billion in revenues in 2015, and Topeka's Ken Sena thinks Gifts could represent 5% of Facebook's profits in 2013. All of the analysts believe that ads in Facebook's mobile newsfeed are doing quite well.
The overall numbers:
There are roughly three dozen analysts providing estimates on Facebook, so it would be tedious to go over what everyone thinks. I believe I've presented a good representation above from a small number of those analysts. In the end, it's all about the average forecast, and that's what I've been tracking. The following table shows the average 2013 revenue and earnings estimate for Facebook since June 6th.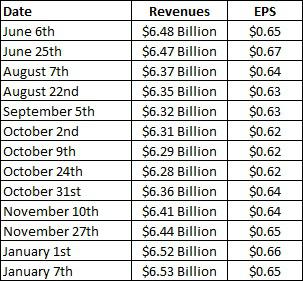 As you can see, the current estimate for 2013 revenue is at its highest point. We've come up $250 million since the low point, and that October 24th number is the estimate on the day Facebook posted its Q3 results. The earnings per share average isn't at its highest quite yet, but it's getting there. We were just a penny off the high last week. Currently, the revenue range among analysts is from $6.01 billion to $6.98 billion, and the earnings per share (non-GAAP) is from $0.48 to $0.85. This compares with current estimates for Facebook's 2012 results, which stand at $5.02 billion and $0.52, respectively. Facebook will report Q4 and full-year 2012 results on January 30th.
As I detailed in the analyst notes above, it's not just the estimates that are rising for Facebook. The price targets have been as well. The chart below shows the average price target for Facebook. We've seen a lot of target raises in the past month or so.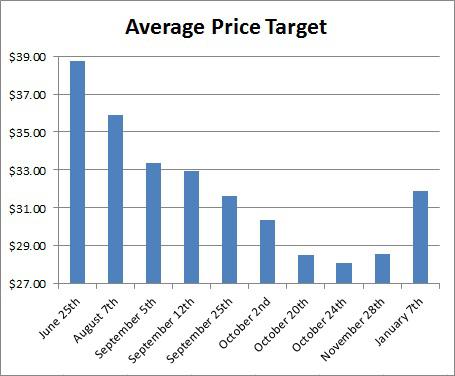 The current average price target is $31.89, and the average hasn't been that high since mid-September. The range amongst 27 analysts is $24 to $38. The current average price target represents 9.7% potential upside on Facebook. While that seems decent, the potential upside was over 50% on October 20th when the stock traded for just $19.
Conclusion / Final thoughts:
Everyone was concerned about Facebook's mobile strategy 4-6 months ago, which sent Facebook stock from its $38 IPO price all the way down to $17.55. But Facebook's mobile strategy has become more clear, and Q3's earnings report has sent a wave of confidence into investors and analysts. Since November 9th, Facebook's stock is up more than 51%. Analysts have raised their 2013 estimates quite a bit, and their price targets have come up too. If you believe in Facebook's mobile strategy, you might want to jump on board before the Q4 results. I'm not going to call Facebook the greatest stock on the planet, but if mobile turns out well and Facebook hits its marks, I would not be surprised to see this name back at the IPO price a year from now. That's quite a contrast to what I, like many, were saying just a couple of months ago. Facebook has to deliver though.
Disclosure: I have no positions in any stocks mentioned, and no plans to initiate any positions within the next 72 hours. I wrote this article myself, and it expresses my own opinions. I am not receiving compensation for it (other than from Seeking Alpha). I have no business relationship with any company whose stock is mentioned in this article.
Additional disclosure: Investors are always reminded that before making any investment, you should do your own proper due diligence on any name directly or indirectly mentioned in this article. Investors should also consider seeking advice from a broker or financial adviser before making any investment decisions. Any material in this article should be considered general information, and not relied on as a formal investment recommendation.