Arena Pharmaceutical (NASDAQ:ARNA) investors have been anxiously awaiting the launch of lead drug BELVIQ which appears only to be weeks away after the DEA recommended a Schedule IV drug classification on December 18th. Today, Arena's CEO, Jack Lief, will give a presentation at the JPMorgan Healthcare Conference where investors are hopeful for an update on BELVIQ's launch and any updates regarding their application for marketing authorization in Europe. Given Arena's jump of almost 10% yesterday, the market may be starting to anticipate that EMA approval is becoming more likely.
Arena closed above $10 on January 8th for the first time since July 2012, shortly after receiving approval for BELVIQ - the first new novel weight loss drug approved by the FDA in the last 13 years. More importantly, it is the first drug ever approved for this indication that is free of unpleasant or dangerous side effects. It could be the first option ever for endocrinologists, cardiologists, obesity specialists and primary care physicians to prescribe that gives a patient a very good chance to lose an average of 11% (if they are a drug responder) lower HbA1c by -.9 (better than most Type II diabetes drugs,) while both lowering blood pressure and heart rate. This is the type of drug profile and approved label that leads to a chronic therapy becoming a major blockbuster.
With two-thirds of America overweight or obese, there are plenty of potential patients in the US to make BELVIQ a blockbuster. European approval would almost double that target market and with Vivus' (NASDAQ:VVUS) Qsymia rejected for European use, BELVIQ would be the only viable options for the medical management of obesity. Under centralized drug reviews in Europe, the Committee for Medicinal Products for Human Use (NASDAQ:CHMP) will provide the drug sponsor with feedback by day 180 with any outstanding questions that need to be addressed to allow marketing for the EU, including the need to provide an oral presentation to the committee. In Arena's case, the CHMP would have provided this feedback in the month of December. Since Arena has not announced that an oral hearing is required at next week's meeting of the CHMP, which is material to investors, then it is reasonable to assume that the CHMP may not have any remaining questions to approve BELVIQ. It is likely the CHMP will recommend approval for BELVIQ at next week's meeting if there are no outstanding concerns, and the meeting minutes could confirm that on Friday, January 18th - which just happens to be right before options expiration.
Arena's breakout on January 8th was confirmed with volume and sets up ARNA for a run to the next major resistance area to $12 and ARNA could soon fill the gap to $11 left from July 18th, 2012. Positive comments from Arena as it pertains to the CHMP review for BELVIQ at today's JPMorgan conference could be enough fuel to lead that charge to fill the gap to $11 and set-up a very interesting scenario for January 2013 options expiration if the CHMP follows with a recommendation for EMA approval next week.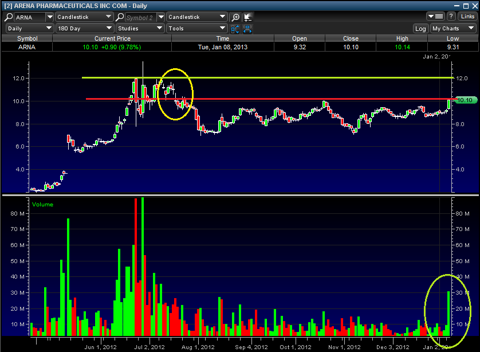 With the thumbs-up from the CHMP, Arena is likely to begin finalizing who the marketing partner will be for Europe. As Arena did with Ildong for South Korea and Eisai for most of the Americas, they will want a partner who will market BELVIQ as a chronic therapy for improving overall cardio-metabolic health and not just for cosmetic purposes. This was affirmed by Craig Audet, Arena's SVP of Commercial Operations, in a recent Bloomberg article: "Another thing we're really looking for is someone who looks at BELVIQ for medical management of obesity, and not just as a weight-loss drug," Audet said in an interview. "We don't want someone marketing this as a cosmetic drug." Jack Lief also provided another clue of the next major market to be partnered - China. "Lief said the biggest market outside the U.S. for the drug is China, and the company is looking for partners there as well."
This strategy for signing marketing partners who understand the overall health improvements brought about by BELVIQ is important for building long-term value. There is a major difference for drugs that are prescribed by endocrinologists and cardiologists and those marketed for cosmetic purposes. FenPhen (fenflurimine + phentermine) was for the cosmetic market, it wasn't written by your cardiologist. FenPhen was written 18M times in its peak year. Redux had the fastest drug launch ever, written 53K a week just 3-mo post-launch for the cosmetic market. This market has probably doubled over the last 15 years since fenflurimine was pulled. BELVIQ does not equal fenflurimine for many reasons. Of course the primary way it is different is because it is selective in the receptor it targets and is more effective than fenflurimine was as a single agent. The hypothesis of course is that BELVIQ will be as good, if not better, than fenflurimine was when combined with phentermine (without the risk of valvulopathy) - BelPhen, a "magic pill" to lose 15% weight. This was my original ARNA investment thesis to begin with. However, BELVIQ is a great drug by itself and should be marketed that way. It has basically no risk associated with trying it and for people who do try it to see if you respond to the drug - if you do, you will lose an average of 11% even without combining with phentermine. As a single mono-therapy that can help a patient lose weight, reduce HbA1c by -.9 and improve blood pressure, reduce heart rate, lipids and waist circumference - BELVIQ becomes a drug that can confidently and liberally prescribed by most everyone.
This is why it is important to have a marketing partner that recognizes the holistic benefit of BELVIQ for chronic weight management and not just cosmetic benefits. It is a drug for cardio-metabolic health first and foremost. This is a market more important and much larger than the statin market. A market with really no competition and certainly no first line therapy that exists today. It is the largest unmet medical need in the world and there has never been a safe, tolerable and effective choice for prescribers. It should not be promoted as a cosmetic drug (at least not by the marketing partners.) Cosmetic use will come organically. It does not need to be promoted that way, just like FenPhen was only promoted through the media and weight loss clinics.
Qsymia's Abysmal Failure
Earlier this week, VVUS jumped after reports stating that prescriptions rose 68% for the four weeks ending December 21st after the launch of their marketing program giving the first two-weeks of the drug away for free (titration period) - a total of almost 13,000 prescriptions compared to less than 8,000 for the four weeks ending November 23rd. This means prescriptions grew from an average of 2,000 a week to just 3,250 a week a full 3 months after launch. At an average script value of $150 that is less than $500K in sales per week and indicates that Vivus sold less than $5M of the drug since its launch in September - but a small fraction of the estimates for 2012 Qsymia sales and certainly not close to the rate it needs to be at to justify a $1.5B valuation. With Vivus' quarterly operating costs likely approaching $50M a quarter, Vivus is burning through their cash at an unprecedented rate. For those who have read my perspective on Qsymia in the past, this should come as no surprise. Frankly, sales have been worse than I even imagined. Because this drug raises heart rate (thanks to phentermine,) and has other unpleasant side effects such as tingling extremities and cognitive impact - it doesn't have the profile for a first line therapy. When you add in the risk of birth defects for the most prominent portion of the target market (requiring pregnancy tests and double birth control,) the pain of titrating doses, the limited distribution and the training prescribers have to complete before they can even prescribe it -- you have the makings of a complete disaster. I maintain that Qsymia will be shown to not be a viable drug long term given the costs of the required post-marketing studies over the next 5 years and pending competition from both BELVIQ and BelPhen.
The biggest risk with investing in ARNA (for me) was would the FDA approve this drug given the history of this class of medicine and particularly because of the concern over valvulopathy? I'm not concerned at all that BELVIQ is going to sell well given its unique mix of safety, tolerability and efficacy - plus the potential for BelPhen. It may take longer than I'd like but I think it sells and therefore I continue to hold my overweight position (no pun intended.) I look forward to a potential recommendation by the CHMP next week for BELVIQ approval in the EU and the US-marketing to begin in February.
Disclosure: I am long ARNA. I wrote this article myself, and it expresses my own opinions. I am not receiving compensation for it. I have no business relationship with any company whose stock is mentioned in this article.