Kohl's (NYSE:KSS) is a large retailer whose stock has taken its lumps recently. Investors are worried about comp sales and management's ability to manage inventory levels effectively. There may be a good buying opportunity because of the recent decline in the stock price. See recent comps here.

The best way to put these comps into perspective is by comparing them to peers and the entire market as a whole. Before looking at competitors, consider the market for apparel in general. Because apparel is mostly manufactured abroad, a good way to gauge the market is to look at import data, which is available by NAICS category, from the US government. See below for these various import categories related to KSS sales and their respective comp rates year-over-year. Pay even closer attention to the cumulative changes over time.

As you can see, these import categories, just like the related retail comps, have not been particularly strong. Although individual store comps have not been stellar at KSS, total sales have actually grown market share because KSS is opening more stores. Where imports, as a proxy, have cumulatively remained flat in these recent years, KSS has cumulatively grown more in total, indicating it to be taking market share, albeit with lower individual store comps than some peers. See below for a comparison to peers; sales data was aggregated from 10-Ks.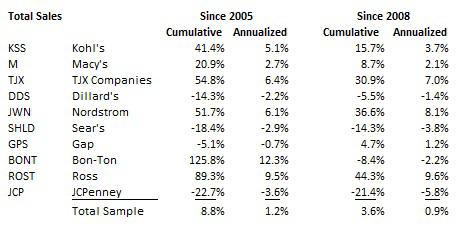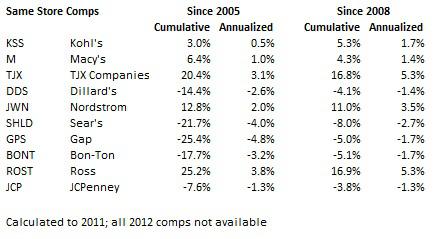 Notice that the off-price retailers, such as TJX Companies (NYSE:TJX) and Ross (NASDAQ:ROST), have grown significantly. Nordstrom (NYSE:JWN) has Nordstrom Rack. There is a polarizing, similar to the likes of Whole Foods and Aldi in the grocery business, where the middle is getting stretched between specializers and discounters. The place to make money in this industry is to be like a Ross or TJMaxx with the off-price format. Kohl's does not look particularly bad cumulatively as compared to its direct peers. Comp rates have not hurt Kohl's over time, on a per store comp basis, as such retailers as The Bon-Ton (NASDAQ:BONT), Dillard's (NYSE:DDS), Sears (NASDAQ:SHLD), or even the Gap (NYSE:GPS).
So these are the numbers behind the comps issue. The whole industry is not particularly robust and off-price retailers are taking a bigger slice of the pie. Competition is strong.
Competitive Advantage
So why is Kohl's so special? Ever heard of Nike, Adidas, Vera Wang, Dockers, the Food Network, or Jockey? These are the types of brands that Kohl's sells. And some of the brands are better than others but this is not the important thing. What is really important is that this translates into Kohl's not having to spend in advertising as much as some other competitors. The likes of Nike and other national brands do their own advertising. As a result and in addition to a focus on operating efficiency, the company enjoys one of the best SG&A percentages within its competitor group. Notice in the chart that Ross and the other off-price retailer TJX also have a very low SG&A percentage. However, this percentage at these companies is driven by higher topline turnover, better absorbing SG&A costs. These off-price retailers are strong competitors. For Kohl's, when competitor operating margins are in the 0%-10% range, a cost advantage of 5%+ is huge, especially given that GM %s are in a similar range. As Kohl's continues to add stores, unlike its competitors, this SG&A advantage will get even better. Below are the ROIC, SG&A %, and Operating Margin % stats for KSS and its competitors; this data was gathered from Morningstar data.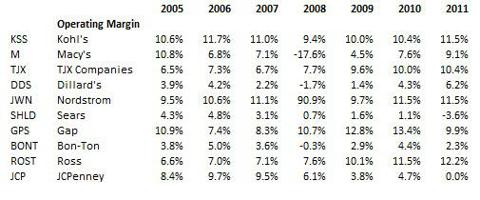 I see Kohl's in the space between the likes of JCPenney (NYSE:JCP), Dillard's, and Sears and the off-price, non-anchor store format retailers like Ross and TJMaxx. It sells strongly branded products just like a TJMaxx but has a relatively more upscale store format. In my opinion, this lower cost structure and branding strategy is less exposed than the traditional anchor retailers like a Sears, JCPenney, or the now defunct Montgomery Wards. Amongst those types of stores, Kohl's has better numbers and would "die last," so to speak, after other direct competitors leave first. Below are Asset Turnover and GM % stats for KSS and its competitors.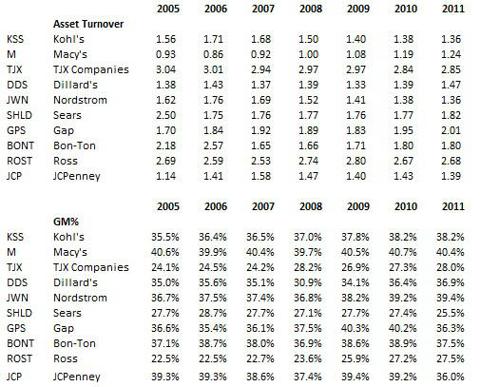 I should make mention of JCPenney and its new CEO Ron Johnson. That situation reminds me of the Warren Buffet quote, "When a management with a reputation for brilliance tackles a business with a reputation for bad economics, it is the reputation of the business that remains intact." JCP does not have a cost advantage in SG&A and neither better gross margins, turnover ratios, a better shopping experience, nor better brands than its competitors. I consider JCP to be a long shot. Like the Titanic, big businesses and their internal cultures are hard to turn especially ones that rely so much on their cultures as in retail; Johnson needs to pull off a complete transformation.
E-Commerce
There is one wrinkle that also needs to be discussed. For everyone that follows Best Buy and thinks that Amazon is taking that company's business, consider the following: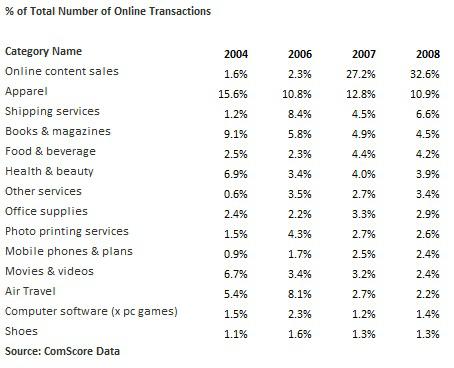 As you can see (numbers are a little outdated but the share has probably not changed significantly), one of the biggest selling categories in E-commerce is apparel. Although Amazon does not break out sales categories, it is likely doing a significant amount of sales in this category, including footwear, especially through its Zappos subsidiary which has reportedly reached the $1.2 billion revenue mark. Online apparel sales is big business. After Collectibles, "Clothing, Shoes, and Accessories" is eBay's biggest category.
Kohl's has responded with a significant online presence. 2011 E-commerce sales were $1.01 billion which was about 5.4% of total sales. Compare that to its peers below: online sales data was gathered from the Internet Retailer site.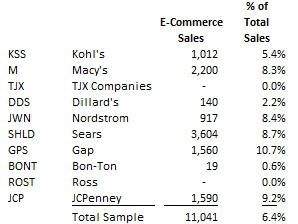 Notice that the inability of companies like The Bon-Ton or Dillard's to generate significant Internet sales has driven much of their low-comp rates, per the original chart above. Kohl's has managed wisely to enter the Internet space and generate enough sales to keep comp rates higher than these peers. It seems as if it is managing the physical store presence and the Internet presence adequately in a changing environment.
Valuation of KSS
KSS's P/B ratio has dropped to 1.6, the lowest it has been for a long time. Its 10-year low was 1.3 during the financial crisis in November 2008.
Notice that KSS's ROIC and operating margins have been remarkably more stable than some of its peers in the depths of the recession. Beta estimates of the company found on the web range from 0.61 to 0.83. So let's say that the cost of capital is about 9.0% per these betas even as a very high estimate. Compare that to the company's historical ROEs in the chart here.
| | | | | | | | |
| --- | --- | --- | --- | --- | --- | --- | --- |
| Kohl's | 2006 | 2007 | 2008 | 2009 | 2010 | 2011 | TTM |
| Return on Equity | 19.2% | 18.5% | 13.8% | 13.6% | 14.0% | 16.0% | 16.9% |
The average ROE has been about 15.2% in the last five years. This average earnings power ROE is about 15.2/9.0=1.68 times the cost of capital. The company earns in excess of its cost of capital consistently and is therefore awarded a P/B of greater than 1.0, as do other companies in this space that also earn in excess of their own cost of capital. This ratio would represent what the market would apply as a valuation in a no-growth world. The ROE is 1.68x the Cost of Capital and therefore a 1.68 P/B would be afforded when no growth is estimated.
The market is pricing the company at a P/B of 1.6 which would indicate that the market does not expect much growth and/or a decline in profitability. KSS has a P/E of 9.6 for an earnings yield of 10.4%, above the cost of capital and no growth priced into this ratio either. KSS earns a healthy multiple above its cost of capital and therefore any growth would be value-adding to the stock price. The company's excess profitability relative to the cost of capital is not even really near the point where growth would be value destroying anyway.
So in my opinion, you are getting the company's growth for about free. Based on the above analysis, this growth could be significant. The company is expanding its store base, has significantly grown Internet sales, has one of the most efficient cost structures against its primary competitors, and has two competitors (namely Sears and JCPenney) that are struggling hard. Additionally, based on the flat trend of the import data above, there may even be an uptick soon in total industry sales as households continue to improve their balance sheets and unemployment improves, expanding the retail sector as a whole.
As if the low P/B was not enough, the company has a large buyback program. For the buy-and-hold investor, their claim on the company's profits will grow as other shareholders are bought out of the market. See below for a chart of the number of outstanding shares over time.
| | | | | | | |
| --- | --- | --- | --- | --- | --- | --- |
| Kohl's | 2007 | 2008 | 2009 | 2010 | 2011 | Q3-2012 |
| Shares Outs., Millions | 314 | 305 | 307 | 292 | 253 | 235 |
As you can see, there have been significant amounts of shares that have been taken out of the market. That is shareholder friendly. Management indicated that Q4 would see about $300 million in buybacks making for about $1.2 billion total repurchased in 2012. That is about 12% of the current market cap. It is authorized to do it and it has done it in the past; there is no reason why management can't take out about this amount of market cap through share repurchases in 2013.
So let's say that KSS trades back to its 5-year P/B average of 1.9 from current levels, that is about a 16% return right there. It buys back the equivalent of 12% of the market cap and the EPS improves by that amount. Tack on a 3% dividend. If comp sales improve because of sector growth and better operational management, there will be topline growth and better leveraging of fixed costs for greater profitability levels. All told, there looks to be solid return potential for KSS at this price level.
Conclusion
Kohl's looks undervalued. Sometimes operating in a very competitive industry is a good thing if you create the right strategy to create a competitive advantage. It leaves your competitors to struggle around you. Kohl's competitive advantage is its significant cost advantage from its low SG&A expense. It has kept pace in growing its E-commerce business to maintain its competitiveness in that space, protecting its topline. As other players struggle, Kohl's earns enough money to fund growth and initiate its large buyback program. At this level, it appears to be a good buy.
Disclosure: I have no positions in any stocks mentioned, and no plans to initiate any positions within the next 72 hours. I wrote this article myself, and it expresses my own opinions. I am not receiving compensation for it (other than from Seeking Alpha). I have no business relationship with any company whose stock is mentioned in this article.