Verizon (NYSE:VZ), the largest U.S. wireless carrier, has done very well for its shareholders over the past five years or so, from the 2008 low of $23.07 it has nearly doubled to the $43.10 share price as of this writing. However, I think Verizon still has a way to go growth-wise.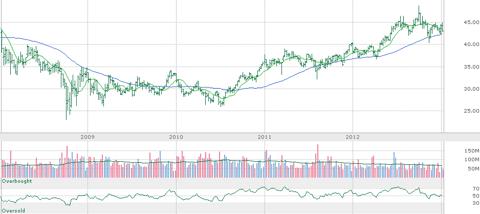 Verizon provides wireless service to approximately 23 million landline customers and 94 million wireless customers. Along with At&T (NYSE:T), Verizon dominates the post-paid wireless market, which is still growing nicely. In fact, the company added 1.4 million new subscribers in the first half of 2012. In addition, revenue per customer continue to rise, with the average revenue per post-paid customer at $56, up 3.7% from last year. Even though handset subsidies are high, Verizon still manages an industry-high 48% EBITDA service margin. The company also provides wired internet services to 8.8 million customers.
Where I see the most potential for growth is the trend toward smartphones, and specifically mobile data usage. As of June 2012, 50% of Verizon's customers had smartphones. As this increases, data-related revenue should increase, with most of the sales attributed to Android devices and the iPhone. In 2012, wireless data revenue represented 44% of the company's service revenue, and this should increase significantly as the demand for on-demand internet access and email grows.
Verizon is also one of the most bulletproof income-generating stocks in the market. With a fantastic 4.61% yield, Verizon has increased its dividend every single year over the past decade, even during the financial crisis years, causing the stock to yield almost 8% at its lows a few years ago. To borrow a quote from Jim Cramer, Verizon is like "a bond with upside." It has a better yield than a lot of corporate bonds, and also has the added bonus of being able to increase in value over the long run.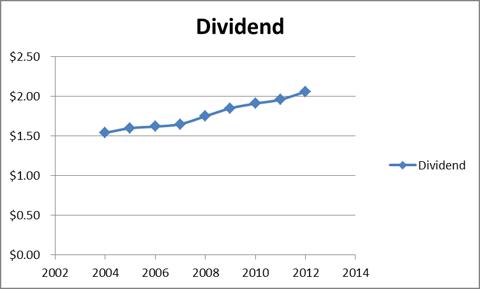 Speaking of growth in the share price, let me explain why I think Verizon will continue to grow. Aside from the smartphone potential, I believe Verizon is very fairly valued currently. Verizon trades at 17.6 times 2012 earnings, which sounds expensive. However, the $2.45 per share Verizon is expected to report later this month is projected by consensus estimates to grow to $2.85 and $3.19 in 2013 and 2014, respectively. This means that the company is expected to grow its earnings by an average rate of 14.1% over a three-year period, taking into account the growth between 2011 and 2012. To put into perspective how cheap this valuation is for this type of earnings growth, Google (NASDAQ:GOOG) is expected to grow its earnings over the same 2011-2014 period by an average of 15.0% based on the consensus of analysts covering the company, a rate just above Verizon. However, Google trades at 23 times earnings, a hefty premium with similar growth expectations. Maybe this is because the market views Google as "cool" and Verizon as "boring." Who knows? But what I do know is that Verizon is significantly undervalued for its growth.
To sum it up, Verizon is a stock that works for a variety of investors. For growth investors, there is plenty of upside potential, especially if you believe in the future of smartphones and mobile data as much as I do. For income investors, this company is a dream, with its outstanding record of dividend raises, not to mention the bond-like yield amount itself, which should provide a nice stream of income while you wait for the next leg up in share price.
Disclosure: I am long VZ. I wrote this article myself, and it expresses my own opinions. I am not receiving compensation for it (other than from Seeking Alpha). I have no business relationship with any company whose stock is mentioned in this article.