Most market participants and analysts expend an enormous amount of energy and time focusing on short-term sales and margin expectations to get an edge. In the rush to attempt to get some sort of advantage in forecasting next quarter's earnings, these same participants tend to pay too little attention to the long-term fundamentals and value of a business, in relation to the price that it can be acquired for. Explosive long-term demographic and economic growth in developing markets will create a much larger middle class in the years ahead. Consumer goods will grow along with these markets as per-capita wealth increases and economies grow, and it is very likely that consumers in these developing markets will trade-up for the brands that they identify as being of higher quality. For these reasons and the durable competitive advantages that Procter & Gamble (NYSE:PG) possesses, I believe that the company's disappointing performance over the last several years has created an attractive long-term entry-point for the patient investor.
The history of Procter & Gamble is nearly as long and dynamic as that of America. This journey stemmed from its creation in 1837, to its role supplying soap and candles during the Civil War, and the business has continued to thrive throughout the vast and enduring economic growth that this country has experienced for generations. Transformative innovations and brand development were the pillars of the company's growth, and the larger the company became, the more scale and distribution advantages increased Procter & Gamble's moat versus competitors. In 2005, the company bought Gillette whose largest shareholder was Warren Buffett's Berkshire Hathaway (NYSE:BRK.B). Gillette was known for making improvements to its products and then increasing the price on the products, which would enhance margins. Gillette's dominance in razorblades was a perfect complement to PG's numerous market leading brands, and if Procter & Gamble could have aggressively created synergies through reducing redundancies between the businesses the acquisition might have been more highly accretive to shareholders. Unfortunately just a few years after the merger, the Great Recession changed consumer buying habits on a global basis, with many electing to trade-down to lesser known brands and products, with fewer innovative features. During the better part of a decade since the merger, Procter & Gamble has significantly underperformed its primary competitors.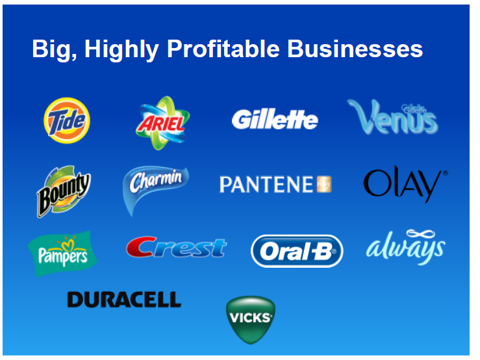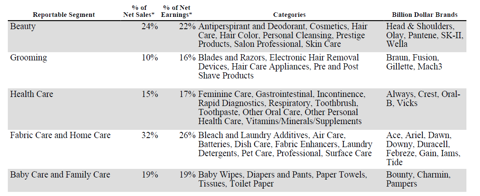 Source- Analyst Day Presentation
Extremely large companies such as PG are very complex so most analyses are going to be overly simplified, and this is no exception. With this said, I believe that the company's major problems can be summed up by the following issues:
1) The company is too large and complex to fully monetize its various brands and innovative products.
2) The company has not executed as well in emerging markets as it should have given its considerable durable competitive advantages.
3) The company has been inconsistent in its pricing strategy, which has opened up the door for competition both domestically and internationally.
4) The company's cost structure has been bloated, and even worse management hasn't properly instilled a consistent and effective expense controlling culture, but instead has been regularly late to react.
Because PG's strengths are centered on its massive scale, shrinking the company does not come without risks. Any consumer goods company would die for PG's distribution, manufacturing and marketing heft, which has helped the company build its 25 billion-dollar brands. Currently management is intelligently focusing on its 40 largest businesses, which generate more than 50% of sales and nearly 70% of operating profit. In addition, the company is emphasizing the 10 largest developing markets and the largest businesses will be the easiest to efficiently market and distribute on a global basis. I believe in the past that PG has been overly aggressive in trying to obtain price increases in developing markets, and I think that particularly during difficult economic times it makes sense for the company to be willing to accept slightly lower margins to win market share. Just as the company did in the United States, being more cost competitive would enable PG to grow along with these developing countries and PG could use its financial heft to take market share from its competition. PG has historically been among the top spenders in terms of advertising in efforts to enhance brand equity, so increasing volumes and winning market share in faster growing markets should enable the company to ramp up its advertising spend is these key developing markets. Further down the line, innovations within product lines such as Pods for detergent will enable price and margin increases, but being too early in demanding premium prices has been detrimental.
It might make sense to put the 40 largest businesses into one company, and then doing a partial spin-off of the remaining businesses and the more speculative elements of the product pipeline. Many smaller consumer goods companies have been enormously successful buying non-core brands from the behemoths such as PG, and then cultivating them to grow profitability and market share. PG spends about $2 billion a year on R&D and I believe the company could more effectively leverage these expenditures if it split up into two different businesses, with separate management teams and product lines to more effectively ensure that the return on investment on R&D spending is adequate. By still having a controlling stake in the smaller and less developed product portfolio, PG would still be able to leverage its distribution and marketing. This type of corporate structure would be similar to a farm system for a baseball team, where prospects prove themselves with more playing time until they are ready to be called up to the big league club. At its current size and structure, PG simply can't invest the time and energy into maximizing these potentially promising brands that might not be ready for a truly global launch from the outset. Therefore, I believe having a separate management team focusing on these ideas exclusively would increase the company's ability to fully monetize these products and just as importantly improve accountability within the company's operations.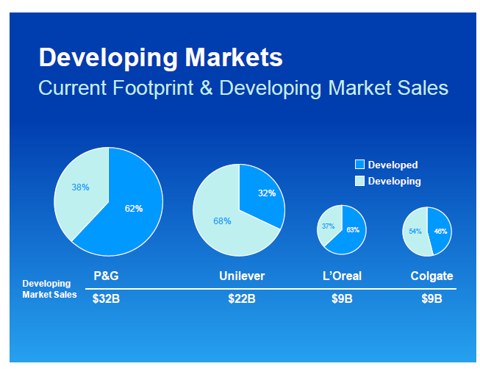 Source- Analyst Day Presentation
Currently, Procter & Gamble generates roughly 38% of sales from developing markets. Part of this disparity between it and its competition can be attributed to the company's strength in North America and Europe where it has dominated its key product categories, but Procter & Gamble should be just as dominant in developing markets due to its entrenched competitive advantages. Companies such as Coca-Cola (NYSE:KO), Pepsi (NYSE:PEP), and Unilever (NYSE:UL) were earlier and more aggressive in their approach to emerging markets so now PG must play catch up. Management has been touting its $10 billion savings plan, which is largely focused on lowering its cost of goods sold and streamlining manufacturing. I'm always skeptical when a large company such as Procter & Gamble needs to announce such an initiative after years of underperformance because it tells me that efficiency isn't an iron-clad aspect of the company's culture. Being CEO of a company such as Procter & Gamble is like being given the keys to a Ferrari and it comes with a lot of responsibility. Clearly one doesn't have to reinvent the wheel to be successful, but when the reaction to an activist investor such as Bill Ackman is a cost-savings initiative without a clear plan to grow, I find it to be alarming.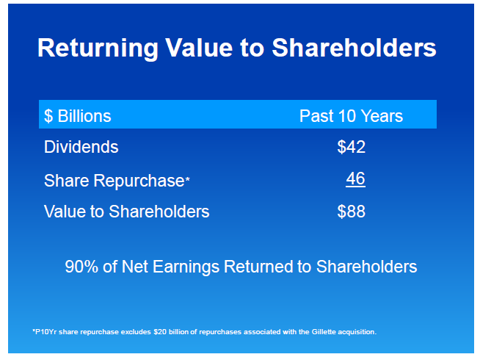 Source- Analyst Day Presentation
Procter & Gamble's business generates robust free cash flows and management has been aggressive in returning capital to shareholders. The company currently boasts a debt to equity ratio of roughly 37%. With interest rates near all-time lows, I'd like to see the company issue about $10 billion in additional long-term debt to buy back stock. When interest rates are closer to the company's return on invested capital, I'd be far less aggressive in the utilization of debt, but now is the time to strike, particularly when you consider that the dividend yield would likely be similar to the tax-deductible interest costs on the debt.
Consumer goods companies generally trade at higher multiples due to the stability and quality of their earnings streams. Procter & Gamble and its 25 billion-dollar brands should most certainly trade at a premium to its peers, and greater confidence in management's vision would likely accomplish this task. PG is still very capable of consistently generating returns on equity of roughly 20%, and returns on invested capital of 12-13%. I believe that the company could earn $4.50 a share in 2014 as the global economy strengthens, and as the cost structure is adjusted. I'm comfortable paying 15-16 times earnings for a company of P&G's quality, and I believe that if management takes some of the steps listed above that earnings growth of 7-10% per annum is well within reason. This relatively modest discount to intrinsic value is not intriguing enough for me to make the stock a truly high conviction investment as Bill Ackman did in acquiring roughly 1% of the business. Ackman's presence could potentially be the catalyst that spurs more shareholder friendly action from management, particularly if the company continues to underperform, which is my opinion creates somewhat of a floor under the stock.
At T&T Capital Management, we utilize selling put options on the stock to generate income and to manufacture a cheaper entry-point if the stock were to drop. For accounts that are willing to utilize a slight amount of leverage we have sold some January 2015 $60 puts for $4.50 apiece. This trade wouldn't make sense on an IRA account, but the cash required on a margin account is much lower, likely around $1,000 to $1,500 per contract. Using the $1,500 cash required number and assuming the option expires worthless, this strategy generates 30% returns over 2 years, or roughly 15% annualized. Obviously if the stock were to expire below $60 we'd be willing to buy the stock at a breakeven price of $55.50 so we will make sure we have ample liquidity to do so. Utilizing leverage should only be done by experienced investors, and we rarely use more than 10% on our more aggressive accounts, but this type of low-risk, high probability investment has been quite fruitful for us in the past. It allows us to follow the turnaround story and maintain discipline, only acquiring the stock assuming it trades at a large enough discount to intrinsic value. 5-10 years out I'd expect PG's stock and business to accelerate as it gains market share in emerging markets, and as management cuts the fat out of a bloated organization, but patience and discipline in obtaining an adequate margin of safety will be essential to maximizing risk-adjusted returns for investors. If Ackman can shake things up in a positive way more quickly than I expect, then the put options should decrease in value while the stock appreciates, allowing us to earn higher annualized returns and exit the investment more quickly.
Disclosure: I am long PG, BRK.B, PEP. I wrote this article myself, and it expresses my own opinions. I am not receiving compensation for it (other than from Seeking Alpha). I have no business relationship with any company whose stock is mentioned in this article.