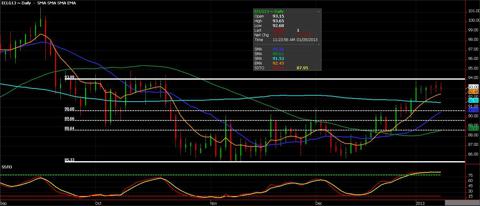 After a near $10 run higher in the last month, February crude oil futures have stalled just under $94/barrel. I think aggressive traders can probe shorts, looking for prices to trade a back under $90/barrel in the coming weeks. Traders would get confirmation on a settlement under the 8 day MA -- identified by the orange line in the chart above -- just under $92.50.
As traders, we all know that past performance is not indicative of future results, but crude futures did fail from around these same levels in the fall before bottoming out mid-winter, consolidating and appreciating in recent weeks as one can see… will history repeat itself? I am in the camp that we are in a trading range in crude for the next several months, and I will be looking to sell near the upper end of the range and buy near the lower end; $86-94/barrel. My preferred way to play crude in this environment is to place a futures trade with my directional bias and then implement an options strategy as a hedge to manage the trade. For instance, be short futures and sell puts 1:1 is my current advice.
In regard to speculators being leery of bearish exposure because of the unrest in the Middle East… as long as I can remember, there has been a situation that has built in a risk premium so unless there are new developments in the immediate future, my stance is crude has largely shrugged this off. For whatever reason if we see prices get above $95, I will likely cut losses with clients in futures and hopefully, the sale of puts will soften the hit a little.
Risk Disclaimer: The opinions contained herein are for general information only and not tailored to any specific investor's needs or investment goals. Any opinions expressed in this article are as of the date indicated. Trading futures, options, and Forex involves substantial risk of loss and is not suitable for all investors. Past performance is not necessarily indicative of future results.
Disclosure: I have no positions in any stocks mentioned, and no plans to initiate any positions within the next 72 hours. I wrote this article myself, and it expresses my own opinions. I am not receiving compensation for it. I have no business relationship with any company whose stock is mentioned in this article.