Since my last article alerting Seeking Alpha readers that Antares (NASDAQ:ATRS) is a moderate risk growth stock, the share price has jumped by 11.7% on two market down-days and today's up-day. This is remarkable considering that the stock has been trading in a churning channel over five long months long, but it seems the company's recent advancements has once again captured the attention of the market that once took the share price to $5.58/share. Right now Antares is trading at $4.20/share. That's just about 25% under the company's twelve month high. The chart tells the story: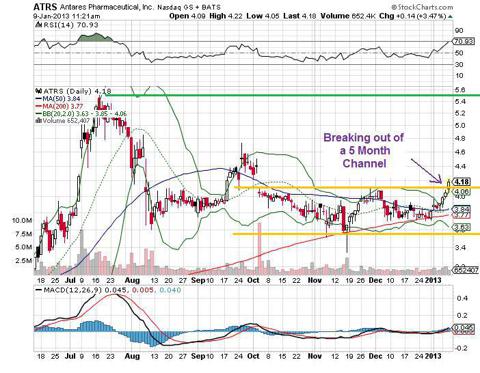 Here is further analysis as to why investors may be becoming bullish on Antares:
First, with $88M in cash and $0 long-term debt with the company being Q/Q within a penny or so of break-even, the expanding revenue stream thanks to Anturol 3%'s introduction by Watson (WPI) last year and Meda Pharmaceuticals acquisition of Jazz's (NASDAQ:JAZZ) women's health products that specifically targeted Antares' Elestrin drug could be a key reason:
Meda has signed an agreement with the U.S. company Jazz Pharmaceuticals to acquire a portfolio of 6 pharmaceutical products focused on Women's Health. The largest and most important product is Elestrin, a patented product with sales of almost 100 MSEK. Elestrin is indicated for the treatment of moderate-to-severe vasomotor symptoms (i.e. hot flashes) associated with menopause. Since the launch in 2007, Elestrin has become a leading brand in the topical ERT (estrogen replacement therapy) market. Together with Meda's present portfolio of products in the therapy area of Women`s Health the sales will be over 500 MSEK.
Antares' third marketed drug Tev-Tropin with Teva Pharmaceuticals (NYSE:TEVA) continues to grow Q/Q and the new 10 mg. version to be later introduced in 2013 upon FDA approval should significantly increase the already successful revenue stream. All together, Anturol 3% plus Elestrin plus Tev-Tropin expanded could very easily put Antares into net positive territory. But even if it doesn't with the company's low quarterly cash burn with $88M in cash, it will go a long way towards moving Otrexup into the market no later than early 2014.
Second, the most likely explanation to the recent pop is the market's rediscovery of the company's share price under-valuation. After all, Antares recently filed its NDA for Otrexup a month or so ahead of schedule suggesting to even the most conservative investors that before the end of 2013 or early 2014, Antares could be announcing the entry of Otrexup into the market. Meanwhile, Antares continues to alert rheumatologists and is staging the necessary infrastructure to move Otrexup into the market as soon as possible. This is a bullish signal. However, there is a risk that the FDA could delay a decision.
Third, it was also recently learned that the Otrexup market is being expanded. This came as a pleasant surprise to investors. Antares investors learned that Otrexup will also target the psoriasis market. 7.5M people suffer from psoriasis and a smaller percentage of the more severe cases would benefit from Otrexup. As you can see, this will add value to Otrexup's revenue stream.
Fourth, there is increasing talk around Pfizer's (NYSE:PFE) so-called 'mystery drug' with Antares. Investors seem to agree that the over-the-counter drug cannot be from Antares' injector line of products and opinions are divided. However, it is virtually recognized by all long investors that the market is yet to bank a value nor has it been reflected in Antares' share price. But this looks like it is soon to change because investors are daily watching what Pfizer is enrolling into phase III clinical trials. Whatever the product is, Antares has been very excited about its value as the deal is heavily front-loaded by 2016 through 2018.
Five, investors have also been told that the Teva Pen 2 product will be revealed in the coming months. There has been a wave of rumors over which biologic and/or biosimilar it may be, but I've noticed that even long-holders are beginning to think that Teva's monster drug Copaxone could be somewhere in the Pen 1 or Pen 2 equation. If that turns out to be true, then the impact on Antares' share price would be extremely bullish. There is certainly a lot of excitement from Antares' management team about the future entry of Teva's Vibex Epinephrine and also Sumatriptan. Antares' partnership with Teva is beginning to unfold like a beautiful flower.
My investing angle in the biotech sector has always been to discover low-valuation firms that are going unnoticed by the market. That seems to be what happened to Antares after its significant retrace and lengthy five month churn. But the company has taken strategic steps forward and quite honestly, I'm grasping for what risks I can bring to SA reader's attention. I suppose the greatest risk is the overall market followed by the FDA's approval of Tev-Tropin 10 mg. and Otrexup. Quite frankly, I think the reason Antares is going up so quickly is based on the company's strong fundamentals that makes it a moderate risk high growth stock.
I maintain a very bullish outlook and a target price of $8-12/share in 2013. This means a current buyer could see a 100-200% return here in 2013. Happy investing.
Disclosure: I am long ATRS, CVM, QCOR, CLSN. I wrote this article myself, and it expresses my own opinions. I am not receiving compensation for it (other than from Seeking Alpha). I have no business relationship with any company whose stock is mentioned in this article.
Additional disclosure: On the same day as writing this article, I added to my position in Antares. Investors buy/or sell at their own risk. You are warned not to use this article for individual investment advice and you could lose your entire investment by trading in the stock market. This article is for entertainment purposes only. For me 'long' is until I sell. I do not 'short' stocks. I declare that I may trade any stock at any time mentioned in this article.