Eli Lilly (NYSE:LLY) has just released 2013 revenue guidance of $23 billion (mid-range). According to Lilly's statement, that is single digit growth over 2012 final figures, which the company has not announced yet. Gross margin guidance for 2012 and 2013 is in the 78% range.
Lilly's management anticipates growth to drive from the Japanese market, Emerging Markets and the Animal Health division as well as continued growth of its lead products: Humalog, Humulin, Cialis, Strattera, Forteo, Alimta, Effient, Tradjenta, Axiron and Cymbalta outside the US.
Eli Lilly has already weathered patent expiration of one of its lead products, Zyprexa in late 2011, and expects loss of US patent exclusivity on its current lead product, Cymbalta, before the end of December 2013.
However, despite Cymbalta's patent cliff, Lilly's share price has been defying gravity and currently trades close to its highest level in 2012 with a PE above 14.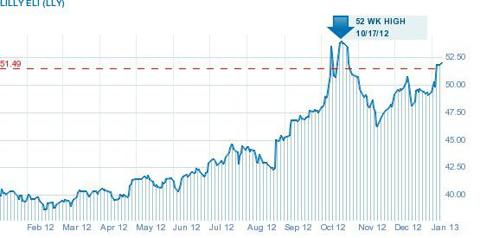 My questions are: How come? and is such a price level justified?
The answer to the first question is rather easy. During the last quarter of 2012, Lilly's management paid $419 million to acquire 8.8 million of its own shares. And in mid-December, the company initiated a new $1.5 billion share repurchase program and paid another $400 million to acquire another 8.1 million shares.
The answer to the second question is rather tricky. When trying to decide a reasonable target price for Lilly it becomes increasingly important that one factors in Lilly's repurchases of its own shares.
Lilly has plenty of cash in its coffers and will be able to fund its $900 million capital expenditures for 2013, pay dividends of approximately $2.1 billion and pay $1.1 billion to purchase more of its own shares.
Management has already announced that they expect to spend the remaining $1.1 billion during 2013 repurchasing shares. So shorting Lilly is not an option for the average investor. Unless, of course, one is simply speculating with options.
Buying more of Lilly's shares is not an option either. Management expects $20 billion in revenue for 2014, a decline of $3 billion from their projected 2013 level. They also expect a deterioration in gross margin to the mid-70s; that is a decline of three percentage points.
What if you already own Lilly?
Selling Lilly at the current peak could generate nice cash, which is king in such uncertain times. It can also be used for acquiring some under-valued assets that can outperform any further increases in Lilly's share price.
Holding Lilly is not such a bad strategy neither, giving the huge amount of cash that management is planning to distribute as dividends and to use purchasing own shares.
Unless, of course, some heavy weight hedge fund manager, with deeper pockets than Lilly, decides to make a killing shorting the stock.
Disclosure: I have no positions in any stocks mentioned, and no plans to initiate any positions within the next 72 hours. I wrote this article myself, and it expresses my own opinions. I am not receiving compensation for it (other than from Seeking Alpha). I have no business relationship with any company whose stock is mentioned in this article.