My latest post stated that "Warner Chilcott Is A Buy For Dividend Lovers" as part of a value dividend portfolio affectionately called Rock Solid Yields (RSY). In addition to recommending a buy on WCRX, the article discussed that not all dividends are equal and that the classification of a dividend is important for considering the dividend yield as an ongoing commitment by management. While any dividend is great for investors getting returns on their assets, only regular declared dividends associated with a time-period can be counted on with a reasonable expectation like yearly, quarterly, or monthly. Some of the other classifications for dividends are special, extra or the dreaded liquidation as that spells the end of dividends and most likely all revenue generating assets of the company.
Other than the link to the RSY blog at Sabrient Systems as part of the disclosures, I did not explain much about the RSY model portfolio. RSY was designed to capture dividends over the long-term from stable, financially healthy companies with high value scores. Buy and sell recommendations were based on a portfolio of $100,000, but since inception in August 2010 it rarely has used more than 1/2 of the assets. Without going into the minutia of the methodology today, below shows the current positions of the RSY portfolio along with gains/losses including option positions. The total of prices paid reflects realized gains over the life of portfolio of over $17,000.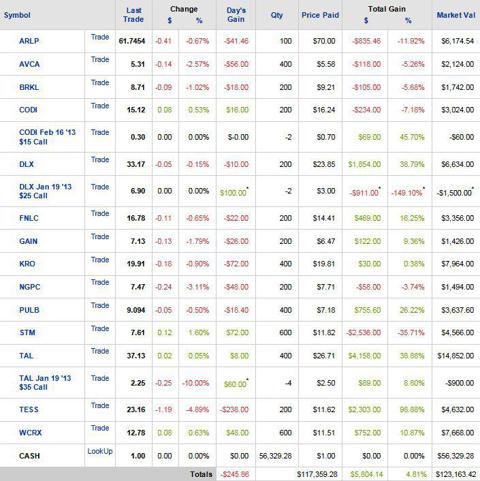 This table does reveal that a couple of options that need to be addressed shortly before expiring this month. Deluxe Corporation (NYSE:DLX) is fairly valued to the market and is more of a momentum player now, but it seems worthwhile to try and capture some of the upside it has experienced recently. RSY recommends buying back the option at $7 and selling a July 20 '13 $30 Call at the limit price of $4. TAL International Group, Inc. (NYSE:TAL) still maintains its buy rating with an above industry average value score. So RSY also recommends to roll it over by buying the 4 options back at $2.25 and selling the July 2013 $35.00 CALL at a limit price of $3.50.
RSY Recommends a Buy of ARR
RSY might be considered a lazy portfolio with a buy and hold attitude, but it does consider entry and exit points based on ex-dividend dates. Armour Residential REIT, Inc. (NYSE:ARR) has its next ex-dividend date on the 11th of January and announced dividends of $0.08 for February and March also. Great, but being a monthly dividend provider it is less critical on entry or exit. On the other hand though, monthly dividend providers have the least price fluctuations because of dividends and provide a nice steady stream of dividends.
Along with strong financial health, ARR's intrinsic value vastly exceeds those of its peers and well above market averages on a ranked basis. Thompson Reuters rates its relative valuation as a 10 on a 10 point scale for its forward PEG, trailing PE and forward PE with below average risk. And Credit Suisse initiated coverage with an outperform rating.
StockScouter gives ARR a rating of 8 (highest 10) and states that ARR "is expected to outperform the market over the next six months with very low risk." Recent insider buying and heavy accumulation by financial institutions is positive news related to reducing downside risk. This is good news considering writing covered calls all show transactions below their intrinsic values. To understand why rating agencies like Thomson Reuters give it perfect scores for the insider trading indicator, the table below shows the most recent insider buying activity.
Date
Name-Position
Transaction
Shares
Price Range ($)
Shares Held
Mkt Value
11/15/12
Staton Daniel C
Chairman of the Board
Purchase
10,000
5.95 - 5.95
211,757
$59.5 K
Bell Marc H
Director
Purchase
10,000
6.10 - 6.10
96,757
$61.0 K
Zimmer Jeffrey J
Chief Executive Officer
Purchase
5,000
5.82 - 5.82
36,864
$29.1 K
Ulm Scott J
Chief Executive Officer
Purchase
5,000
6.21 - 6.21
131,725
$31.0 K
Mountain James R
Chief Financial Officer
Purchase
10,000
6.16 - 6.16
10,000
$61.6 K
Most analysis of ARR has been positive with analyst expectations being fairly steady with a slight down tic. While RSY does not consider momentum to be of much value, it is worth noting that Market Edge states that ARR's "Relative Strength is Bearish" but RSY notes the favorable accumulation trend.
As with all REITs, interest rate spreads are of great concern just like in retail must consider gross margin and if there is continuing degradation in it. A very good analysis of ARR is provided by Smart Equity. He feels that ARR can easily transfer its portfolio to more high yielding non-Agency securities. Even without this transformation net interest spreads should stabilize over the next two years at slightly lower rates according to Credit Suisse. But that should still leave plenty of room for well above average dividend yields. Cost of funds is not expected to change much over the next two years based on the Fed's actions so far and its stated intentions.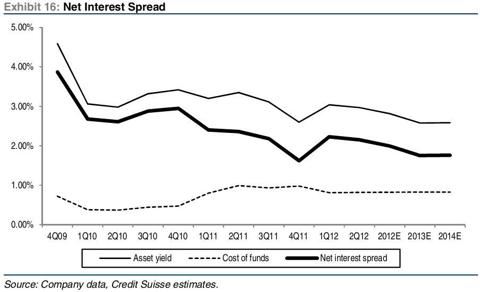 Thus, RSY recommends a buy of 800 shares of ARR at a limit price of $7.01 (GTC) based on a 100k portfolio.
RSY Current Long Positions:
| | |
| --- | --- |
| NGP Capital Resource | (NGPC) |
| Gladstone Investment | (NASDAQ:GAIN) |
| Compass Diversified Holdings | (NYSE:CODI) |
| Alliance Resource Partners | (NASDAQ:ARLP) |
| STMicroelectronics N.V. | (NYSE:STM) |
| TESSCO Technologies | (NASDAQ:TESS) |
| The First Bancorp, Inc. | (NASDAQ:FNLC) |
| Pulaski Financial Corp. | (NASDAQ:PULB) |
| Brookline Bancorp, Inc. | (NASDAQ:BRKL) |
| Deluxe Corporation | |
| Kronos Worldwide, Inc. | (NYSE:KRO) |
| TAL International Group, Inc. | |
| Advocat Inc. | (AVCA) |
| Warner Chilcott Public Limited | (NASDAQ:WCRX) |
Disclosure: I am long ARLP. I wrote this article myself, and it expresses my own opinions. I am not receiving compensation for it (other than from Seeking Alpha). I have no business relationship with any company whose stock is mentioned in this article.
Additional disclosure: I am long all positions mentioned and will initiate a long position of ARR over the next 72 hours. This pick will be added to the Rock Solid Yields portfolio.