With a new year comes new beginnings for many investors. Now is the time that individuals will stop and take the time to really analyze their portfolio looking for new possibilities. In this article we identify two stocks that may prove to be real winners in the coming year for investors. To find these entities we had to narrow it down from many potential possibilities. To complete the analysis we had to find companies that had something special and unique. The companies in question not only had to have business models that are resistant to the bad economic environment, but must also have clear growth potential. With this understanding we have focused on two names for 2013.
Golar LNG Ltd. (NASDAQ:GLNG)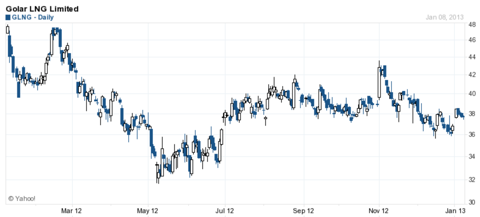 Golar Limited is a mid-stream liquefied natural gas (LNG) company that engages in the transportation, regasification, liquefaction, and trading of LNG. It acquires, owns, operates and charters LNG carriers and floating storage regasification units. Golar's primary businesses are broken into three categories: LNG transportation, Floating Storage and Regasification Unit (FSRUs), and Floating Liquefaction (FLNG).
The company has been around for some time as it had its IPO on December 2002. From its humble beginnings it has grown its fleet to 13 vessels, and is now a global business entity.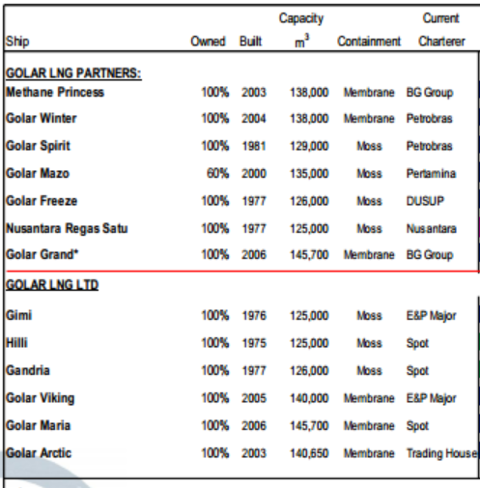 The company has a history of reliability, and has developed meaningful connections with several major energy players around the world. For example, in 2011 Golar received the majority of its total operating revenue from four customers: Petrobras (NYSE:PBR) (31%), Dubai Supply Authority (16%), Pertamina (13%) and Qatar Gas Transport (12%). With its relatively modern and ever growing fleet, GLNG likes to deploy its asset in long-term charter contracts. A prime example of this is shown in the company's recent announcement where it entered into a five-year time charter with an integrated energy major for one of its modern LNG carriers. The vessel was delivered and will remain on charter through the end of 2017. Although the actual name of the energy major was not mentioned in the news release, GLNG did make mention that the time charter will generate approximately $24 million of annualized EBITDA.
Currently GLNG has a 4.5% distribution rate, which is welcome by income investors. Besides this, GLNG has some impressive future plans on how to grow its operation. When it comes to LNG, Golar is the heavy hitter in the business. From now until 2015 GLNG has 13 new ships that will be coming online.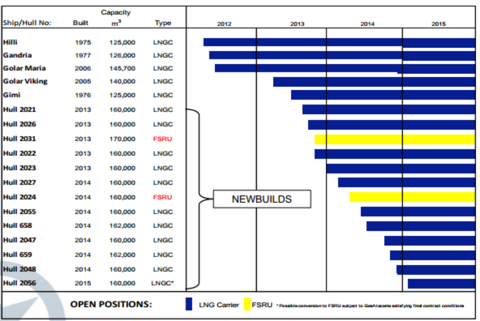 The company's goal is to fully finance the new building programs without having to raise any additional equity. With these new ships Golar will focus on two types of markets. First is the pipeline gas market in the Americas, which is a rapidly growing market with significant unconventional production. The second is the stranded gas markets in Africa and South East Asia. These markets are made up of clean and dry gas reserves that are currently uneconomical for any meaningful commercialization.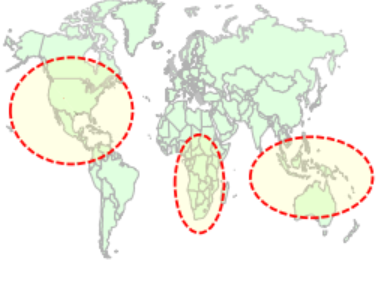 Even though GLNG has some terrific plans in place, it will also have some challenges to contend with. One major hurtle is the weakness in current shipping rates. Despite this, GLNG was able to lock in some very good hire rates on several of the vessels. GLNG's ability to do this has validated its views that future shipping rates should strengthen.
GLNG also views the weakness in current shipping rates as opportunity to grow the company through acquisitions and additional new ship buildings. Since Golar does not anticipate that the costs of new ship builds will increase, it is an advantageous time to price out more potential future new ship builds.
Looking at the third-quarter financial statements we find some encouraging figures. Third-quarter operating revenue was up 13.2% sequentially to $121 million because of full-quarter contribution from two new charters that began in the second quarter. As a result, GLNG reported consolidated operating income had increased by 21% from the second quarter. It was also noted that the net income figure had increased by 26% to $44.7 million.
Lastly, the company reported it had $118.5 million in cash and cash equivalents, and $1.8 billion in the vessels and equipment (net of depreciation).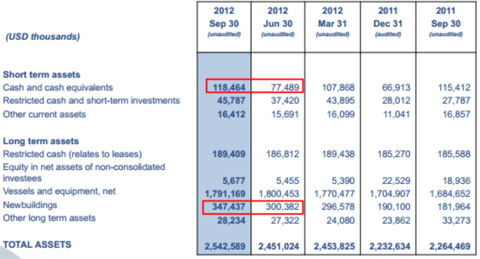 Due to all this positive news the Board of Directors declared an increase in dividends from $0.40 in the second quarter to $0.425 per share in the third quarter.
GLNG has lots of potential for both income and growth investors. With a competitive yield and plan to grow its business, this company should be closely watched by investors.
Rentech Nitrogen Partners, L.P. (NYSE:RNF)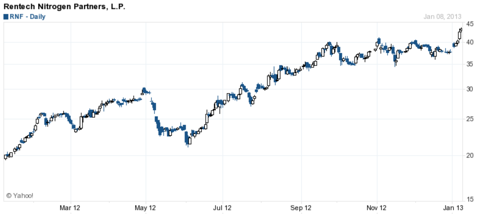 Our next pick is a fertilizer play. Rentech Nitrogen Partners, L.P. is a pure-play on a nitrogen fertilizer company structured as a publicly traded master limited partnership. RNF owns and operates two fertilizer production facilities. One is located in Illinois, while the other is in Pasadena, Texas. The Illinois property is one of the primary producers of nitrogen fertilizer products in the Mid Corn Belt region of the United States. This is the largest market in the United States for direct application of nitrogen fertilizer products. The Pasadena property is the largest producer of synthetic granulated ammonium sulfate in North America. This property has sales in both the United States and South America.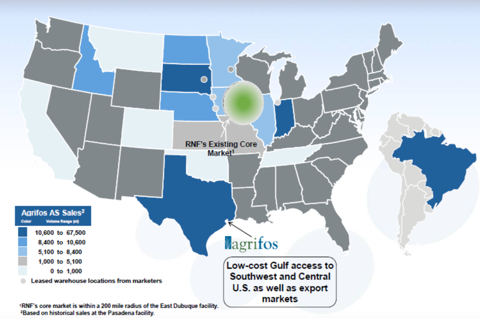 The reason RNF was selected revolves around its facility in Texas. It all started back in November 2, 2012, when RNF announced that it has completed the acquisition of Agrifos LLC. The initial purchase price was $158 million. Of that total $138 million was provided in cash, and the remainder of the purchase price was provided in the form of 538,793 common units of Rentech Nitrogen. This was valued at $20 million based on the 30-day volume-weighted average price of the common units prior to signing the acquisition agreement.
RNF expects that this new asset will be accretive to cash available for distribution per unit beginning in 2013. The company also believes that the Pasadena facility will generate approximately $20 million in operating income, and approximately $25 million in EBITDA in 2013. On top of that, RNF will also initiate the first planned organic growth project at the Pasadena plant to further increase the cash flow. RNF will begin work in 2013, and the desired results will increase the ammonium sulfate capacity by 20%. That additional production should contribute to cash distributions in the second half of 2014.
Other possible ideas being analyzed by RNF involve the installation of steam turbines to produce electrical power. Currently steam is being vented from the plant. If it could be captured is could prove to be a real cost savings for the company. The excess remaining power could then be exported and sold in the deregulated Texas market as another source of income. This type of planning shows some out of the box thinking, which is what business entities need in this current economic environment.
During the three months ended September 30, 2012, RNF generated operating income of $29.2 million. This is a large increase compared with the $10.4 million figure that was generated in the comparable period in the prior year. This generated a net income of $28.8 for the three months ended September 30, 2012. This compares with net income of $3.3 million for the comparable period last year.
As good as these figures sound, there are some factors that explain the increases. The surge in revenue was primarily due to increased sales volume and the timing of the shipments. For the three months ended September 30, 2011, the timing of product shipments was what made the difference. In 2011 there were fewer tons of products available for sale, and RNF secured a larger percentage of sales for delivery in the fourth quarter of 2011. In 2012 the dry weather during the second quarter of 2012 reduced sales volume. The result was that these additional products became available for delivery in the third quarter of 2012. The final outcome was that larger than expected sales figures were recorded on the third quarter's financial statements for 2012.
A better measure might be provided by the nine-month financial figures. Revenue for the nine months ended September 30, 2012, was $169.2 million, compared with $136.9 million for the comparable period in the prior year. The nine months ending September 30, 2012, generated net income of $89.4 million. This compares with net income of $20.6 million for the comparable period last year.
One final positive driver for this company revolves around the recent drought conditions experienced last year in the United States. The drought has reduced projected yields and increased corn pricing in the market. The impact of the drought will likely result in significant acres being planted next year. Low inventories should drive corn pricing through the year and support strong fertilizer demand.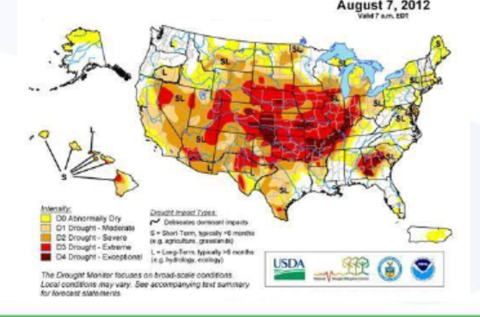 With a current yield distribution of 8.4% and lots of room for future organic growth, RNF is another stock investors need to keep on their lists.
Disclosure: I have no positions in any stocks mentioned, but may initiate a long position in RNF, GLNG over the next 72 hours. I wrote this article myself, and it expresses my own opinions. I am not receiving compensation for it (other than from Seeking Alpha). I have no business relationship with any company whose stock is mentioned in this article.