Zix Corp. (NASDAQ:ZIXI) is a company operating in the technology industry that serves its customers as a provider of email encryption services. This article provides a brief overview to ZIXI's business model, highlights its current performance as well as valuation metrics, and concludes with four reasons why ZIXI is a speculative buy at its current market value per share.
ZIXI's operations and service offering entities are supported by ZixData Center, which is a network operations center focused on electronic transaction processing. ZIXI's email encryption service serves the purpose of two key functions:
One, it enables the use of email for information exchange primarily in the healthcare, financial services, insurance, and government sectors. Co.'s Email Encryption Service is a messaging service, which allows an enterprise to use policy-driven rules to determine which emails should be sent to comply with regulations or company-defined policies. Co. enables delivery by ZixDirectory, which is designed to share identities, Zix's Best Method of Delivery, which is designed to deliver email according to the sender's encryption policy and ZixGateway, which is an enterprise gateway that automatically decrypts the message.
Two, it enables a user to send encrypted email to any email user at any email address by using the ZixCorp Best Method of Delivery protocol, which determines the appropriate means of delivery based on the sender's and recipient's communications environment and preferences. The protocol supports a number of encrypted email delivery mechanisms, including S/MIME, TLS, OpenPGP, push delivery, and secure portal pull delivery. These last two mechanisms enable users to send messages securely to anyone with an email address, including those who do not have an encryption tool.
As I have illustrated below, you will see ZIXI is currently trading right above $3 per share. Taking into account its price to free cash flow and PEG ratio are 13.84 and 0.44, respectively, it is fair to say ZIXI is trading at a deep discount to fair valuation.
Figure 1: ZIXI's Five-Year Price Graph
Click to enlarge image.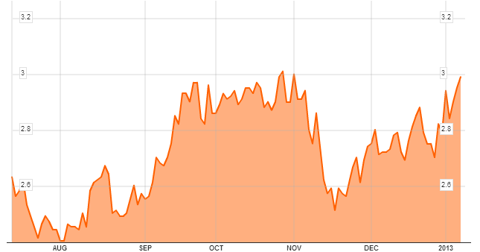 Here are four reasons why ZIXI is a speculative buy at only $3 per share:
ZIXI announced today that its replacement wins grew by 80% in FY 2012. A replacement win is the signing of a new customer that previously used a competing email encryption solution. Furthermore, the FY 2012 replacement wins enabled these users to experience for the first time the ease of use of ZixGateway, which is a policy-based encryption service.
ZIXI has displayed strong performance in the third quarter of FY 2012, specifically in terms of its sales growth. ZIXI's sales increased by nearly 15% from the third quarter year over year.
In addition, ZIXI's profit margins are revealing signs of improvement as well. Its earnings per share has grown by 50.83% over the past five years, which annualized is roughly 10.16% per year.
The six analysts who cover the stock have a median price target of $5.50, which implies nearly a 83% potential upside from its current market value per share.
In conclusion, basic valuation metrics suggest ZIXI is trading at a nice discount to fair value. With the combination of increasing profit margins, strong sales growth, and positive outlook from analysts, ZIXI is now an attractive play for FY 2013 and has the potential to provide investors with substantial upside.
Sources: Bloomberg Market Data, TD Ameritrade, Google Finance, and Yahoo Finance.
Disclosure: I am long ZIXI. I wrote this article myself, and it expresses my own opinions. I am not receiving compensation for it (other than from Seeking Alpha). I have no business relationship with any company whose stock is mentioned in this article.