As the new year begins, contrarian investors may want to take a close look at out-of-favor leading high technology companies that could be turning the corner. Intel (NASDAQ:INTC) is one of them. Here are seven reasons to give the company a closer look.
1. An improving chart. Intel's stock continues to trade below the 100-day and 200-day moving averages, but it has crossed the 50-day moving average, signaling a possible shift in momentum.
Click to enlarge image.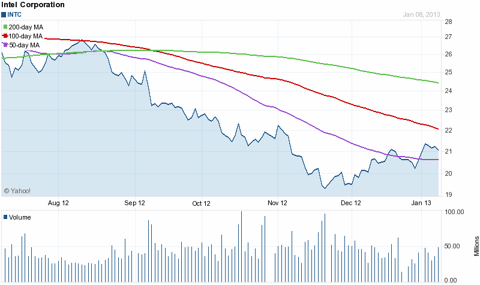 2. A low valuation. At $21.60, the company trades close to 70% below its 2000 highs, with its forward P/E below the industry average.
| | | |
| --- | --- | --- |
| Company | Recent Price | Forward P/E |
| Intel (INTC) | $21.60 | 11 |
| Advanced Micro Devices (NASDAQ:AMD) | 2.63 | -- |
| Nvidia (NASDAQ:NVDA) | 12.16 | 12.67 |
| Texas Instruments (NYSE:TXN) | 31.89 | 17.84 |
| Qualcomm (NASDAQ:QCOM) | 64.66 | 13.52 |
| Broadcom (BRCM) | 34.49 | 11.58 |
Source: Yahoo Finance.
3. An upgrade cycle. According to the Semiconductor Industry Association, global semiconductor sales totaled $25.73 billion in December, up 9.7% from April and 2% from the previous month.
4. Barriers to entry. Binding barriers to entry make the industry an oligopoly that allows Intel -- as a larger player -- to enjoy economies of scale while maintaining pricing power.
5. Increased dividend. Intel has been boosting its dividend for the last five years. It now stands at 4.20%, among the highest in the high-tech industry.
6. Successful transition from PCs to mobile devices. This happened with the introduction of new products like the Atom chip, which powers Windows 8 smartphones.
7. A change in leadership. This is usually followed by new strategic initiatives to improve both the top and bottom lines of the company.
A few words of caution: In the high technology industry, winner takes all. Investors must keep an eye on the growth of Intel's revenues from new products. A big jump will confirm that the contrarian bet is going to pay off.
Disclosure: I have no positions in any stocks mentioned, and no plans to initiate any positions within the next 72 hours. I wrote this article myself, and it expresses my own opinions. I am not receiving compensation for it (other than from Seeking Alpha). I have no business relationship with any company whose stock is mentioned in this article.