The ongoing boom in smart phones and tablets creates a perfect storm for WiFi network providers. iPass (NASDAQ:IPAS) is a leading provider of enterprise mobility services. It has built the world's largest commercial-grade WiFi network. This network provides global broadband access with an overall broadband footprint of over 1.2 million WiFi hot spots in 113 countries and territories. As a result, iPass stands to benefit from the soaring worldwide demand for mobile data.
The long term evolution of LTE (4G), while promising much faster wireless connections, also poses the problem of busting the data caps that telecom carriers have imposed on users. The result is a monthly phone bill far in excess of what consumers are willing to pay. The answer to this dilemma is WiFi offloading by which users can be bumped from the far more costly LTE connection to the nearest WiFi network. This provides an immense opportunity to iPass, as its current WiFi footprint already provides a seamless connection to business users worldwide, and it is the enterprise mobility market upon which iPass has focused its business plan.
To this end, iPass has created a telco carrier ecosystem with a over 1 billion plus users. This ecosystem includes China Mobile, China Telecom, Deutsche Telekom, SingTel, KDDI (Japan), and Zane Group (Mid-East). In addition to telco carriers, iPass has signed first tier cable companies recently but is not at liberty to disclose the identity of these companies just yet. Additionally, the need for mobile security provides iPass with an enormous opportunity given the number of devices which require software safeguards.
iPass would need to monetize only a relatively small percentage of its potential user base to grow the company rapidly. To put this into perspective: If iPass WiFi services could be deployed to 10% of these potential users, with each user contributing only $1 per month to iPass revenue, this would represent a $1.2 billion revenue opportunity. Rarely does such a imminently scalable growth opportunity present itself in the public marketplace.
To date, iPass legacy offerings have been running down, even as its new mobile offerings are growing rapidly, resulting in overall stagnant sales. This run-off masks the success of its new strategy. Even so, iPass has achieved positive EBITDA obviating the need for any new financings as cash actually increased in the last quarter to $26.5 million. iPass carries no long or short term debt. The balance sheet serves to decrease investment risk as the growth in new offerings finally overtakes the rundown of legacy business. This milestone would serve as a significant catalyst for iPass shares.
It is not surprising that iPass became the subject of takeover speculation in March of 2012, sending the shares to $2.80. iPass has a current market cap of $120 million, $26.5 million in cash and no debt. Good financials and continued strong demand for secure mobile network access by business networks make iPass a potential target for a mobile carrier or enterprise software company seeking to provide a complete service for business clients. The potential list of acquiring companies cuts across several categories:
iPass presents a more compelling value to any potential acquirer considering its extensive patent portfolio which is assigned no value at its current price and could exceed the current market cap accorded the entire company.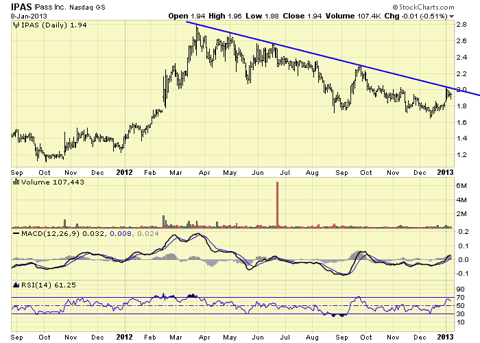 To conclude, iPass offers a superior investment opportunity due to a confluence of different factors:
Growing use of WiFi due to the boom in mobile data demand
Growing ecosystem of telco and cable carriers with over 1 billion users
The necessity for mobile security and business management software
The winding down of older legacy business
These factors and a strengthening worldwide economy will result in positive year over year comparisons in 2013 and significant profitability as iPass achieves economies of scale.
Disclosure: I am long IPAS. I wrote this article myself, and it expresses my own opinions. I am not receiving compensation for it (other than from Seeking Alpha). I have no business relationship with any company whose stock is mentioned in this article.