Durata Therapeutics (NASDAQ:DRTX) develops new treatments for infectious disease. Here is a summary of the company's lead product candidate, which is currently being evaluated in the second of two pivotal Phase III clinical trials, with results expected this quarter to support a planned NDA filing by mid-2013.
The Company is currently evaluating Dalbavancin as a once-weekly intravenous, or IV, antibiotic in the second of two pivotal Phase III clinical trials (DISCOVER-2) under a Special Protocol Assessment (SPA) agreement with the FDA.
The once-weekly dosing regimen is a major improvement over vancomycin, which is typically dosed once or twice daily and requires regular monitoring of drug levels and kidney function, in addition to potential infusion-related reactions as a widely used IV antibiotic in the home healthcare environment that I deal with on a regular basis in my pharmacy job at a home health IV infusion pharmacy.
Vancomycin results in an increased burden to pharmacy and nursing staff in terms of monitoring labs, side effects, dose changes, and administration once/twice daily. Potential advantages of Dalbavacin are outlined in the image below.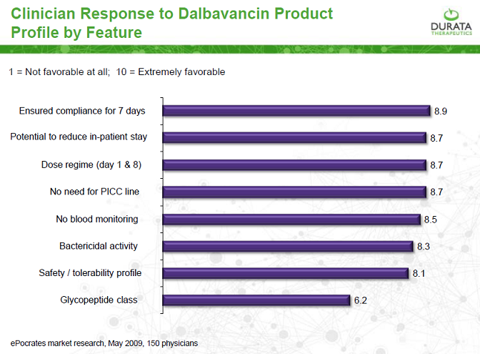 Further validating the potential for Dalbavancin, DRTX received a Qualified Infectious Disease Product (QIDP) designation in November from the FDA, which includes priority review (four-month shorter NDA review compared to standard review), Fast Track status eligibility and a five-year marketing exclusivity extension period (patent coverage through 2023) if approved by the FDA. The QIDP designation is part of a new Generating Antibiotic Incentives Now (GAIN) statute designed to encourage development of antibiotics for serious infections to combat the growing incidence of resistant bacteria such as MRSA (methicillin resistant Staphylococcus aureus).
In December, DRTX announced that the first of two pivotal Phase III clinical trials under SPA (DISCOVER-1) for Dalbavancin (once-weekly dosing) met the primary endpoint of non-inferiority compared to the approved IV antibiotic vancomycin (twice-daily dosing) for acute bacterial skin and skin structure infections (abSSSI). Earlier this month, the Company reported that the DISCOVER-1 trial also met endpoints to support a planned European regulatory approval filing during H2 2013.
The results from the DISCOVER-2 trial are expected during Q1 2013 -- my estimate is for results in February based on a one-month longer timeline to account for more patients/data analysis and expected delays in analyzing trial data over the holidays) from completion of patient enrollment (announced on 10/25/12) to reporting top-line results compared to the 96-day timeline in the previously reported DISCOVER-1 trial, which completed enrollment on 9/6/12 and for which the Company reported top-line results on 12/11/12.
Below is a summary of the operating and financial highlights for DRTX based upon the most recent SEC 10-Q quarterly filing through Q3 2012.
- As of 9/30/12, DRTX reported cash and equivalents of $60.8 million (M) and raised $73.9M in net proceeds from an initial public offering (NYSEARCA:IPO) @$9/share in July 2012.
- As of 10/31/12, DRTX reported 18.4M shares of common stock outstanding with a very low estimated float of approximately 3.5M shares.
- During the first nine months of 2012, DRTX used about ($43M) in cash to fund operations, which primarily reflects costs of the two P3 (DISCOVER) trials, and the company projects that existing cash and equivalents are adequate to fund planned operations through mid-2014 through the time of an anticipated U.S. market launch for the drug.
In December 2009, DRTX acquired the rights to Dalbavancin from Pfizer (NYSE:PFE) for $10M upfront, and the company received a $6M refund from Pfizer in March 2011 as part of the deal terms since DRTX conducted two additional Phase III clinical trials (Dalbavancin previously met the primary endpoints in Phase III clinical trials in mid-2004 based upon prior FDA guidelines that have since been updated) to support planned FDA approval filings.
The Pfizer agreement also includes an obligation to pay an additional milestone payment of $25M following the first commercial sale of Dalbavancin in the U.S. or Europe, with an option to defer the payment for up to five years in exchange for issuing a $25M promissory note to Pfizer that will accrue interest a rate of 10% compounded annually.
As illustrated on the six-month stock chart below, shares of DRTX have been highly volatile since the IPO in July, and have recently bounced off support in the low-mid $7s back toward the 50-day moving average of $8.20/share. I expect shares of DRTX to run-up back toward the $9-10 level ahead of the DISCOVER-2 clinical trial results that are likely by next month, as outlined earlier.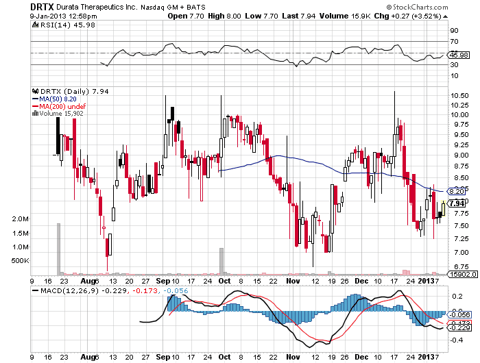 I estimate a high probability (90%) of success in the second Phase III clinical trial given positive results achieved in the first Phase III trial last month in addition to Phase III trials completed in mid-2004 that met their primary endpoint.
Risks include highly volatile trading that has resulted in 10%-plus price swings in the absence of news headlines and the risk of bad results in the second Phase III trial that would have a significant negative impact on the share price (i.e., shares would likely plunge to around cash levels in the sub-$3 range).
However, given the overall positive risk/reward and likelihood of a run-up ($9-10 target) heading into DISCOVER-2 results, DRTX presents a solid trading opportunity based on above average likelihood of positive results ($10-12 target) and a history of volatile trading patterns that suggest a bounce back toward high single-digits to low double-digits may occur ahead of the Phase III results that I anticipate by the end of next month.
Disclosure: I am long DRTX. I wrote this article myself, and it expresses my own opinions. I am not receiving compensation for it (other than from Seeking Alpha). I have no business relationship with any company whose stock is mentioned in this article.