VIX - Market Sentiment:
Wednesday, S&P futures traded slightly higher as the market swings into full earnings season mode. Alcoa (NYSE:AA) reported a slightly mixed quarter last night, sending the stock higher initially before trading down fractionally in Wednesday's trading session. Futures continued to trade in a tight range, moving just 7.5 handles top to bottom. The NYMO yesterday closed at +32 again, closing nowhere near over bought or sold.
Today, the spot CBOE Volatility Index (VIX) was crushed again, moving to the low 13s before moving higher. I know I have said this time and time again, but it is very important to understand the VIX is not a tradable instrument -- it is an oscillator. I saw every talking head today on CNBC say the VIX drop from 23 was the largest in 25 years. That's funny, because the VIX was created in 1993 and is not even 20 years old, so I'm not sure where they are getting that information. Volatility ETF (NYSEARCA:VXX), 2x ETF (NASDAQ:TVIX), and alternative 2x ETF (NYSEARCA:UVXY) priced in modest gains as futures rose ever so slightly. The biggest blocks today were buyers of the March 25 strike calls .90 offer, driving net premium of calls purchased to 2.8M in today's trading. Keep an eye on open interest, as this will signal if this was a new position or someone closing a short position.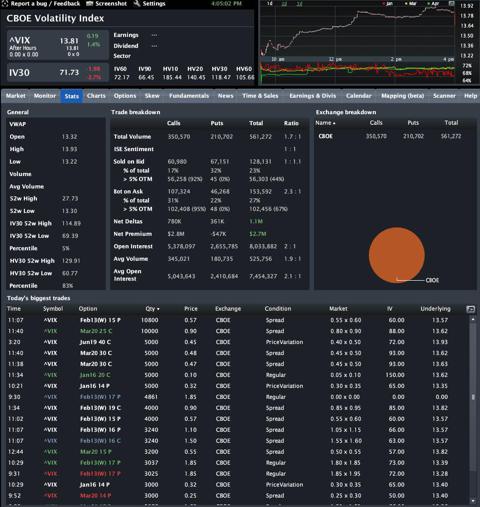 Statistics and Screenshot Provided By LiveVol
VIX futures are below.
Yesterday
· January VIX futures 14.60
· February VIX futures 16.63
· March VIX futures 18.10
Today
· January VIX futures 14.83
· February VIX futures 16.55
· March VIX futures 18.03
Options Paper:
The market rose Wednesday, moving up .27% as the earnings season revs up. Just 14.2M contracts traded today, with calls outnumbering puts across the board on every exchange. S&P ETF (NYSEARCA:SPY), Bank of America (NYSE:BAC), Apple (NASDAQ:AAPL), Facebook (NASDAQ:FB), and Russell ETF (NYSEARCA:IWM) capped off the top 5 non-index traded options. Other heavy options activity was in Emerging Markets ETF (NYSEARCA:EEM), Citigroup (NYSE:C), Silver ETF (NYSEARCA:SLV), Ford (NYSE:F), Gold ETF (NYSEARCA:GLD), and NASDAQ ETF (NASDAQ:QQQ). Some would say Banco Santander (NYSE:SAN) should be on this list, as more than 339K calls went off, outnumbering puts 105 to 1. However, this was nothing more than a dividend steal from market makers playing with pennies. Unless open interest changes drastically (which I do not expect), this was a delta neutral trade.
For those who follow me and my trades on Twitter, know I flagged some unusual bearish activity in Yum! Brands (NYSE:YUM) early in today's trading. One bear stepped up to the plate early, selling the January 2014 70 strike call for 4.10 and using the proceeds to buy the 62.5-50 strike puts spread 2,500 times. This cost the trader absolutely nothing, but would stand to make 3.125M if YUM retraced to the 50 level prior to next January. This is more than likely someone protecting gains they already have on a long 250K share position in YUM. Options premium reflects the bearishness, as more than 146K in net calls were sold today and 1.5M in net puts were purchased. Puts outnumbered calls more than 1.8 to 1 on almost 1.5x average daily volume.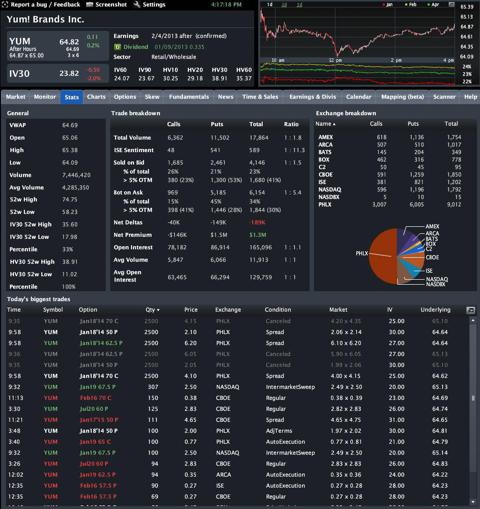 Statistics and Screenshot Provided By LiveVol
Popular ETFs and equity names with bullish/bearish paper:
Bullish Option Flows - ISE & % OTM calls bought on offer
NASDAQ (NASDAQ:NDAQ) 4K OTM calls bought
HSBC (HBC) 59% of the 7.2K OTM calls bought
Hovanian (NYSE:HOV) 2.9K OTM calls bought
Barrick Gold (NYSE:ABX) 52% calls just flying in this name
Coach (COH) 2.4K calls bought
Nokia (NYSE:NOK) 35K OTM calls bought of the 75K trading - Call rolls
Bearish Option Flows - ISE & % OTM puts bought on offer
OIL ETF (NYSEARCA:XOP) 82%
American Axle (NYSE:AXL) 77%
Smith & Wesson (SWHC) 65% - Gun fever over?
Metals ETF (NYSEARCA:XME) 4.1K of the 8K puts bought
Disclosure: I am long AGNC, APC, KERX, KOS, MTGE, NRG, PG, PSX, SWKS, VHC, and I am short BWLD, DDD, FSLR, FXE, LYV, NFLX, SPY.
Trades today: Added to DDD short
I wrote this article myself, and it expresses my own opinions. I am not receiving compensation for it (other than from Seeking Alpha). I have no business relationship with any company whose stock is mentioned in this article.
Disclaimer: The opinions in this document are for informational and educational purposes only and should not be construed as a recommendation to buy or sell the stocks mentioned or to solicit transactions or clients. Past performance of the companies discussed may not continue and the companies may not achieve the earnings growth as predicted. The information in this document is believed to be accurate, but under no circumstances should a person act upon the information contained within. I do not recommend that anyone act upon any investment information without first consulting an investment professional as to the suitability of such investments for his or her specific situation.