All three major indices gained on Wednesday, reversing the two-day decline. The earning season started with a positive note, as investors are optimistic about corporate results. Dow Jones led the gain with a 0.46% increase, while Nasdaq followed with a 0.45% gain. S&P 500 also managed to close with a 0.27% advance. DIA, QQQ and SPY all closed well above their 50-day and 200-day MAs. All sectors closed in the green, and the consumer cyclical sector led the gain with a 1.75% surge.
The market sentiment is driven by greed now, with the Fear & Greed Index at 81, decreased from the previous close of 79. As reported by CBOE, the total put/call ratio for today was 0.85, and the index put/call ratio was 0.96. The equity put/call ratio was 0.61, and the CBOE volatility index (VIX) put/call ratio was 0.59. In the following, top stocks have been identified through our daily options scanning process, with the scanning criteria where the daily call volume ratio was above 3.00 (3x of the average call volume) with a call volume above 10,000.
| | | | |
| --- | --- | --- | --- |
| Name (Ticker) | Call Volume | Average Call Volume | Daily Volume Ratio |
| Banco Santander S.A. (NYSE:SAN) | 189,940 | 10,510 | 18.07 |
| US Airways Group, Inc. (LCC) | 47,112 | 8,865 | 5.31 |
| DISH Network Corporation (NASDAQ:DISH) | 17,263 | 5,236 | 3.30 |
Source: Schaeffer's Research
DISH Network's proposal on Clearwire (CLWR) resulted in higher call activities. Options traders are also speculating on US Airways Group's merging with AMR Corp. (AAMRQ), parent of American Airlines. The top pick for the day is Banco Santander.
Banco Santander S.A.
Banco Santander, based in Spain, is one of the world's largest financial institutions, focusing in retail banking (75% of operations). The bank also has wholesale bank operation (20%). Banco Santander has been around for more than 150 years with a good record of profit expansion. Although short-term risks remain for Banco Santander, the long-term outlook is positive, and Banco Santander had been weathering the slump well compared to its peers.
Latest Development
Banco Santander is slashing 3,000 jobs subsequent to its planned merger with its Banesto subsidiary. As reported, Santander announced plans to fully absorb its 110 year-old Banesto brand last month, closing 700 branches to cut long-term costs.
Earnings Estimates
Analysts, on average, are estimating an EPS of $0.37 with revenue of $74.26B for the fiscal 2012. For 2013, analysts are predicting an EPS of $0.91 with revenue of $77.51B, which is 4.40% higher than 2012, as seen from the table below.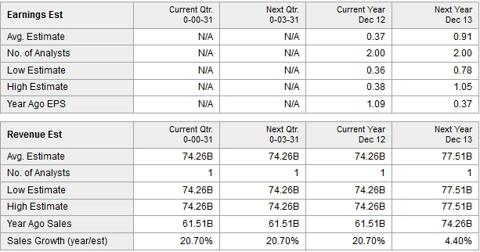 Source: Yahoo Finance
Banco Santander is expected to report full year 2012 earnings on January 31, 2013.
Key Stats And Valuation
SAN has an enterprise value of $50.60B and a market cap of $78.81B. SAN has a total cash of $479.22B and a total debt of $451.30B. SAN has a book value of $10.17 per share. By using data obtained from Morningstar, SAN's key stats will be compared to its regional bank peers, including Barclays PLC (NYSE:BCS) and Deutsche Bank AG (NYSE:DB). SAN has lower revenue growth (3 year average) of 10.6, as compared to the industry average of 17.0. SAN has a lower operating margin of 12.5%, ttm, as compared to the industry average of 45.3%, ttm. However, SAN has a higher net margin of 3.5%, ttm, comparing to the average of 2.5. SAN generates higher ROE of 2.5, comparing to the average of 1.9. SAN has a debt-to-equity of 0.3.
SAN has a P/E of 32.1, which is lower than the industry average of 39.7, but higher than SAN's 5 year average of 13.3. SAN's P/B of 0.9 is higher than the industry average of 0.8, but is the same as SAN's 5 year average of 0.9. SAN has a forward P/E of 11.0, which is lower than the S&P 500's average of 14.2. SAN has a PEG ratio of 0.5.
Technical Analysis
SAN closed at $8.30 with a 0.36% gain on Wednesday. The volume of 2.32M was 27.95% less than the 30 day average volume of 3.22M. SAN had been trading in the range of $4.88-$8.85 in the past 52 weeks. SAN has a beta of 1.84. The MACD (12, 26, 9) indicator had been showing a bullish trend since November 21, 2012. The momentum indicator, RSI (14), is showing a strong bullish momentum at 69.03. SAN is currently trading above its 50-day MA of $7.60 and 200-day MA of $6.86. The next resistance is $8.30, the R1 pivot point, followed by $8.73, the R2 pivot point, as seen from the chart below.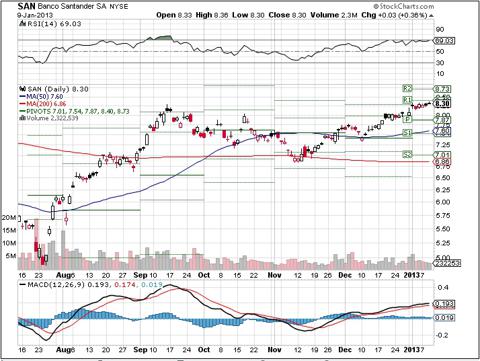 Source: StockCharts.com
Unusual Call Activities
Unusual option activities can be an indicator or precursor of a major movement for the underlying stock. The most active call on Wednesday was Jan. 17, 2014 call at the strike price of $7.00 with a volume of 25,932 and an open interest of 16,010. The implied volatility is 41.1, and the chance of breakeven is 31.45. The historical volatility for SAN is 17.91 for 1 month, 22.51 for 3 months, and 39.07 for 1 year.
For conservative, bullish investors, a credit put spread of March 16, 2013 $7/$8 put can be reviewed, which will allow investors to acquire SAN's stock with a price below $8.00 while gaining some upside potential.
Note: All numbers/prices are quoted from the closing of January 9, 2013 with the data provided from Barron's, MorningStar, Schaeffer's Investment Research, Inc., Google Finance, and Yahoo Finance. Investors and traders are recommended to do their own due diligence and research before making any trading/investing decisions.
Disclosure: I have no positions in any stocks mentioned, and no plans to initiate any positions within the next 72 hours. I wrote this article myself, and it expresses my own opinions. I am not receiving compensation for it (other than from Seeking Alpha). I have no business relationship with any company whose stock is mentioned in this article.