Ronald McDonald has been glum lately. It's not because the Fat Police have been picketing him for Supersizing America and the world. Neither is it because Don Thompson, his new boss, does not know the burger business. Ronald is glum because not as many of his fans have been coming to visit him lately.
McDonald's (NYSE:MCD) stock price has taken an uncharacteristic fall in recent months as a result of poor same store comps and weaker than expected overall sales growth. New CEO Don Thompson advised us recently that McDonald's may be facing that dreaded economic force: the new normal. New normal to most investors is code for "slow growth." Say it ain't so Ronald.
I have thought for a long time that McDonald's might be running into a kind of cultural clash that would leave the firm with two very different customers that may not coexist well together. The odd thing is the cultural clash is a product of McDonald's remarkable success in the breakfast business and, more recently, in its McCafe coffee products.
About two years ago, I noticed that almost every McDonald's I visited at breakfast time had a line of cars wrapped around the building waiting in the drive-through. McDonald's has had lines at the drive-through windows for years, but the addition of the McCafe coffee products, to my eye, had nearly doubled the length of the lines.
In addition, even though I can find no research on the matter, it appeared to me the drive-through lines were inhabited by more women than men, and many of the drive-through crowd were only ordering coffee. A final observation was that the cars in the drive-through line, on average, were of more expensive brands than the cars parked in the lots driven by the eat-in patrons. I had plenty of time to make these observations because I was a daily participant in the drive-through traffic jams.
The problem with the success of the McCafe products was that the circling of the stores with cars waiting in the drive-throughs caused a kind of "call to action" inside and McDonald's geared up to handle the throngs. The only problem was, they appeared to sacrifice service to their old time regular eat-in crowd to meet the demands of the drive-through crowd. Thus, while McDonald's basked in the stunning success of the McCafe product line, they did not notice how poor the service was becoming to their old eat-in regulars.
As I visited McDonald's stores all over the country, it became clear to me that the drive-through business was priority one. In most stores, they had a big ticking clock on the wall showing one and all just how fast an Egg McMuffin and a latte could be delivered to a single person in an oversized SUV. Meanwhile, scores of eat-inners milled around waiting to even catch the eye of one of the non-drive through employees. This focus on the drive-throughs at the expense of the eat-ins got so bad at our local store that my wife would no longer accompany me for my regular Saturday morning Egg McMuffin.
I raised the MCD service issue with our Investment Policy Committee (IPC) and learned that several members of the group had also noticed the fall off in service. Many of our IPC members travel several days a week throughout the country. We made it a point to visit McDonald's in our travels to see how the lines were moving, especially at breakfast time. After about a month, we concluded that the service issue was not just a problem at our hometown stores, but was widespread.
We decided, even though McDonald's was reporting sizzling earnings at the time, to cut back our holdings of MCD by a third. That was about a year ago. We did not completely exit the stock because we could not imagine that McDonald's would not solve the service issue, but all of us were surprised how bad it had gotten.
When McDonald's reported its disappointing sales and earnings figures in October, at first I was surprised how fast its business had tailed off. Even Europe had done better than the United States. After thinking about it for a while, though, I concluded that the waiting lines at both the drive-throughs and the counter had reached a tipping point. People were voting with their feet. The drive-through coffee crowd could go to Starbucks and pay a little more but experience lines that were barely noticeable. The regular McDonald's eat-inners could go to just about any fast food breakfast restaurant and get, well, food faster than at McDonald's, perhaps with a smile to boot.
So there you have it. In my judgment, McDonald's has a problem. McCafe's success has come at a high price: a loss in the loyalty of its regular clients.
Now for a surprise. We are buying MCD again for three reasons:
MCD is nearly 20% undervalued in our dividend valuation models (see model at bottom of page). The model shows that MCD is about as undervalued as it has been in 20 years.
McDonald's has a history of doing the right thing once it figures out what is wrong. Even though, I'm pretty sure it will not agree with my next point, McDonald's top management are certainly aware of their service failures, and I have no doubts service will improve in the coming months and years.
Studying the McDonald's situation over the last few months, I have become convinced that new CEO, Don Thompson's "new normal" comment may come back to haunt him. McDonald's has one of the most powerful brands on the planet. It has been a growth story par excellence. In my judgment, big shareholders will not take kindly to MCD becoming just another big, slow growth company. Procter & Gamble (NYSE:PG) is the latest example of a growth story gone sour. That poor performance brought in activist shareholder William Ackman of Pershing Square Capital Management who took a huge position in the stock. Ackman correctly saw that PG's business strategy was too broad and its cost structure too high to regain its historical growth rate. He was able to get PG's attention with only 1% of the stock.
Let me elaborate on point 3. Activist shareholders, like William Ackman at Pershing Square Capital Management and Norman Gelz of Trian Capital Partners and many others, have been taking on bigger and bigger companies, with PG being the biggest. They are doing so for two very important reasons. 1) With a few exceptions, the stock markets have rewarded their modus operandi of insisting that the target company reduce its cost structure and narrow its business strategy. 2) They are finding lots of support for their aggressive actions among normally passive big holders of the stock such as pension funds and mutual funds.
If McDonald's continues to report "new normal" sales and earnings results, the company is sure to attract the attention of the activist shareholders. It will not likely be Ackman because he already has a big role at Burger King (BKW), but there are plenty of others.
I strongly believe that the activist crowd would quickly conclude that the McCafe's coffee business should be a stand-alone business. That would solve the crowds, the poor service, and the differences in the demographics. Indeed, McCafe's are stand-alone stores in Australia where they began.
I believe the activist crowd will insist that McDonald's spin off McCafe. The reason is simple. McCafe is a terrific growth story and could command a PE perhaps as high as 25 based on earnings growth of 15%+ per year. In my judgment, the remaining part of McDonald's would trade at only a modestly lower PE than its current level.
The good news for the legacy company, however, is that McDonald's could return to a much simpler menu and offer service to its eat-in customers that they can only dream of today.
McDonald's is wrong to blame its recent soft spot on the new normal. It would be true if the company fails to recognize that there is nothing normal about trying to serve two different cultures out of the same building. Additionally, if the company is serving the interests of its shareholders, it will realize that McCafe is a big winner that can successfully compete against Starbucks, but not as a small space within the McDonald's stores.
The hamburger people and the coffee people have very different expectations of what they want from a dining experience. One wants inexpensive, quality and quantity of food, the other wants their food and drink and the place they buy them to not only pass certain tests of quality and taste but also political correctness.
Ronald McDonald has no idea of what "farm to table" means, and he would have to live in Portland or Seattle for years to ever get the hang of it. The only good thing about his living in the Northwest is that he would see more people dressed like he does there than he currently finds in Chicago.
McDonald's now represents one of the best activist shareholder buys I have ever seen. Let's see how long it takes for one of the big activist shareholders to pay a visit to Ronald and help him get these coffee people off his back and out of his hair.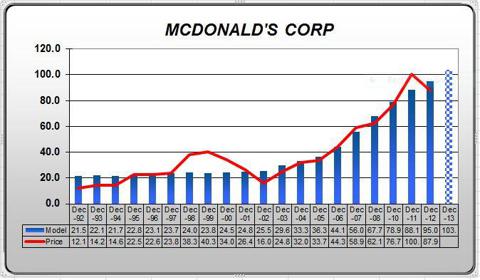 Disclosure: I am long MCD. I wrote this article myself, and it expresses my own opinions. I am not receiving compensation for it (other than from Seeking Alpha). I have no business relationship with any company whose stock is mentioned in this article.
Additional disclosure: MCD's is a large position at Donaldson Capital Management