Shares of bankrupt airline operator AMR Corp (AAMRQ.PK) are surging higher on Wednesday, to over $1 per share, on news that shareholders could recover some value.
AMR Attorney Harvey Miller:
Depending upon the ultimate strategic alternative adopted and pursued, there exists a reasonable possibility that there may be value for AMR equity holders
AMR Weighs Merger With US Airways
News that AMR equity holders may recover some value comes as the company is meeting to determine whether it should merge with rival US Airways (LCC). So far, the major sticking point over a deal appears to be price. US Airways has proposed that AMR creditors receive 70% of the combined company while US Airways shareholders receive the remaining 30%. However, AMR CEO Tom Horton has said that AMR creditors should receive more than 70% on the combined entity. Already, labor unions from both AMR and US Airways have signed off on the deal easing one potential hurdle to a deal. Right now, it seems pretty clear that AMR is best off merging with US Airways as the combined company will likely garner a premium valuation to the standalone entities as significant cost savings measures would be possible. Also, a merger between AMR and US Airways means that the airline industry would have one less competitor thereby boosting the value of the remaining companies. For AMR equity holders to recover any real value, a deal would need to value the AMR portion significantly higher than 70% of the total entity. I see such a deal as very unlikely. Rather, I see AMR controlling between 70-72% of the new company.
Has AMR's Value Appreciated By $4.9 Billion?
AMR filed for bankruptcy in November 2011. At the time, AMR listed assets of $24.7 billion and liabilities of $29.6 billion indicating a $4.9 billion shortfall. Based on these numbers, the value of AMR would have had to increase by at least $4.9 billion for equity holders to receive anything. It must be noted that since November 2011, the airline industry has been flying high and, as shown by the chart below, market caps have been moving up.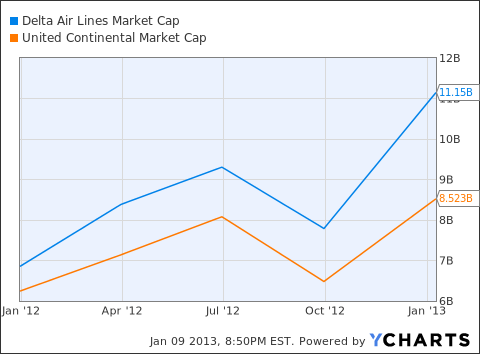 DAL Market Cap data by YCharts
Clearly, the market cap of the two largest airlines, United Continental (NYSE:UAL) and Delta (NYSE:DAL) have increased significantly. Since AMR filed bankruptcy, United's market cap has increased by $2.5 billion and Delta's market cap has increased by nearly $4.1 billion. Given this, it makes sense to concede that AMR's value has increased significantly since its filing in late 2011. However, it is hard to argue that AMR's value has increased by the $4.9 billion needed for equity holders to receive any value. Both Delta and United are larger than AMR and thus have almost certainly increased in market cap by more than AMR.
AMR Equity Currently Valued At Over 400 Million
As I write this, with shares trading well over $1, the equity value of AAMRQ is over $400 million. This means that, based on the current valuation, traders are betting that AMR stockholders will get $400 million in value. In other words, traders are betting that AMR's value has increased by $5.4 billion since the company filed bankruptcy in late 2011. I would be surprised if AMR equity holders got anything let alone $400 million! While I still think it is unlikely that AMR equity holders get anything at all, they would likely receive much less than $400 million.
AMR SEC Filing
In a SEC filing, AMR cautioned:
Investors shouldn't place undue reliance on the information in Miller's letter, which was not prepared for the purpose of providing the basis for an investment decision relating to any of (its) securities. No assurance can be given as to the ultimate value, if any, that may be ascribed to...AMR's equity securities
Conclusion
Anyone holding AMR shares should take advantage of the spike to liquidate. In my opinion, it remains unlikely that AMR equity holders will receive anything at all. However, even if AMR equity holders receive some value, I would expect it to be much less than $400 million. Furthermore, at this valuation, the upside for AAMRQ seems quite low as we have already gotten the good news. In short, at current prices the risk in buying AAMRQ far outweighs the potential reward.
Disclosure: I have no positions in any stocks mentioned, and no plans to initiate any positions within the next 72 hours. I wrote this article myself, and it expresses my own opinions. I am not receiving compensation for it (other than from Seeking Alpha). I have no business relationship with any company whose stock is mentioned in this article.