This summer I will be taking a trip to Europe and will be flying business class on the new Boeing (NYSE:BA) 787 "Dreamliner". Obviously I would like to read some positive stories prior to my boarding the plane, but I am definitely looking forward to the experience. The new plane looks like it will become the "Platinum Standard" of the flying experience.
The recent, somewhat serious problems that the new plane has faced, has caused some turbulence in the Boeing share price, and that could mean a potential opportunity for investors. Actually, Wednesday the share price has rebounded which leads me to believe that many traders have sniffed out a short term trade based on the "bad" news.
This recent Seeking Alpha "Market Current" came as positive news for traders:
"Wednesday, January 9, 3:52 PM Boeing (BA +3.5%) defends the safety of its 787 Dreamliner after three incidents in three days (I, II, III), expressing "extreme confidence" in the plane. Analysts also have ridden to the rescue today: Citi says the incidents "do not signal grave issues" with the Dreamliner's long-term prospects, and Oppenheimer sees the issues as ordinary 'teething' problems "magnified by the 787's media glow."
I am not talking about trading Boeing shares however. I am suggesting that we take a look at a long term investment in one of the worlds truly great companies.
Boeing Fundamentals Are Strong
BA: Price: $76.76/share, Dividend Yield: 2.65%, ESS Rating: Bullish
1) Enterprise value of $56 billion makes this company one of the largest in the world.
2) Total cash available is over $11 billion.
3) YOY revenue growth of about 12.90% and an anticipated dip in YOY earnings of 6%, due mainly to the entry price sales of the new 787, actually beat analysts estimates last quarter.
4) A very strong dividend growth track record with a low payout ratio of 30%.
5) A modest P/E of 14.99 for 2013.
This chart shows that BA has been a consistent dividend winning stock, and could be placed quite nicely within the "Team Alpha" portfolio for income seeking investors and those who are retired or seeking retirement. With a low payout ratio of 30%, BA will probably continue increasing their dividends for quite some time.
While these basic fundamentals are strong, the most unique ingredient that Boeing has right now, is that they could very well become a growth company again. The 787 Dreamliner, in spite of the recent difficulties, could add an enormous amount of top line growth even before the earnings on the planes begin to kick in.
A Global Growth Story With A Large Footprint
I suppose Boeing can be considered a global conglomerate of sorts since not only is their business on a global scale, but also their manufacturing partner reach is global. The 787 is not being built with just several manufacturers, but many all over the world.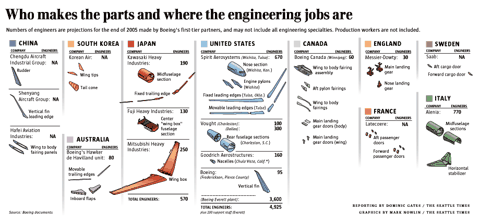 An interesting diagram to say the least, but the financial impact that Boeing has on the world is evident. Especially when it comes to the 787. Given that the issues the new plane has faced has caused jitters, there simply is too large of a global business implication for this new generation airliner to fail.
Skeptics have been quick to point out that BA has been selling the 787 below the cost to manufacture. While this is true for now, it is also the way this business has worked. A new plane is built and the first "run" is to bring in the airline companies for initial orders, and lower manufacturing costs for future planes. That being said, UBS analyst, David Strauss believes it will take Boeing until 2021, rather than 2015 - as Boeing predicts - to breakeven on the 787, according to the New York Times.
However, based on the giveaway price, the airline companies will commit to the next "generation" of the new model, which in this case would be the 787-9 series, and the 787-10 series. Just as important, is that the global manufacturer's have such a vested interest, that BA might not find it that difficult to have them reduce their costs NOW. If those manufacturers refuse to do this, then not only could Boeing suffer, but all of their partners would.
The fact remains that BA is large enough to wait until 2021 to make money on this plane. It remains to be seen if their partners can, and they probably will make considerable concessions.
A backlog approaching 1,000 orders is simply too huge to ignore. As the article even noted, the recent issues could work to Boeing's benefit in many ways besides cost concessions;
"And judging by the way Boeing has flubbed the 787 so far, it has an untapped opportunity to prove it has the management chops to fix the 787′s technical glitches and earn back its investment ahead of schedule."
It is my belief that BA has the management "chops" to make this work. Even their mission statement on the 787 gives us an indication of the management dedication to this project: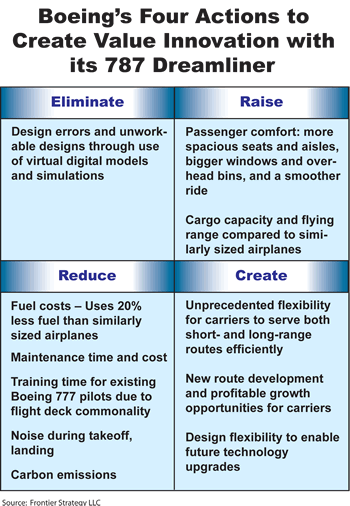 BA is determined to create the ultimate flying experience with the 787, and to save the entire industry money. This project will not go "quietly into the night", and that to me spells opportunity and serious growth for shareholders now, and of the future. Boeing expects to sell 3,500 units over the next 20 years with a total value of $400 billion.
Boeing Does Not Live On Dreamliners Alone
Let's not forget that Boeing has many products already in service. These products are on a regular maintenance, repair and replace schedule. Boeing has projected that about 7200 of its planes will be replaced between 2012-2031 in North America alone (read this report).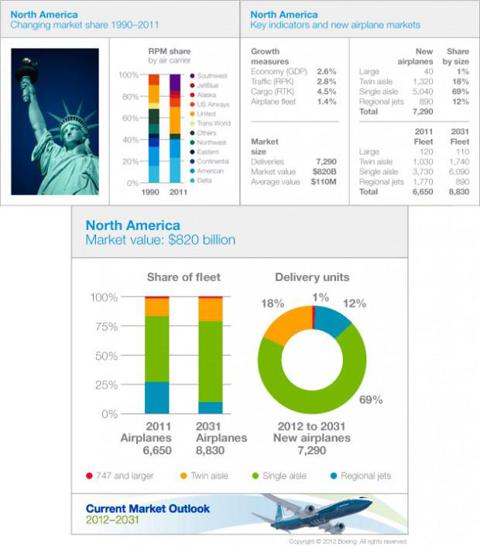 With nearly $1 trillion dollars on the table over the next 20 years, and perhaps the same amount in the rest of the world, Boeing has a very bright growth story to tell.
My Opinion
The traders have had their "pop" Wednesday as the share price rose by about 3%, but in after hours trading shares have sold off by about .50%. I believe that the stock could sell off a bit Thursday, but perfect entry prices always seem to elude me.
As an investor however, owning shares of BA sooner than later, could prove quite profitable from a capital appreciation standpoint, as well as a dividend income investment, for the long term.
As with any suggestions I might make, please do your own research, and do not make any decisions based solely on my opinion.
Disclosure: I have no positions in any stocks mentioned, but may initiate a long position in BA over the next 72 hours. I wrote this article myself, and it expresses my own opinions. I am not receiving compensation for it (other than from Seeking Alpha). I have no business relationship with any company whose stock is mentioned in this article.