By: Brendan Gilmartin
Wells Fargo (WFC) is slated to report 4Q 2012 earnings before the closing bell on Friday, January 11. The results are typically released at 8:00 a.m. EST and will follow with a conference call at 10:00 a.m. Wells Fargo is the first of the major U.S. financial institutions to report earnings for the fourth quarter and could set the tone next week for the likes of JP Morgan Chase (JPM), Citibank (C), and Bank of America (BAC).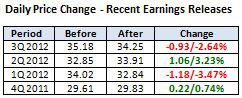 Outliers & Strategy
For the 4Q period, the Street is looking for earnings of $0.89 per share (Source: Yahoo! Finance). The range is $0.84 to $0.92.
On a historical basis, earnings have tended to closely track consensus estimates.
Revenues are seen rising 3.3% y/y to $21.3 bln, with some estimates running as high as $21.8 bln.
Unlike previous quarters, Wells Fargo is the FIRST of the major financial institutions to deliver quarterly results. Therefore, both underlying banking shares and broad market measures such as the S&P E-Mini Index Futures and Financial ETF (NYSEARCA:XLF) could be influenced by the outcome of the report. Others: Direxion Daily Financial Bull 3X Shares (NYSEARCA:FAS) & Bear 3X Shares (NYSEARCA:FAZ).
Wells Fargo shares are up nearly 15% from the mid-November low near $31.50. Given the recent strength, look for EPS at least at the upper end of the analyst forecast range of $0.91 to $0.92 in order to push the shares higher from here.
Following its previous earnings release, Wells Fargo announced a quarterly common stock dividend of $0.22 per share, bringing the yield to 2.54%. The company also disclosed plans to acquire an additional 200 million shares.
Wells Fargo shares are currently trading at 1.2x book value, a slight premium to its rivals: JP Morgan Chase (0.87x), Citibank (0.67x), and Bank of America (0.54x)
Using the January 35 CALLS, the options market is factoring in a 3.5% move in Wells Fargo shares following the earnings release.
Recent News
01/04: Goldman Sachs downgraded Wells Fargo from Buy to Neutral, according to a post on StreetInsider.com. The firm noted that the recent returns are already reflected in the share price. However, the firm maintains a $40 price target, based on several factors, including funding costs, reduced expense leverage, and strength in mortgage banking.
12/19: Evercore Partners lowered its rating on Wells Fargo from Overweight to Equal-Weight, according to Benzinga.com, and cut the price target to $37.00.
12/19: Morgan Stanley cut its rating on Wells Fargo from Overweight to Equal-weight, according to StreetInsider.com.
Technical Review
Wells Fargo shares are up close to 15% from the mid-November nadir, bumping up against formidable resistance near $35.00 - a key level dating back to early September. A push through $35.00 on solid earnings could set-up a retest of the September/October highs near $36.00. Conversely, support is at the 20-Day SMA near $34.50, with downside risk to the 50-Day SMA at $33.50. (Chart courtesy of StockCharts.com)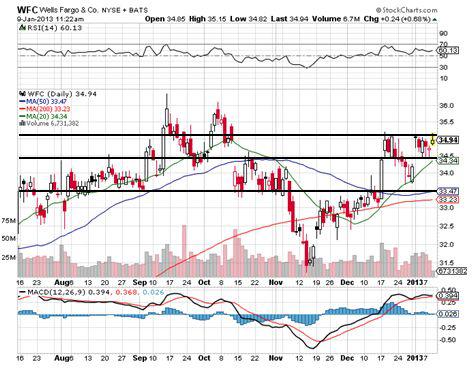 Summary
Wells Fargo shares have been rallying in recent months, benefiting from the resurgence in lending activity, healthier net interest margins, a pickup in lending in North America, and the housing market recovery. Despite the recent gains, however, the shares have encountered stiff technical resistance near $35.00, while analysts have been cutting ratings amid concern over higher valuation. With that being said, the bar is set fairly high in advance of the 4Q 2013 earnings release, implying Wells Fargo needs to deliver earnings at or above the upper end of the forecasted range to maintain the positive trajectory.
DISCLAIMER: By using this report, you acknowledge that Selerity, Inc. is in no way liable for losses or gains arising out of commentary, analysis, and or data in this report. Your investment decisions and recommendations are made entirely at your discretion. Selerity does not own securities in companies that they write about, is not an investment adviser, and the content contained herein is not an endorsement to buy or sell any securities. No content published as part of this report constitutes a recommendation that any particular investment, security, portfolio of securities, transaction or investment strategy is suitable for any specific person.
Disclosure: I have no positions in any stocks mentioned, and no plans to initiate any positions within the next 72 hours. I wrote this article myself, and it expresses my own opinions. I am not receiving compensation for it (other than from Seeking Alpha). I have no business relationship with any company whose stock is mentioned in this article.