Down to Business
CoreSite Realty (NYSE:COR) is trading at an attractive valuation: P/FFO 9.2X, a 3.66% yield and historically low debt levels (for the company and entire eREIT universe). Last quarter, CoreSite increased its dividend by 50%, from $0.18 to $0.27 quarterly. The company's balance sheet has a non-capitalized carrying value of over 700m in real estate, 13.5m in cash and a 9-month property level nominal NOI of 80m. Armed with a development pipeline of over 500 thousand square feet, new capital and an extremely favorable debt restructuring agreement with its lender, Keybank (NYSE:KEY) Associates, I think it is safe to say CoreSite Realty is worth looking into.
CoreSite Brief
As of January 3rd, 2012, CoreSite Realty's portfolio included 14 operating data center facilities, three data centers under construction, and one development site. The company has a very manageable strategy of owning and operating a handful of data centers that can accommodate fortune 500 companies leasing large space, while simultaneously maintaining the niche of small scale storage. What differentiates CoreSite from its competitors is its ability to scale smaller operations, and accommodate customers' growth as they develop the need for more space. While CoreSite is the smallest data center REIT, it has managed its growth extremely efficiently and is strategically located in some of the largest and fastest growing data center markets in the United States, including Los Angeles, the San Francisco Bay and Northern Virginia areas, Chicago, Boston, New York City and Miami.
Source: SEC 10-K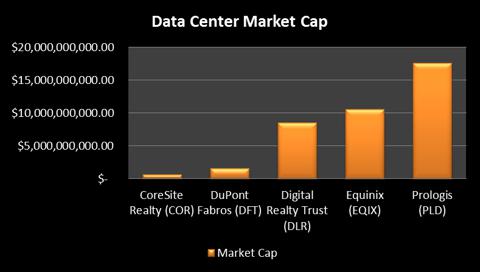 Substantial Mid-Period Activity
Following the issuance of 110m in preferred stock (7.25% cumulative redeemable, $25.00 par), the company has reduced its mortgage debt by 52% and paid off its entire revolving credit facility. Additionally, CoreSite has renewed/restructured the credit facility under far more favorable terms. This mid-period debt restructuring has gifted CoreSite Realty with one of the most attractive debt ratios in the equity REIT universe: a debt/market cap ratio of 9.6%.
The following table outlines the national association of REITs (NAREIT) sector debt ratio averages as of December, in comparison with CoreSite Realty:
| | |
| --- | --- |
| Equity REIT Sector (NAREIT) | Debt Ratio |
| Multi-Family | 36.6 |
| Mixed | 47.1 |
| Lodging and Hotel | 50.1 |
| Office | 46.7 |
| Industrial | 41.8 |
| Shopping Centers | 43.8 |
| Regional Malls | 47.4 |
| Free Standing | 30.7 |
| Manufactured Homes | 45.3 |
| Diversified | 26.4 |
| Healthcare | 32.1 |
| Timber | 23.5 |
| Storage | 26.4 |
| CoreSite Realty | 9.6 |
The Genesis of a Better Deal
CoreSite recently engaged in a preferred share issuance of 7.25% cumulative redeemable stock, at a $25.00 redemption price. The issuance raised 110m, and allowed CoreSite to eliminate its mortgage level debt on 12100 Sunrise Valley, and pay off the balance of its previous revolving credit facility.
What is even better; Keybank and CoreSite re-negotiated the terms of the credit agreement to an additional 100m, a lower rate and transitioned from recourse to non-recourse:
Previous Revolving Credit Facility:
| | | | |
| --- | --- | --- | --- |
| Facility | Periods | Recourse | Rate |
| $250,000,000 | 3 Years plus 1 year extension option | Full Lien on Five Properties | Libor Plus 225-300 bps |
Restructured Credit Facility:
| | | | |
| --- | --- | --- | --- |
| Facility | Rate | Recourse/Lien | Rate |
| $350,000,000 | 4 Years plus 1 year extension option. | Non-Recourse | Libor Plus 200-275 |
The following comparison illustrates the impact the reduction in debt has on CoreSite's debt levels. However, the 110m in preferred stock needs to be considered as a separate debt item as well.

How CoreSite Stacks Up Against Competitors
CoreSite Realty has had an exceptional year, and despite a 60% total return, still offers an exceptional price/FFO of 9.2X. While Equinix (NASDAQ:EQIX) was the clear leader, I find CoreSite Realty's dividend yield and scale much more attractive. Equinix is still in the process of solidifying its REIT status, and while I expect it to have continued success, I favor CoreSite on a fundamental level due to its recent debt reduction.

You may notice that I have thrown Prologis (NYSE:PLD) in the mix for illustrative purposes, as it has some hybrid data-center capabilities. The data-center sector is exceptionally small, and NAREIT has yet to assign a separate category for data centers. Instead, NAREITs indices and publications group data centers in with "Diversified Equity REITs." Additionally, NAREIT has not listed Equinix in any of its indices, as Equinix has yet to fully transition to the stipulations and requirements of a REIT, under federal tax laws.
Sector narratives aside, CoreSite's FFO growth and fundamental price/FFO and FFO growth rate are very attractive at these levels, 9.2x and 11% respectively. Additionally, CoreSite has raised its dividend this past quarter from $0.18 per share, to $0.27 per share, a 50% increase.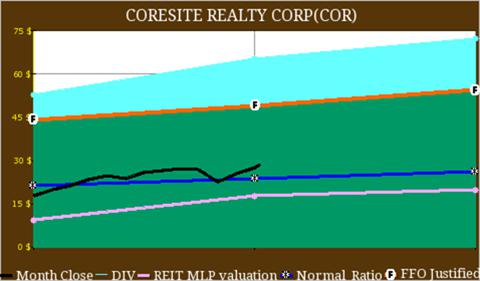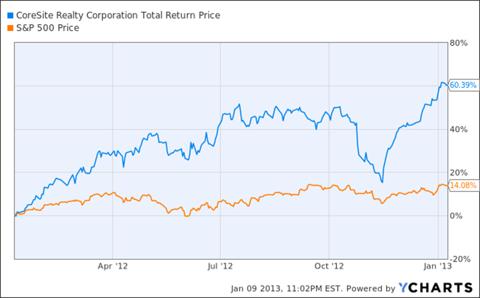 Smaller Scale, Manageable Business Model
CoreSite's differentiated business model, allows it to accommodate smaller companies in addition to large, nationally recognized tenants, has allowed it to grow organically compared to DuPont Fabros (NYSE:DFT) and Digital Realty Trust (NYSE:DLR), who primarily focus on build-to-suite operations, and acquisitions (primarily DLR) for major tenants.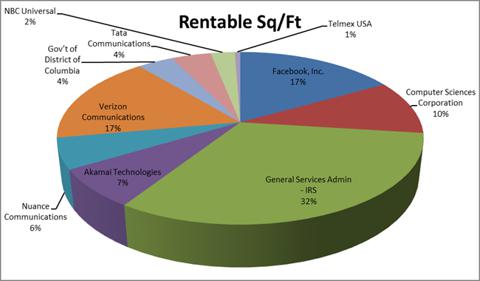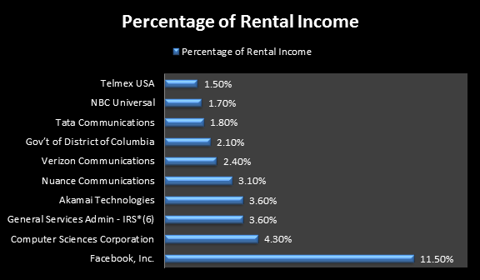 Ahead of the Curve in Small Scale Cloud
Datacenterknowledge.com, reports that trends emerging in data centers include "virtual private suites," which essentially function as a private cloud; a small scale infrastructure such as a data locker that is leased to individual clients. CoreSite Realty has been ahead of the curve of this industry trend, and has offered small scale leasing to clients in a much more obvious and heavily marketed program than competitors. CoreSite manages a program that caters to small companies, and individuals, offering them colocation and cloud storage connectivity, which features magnetic key controls, custom temperature, tailored access and tailored infrastructure.
Competitors who focus on large scale colocation, interconnection and business continuity have websites, and marketing materials that seem to focus far less on smaller scale operations.
Leasing large, custom spaces to clients can create issue with renewals, as major data clients such as Yahoo (YHOO) and Facebook (NASDAQ:FB) have begun to build and develop their own data centers. In its last quarterly statement, DuPont Fabros reported that its second largest client, Yahoo, did not renew 2.8% of its lease. While CoreSite is not immune to this phenomenon either, as nearly 11% of its income comes from Facebook, CoreSite's focus on smaller clients should provide it with a broader margin of safety than its competitors.
The following table illustrates the small scale of many of CoreSite's leases. In my own opinion, this strategy offers more flexibility in terms of tenant loss and turnover when compared to competitors such as DuPont Fabros, who dedicate nearly half of their portfolio to large tenants such as Yahoo.

NNN Revenue With Some Power
Like most data-center REITs, CoreSite collects straight line rent with one very lucrative add on: power revenue. Data centers expend an enormous amount of energy cooling, and delivering high speed data networks cloud storage, bandwidth and accessibility.
A property level pro-forma of CoreSites 9-month NOI, exhibits the fact that nearly 43% of rental income comes from providing power to clients.
Additionally, the line item "rent" is a property expense paid on three data-center operations that CoreSite leases and manages to clients, but does not own. The following is summary of the company's assets, owned and leased: One Wilshire, 1275 K Street, 910 15th Street, and 639 E. 18th Avenue, and the Company leases its headquarters located in Denver, Colorado, under a non-cancelable operating lease agreement.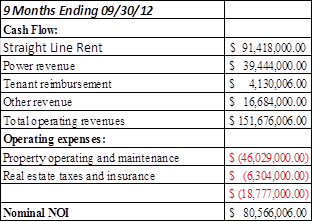 Development Pipeline and Growth
Reston Development
198,000 NRSF expansion, with $60.0m expected cost for Phase 1 in 2013 with 50,000 NRSF completed.
Santa Clara Development
101,000 NRSF and $19.0m total cost for fully-leased BTS
Pre-Stabilized Near-Term Construction
•148,200 NRSF pre-stabilized projects delivered in the past 12 months
•110,000 NRSF under construction and near-term projects totaling $35.0M remaining to be spent
TBD 2013 Development
•Expected cost for Phase 1 in 2013 of $60.0 - $80.0M
•Location TBA
Contrary View
While the debt restructuring that occurred mid-period was a successful endeavor, it did add 110m in preferred stock liabilities to the company's balance sheet. Additionally, the preferred shares carry a 7.25% interest rate, which will add an additional expense to $1,937,000 in expenses to quarterly operating income. Another important consideration is a covenant the lender (Keybank) has placed on the revolving credit facility: it may not be drawn to pay dividends. Contrary to many investors' understanding of REITs, is the fact that some manage to pay dividends with debt. While I do not expect this be an enormous problem, it is an important consideration to take on board.
Conclusion
I hope this was a relevant overview of a very interesting investment idea for 2013. While I am certainly not an expert in data centers, I believe the value of this investment shines through in its balance sheet and management. With the intricacies of data centers aside, the REIT itself is a very interesting, and low leverage investment worth looking into.
Disclosure: I have no positions in any stocks mentioned, and no plans to initiate any positions within the next 72 hours. I wrote this article myself, and it expresses my own opinions. I am not receiving compensation for it (other than from Seeking Alpha). I have no business relationship with any company whose stock is mentioned in this article.