Since early 2011, the AUDCAD currency has risen 4%, from parity to 1.0414 now. But counter intuitively over the same period, the two respective central bank interest rates have converged 175 basis points (RBA from 4.75% to 3%, and BOC unchanged). The chart below shows clearly how the currency cross and the 2 year interest rate differentials have diverged, primarily due to continued carry trade inflows and Central Bank diversification into the Australian dollar.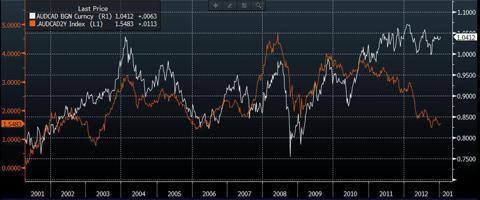 Not only does this imply the AUDCAD cross should be trading a lot lower (towards 0.8500 !!), but so does the forward looking interest rate expectations. In mid December ANZ and Goldman revised down their RBA expectations for 2013, looking for another 100 basis points and 75 bp of cuts respectively. Yet the Overnight Index Swap ((NYSE:OIS)) is only pricing just 39bp of cuts for the next 12 months. In Canada, on the other hand, the OIS is now pricing in one hike of 25bp by year end after Friday's surprisingly strong employment report, where the net change in employment was +39.8k (+2.5k expected) and the unemployment rate fell to 7.1% (rise to 7.3% expected).
Contrast the Canadian data with the last 2 days of Australian data. Yesterday the trade balance grew to its biggest deficit in 4 years, while today saw a second consecutive month of disappointing retail sales numbers, down -0.1% (expected +0.3%). As Yasser Dallal succinctly wrote in December;
No respect is paid to the weaker economy, the wider trade deficit as exports are 10% lower than a year ago as China demand abates significantly, or to falling business confidence and delayed mining projects and investments on higher costs, lower labour productivity and less profitability and a loss of competitiveness. Capex intentions and projections are lower as resource investment plans are trimmed and company operating profits are weaker. The investment peak may have already passed. Furthermore, domestic retail is struggling as profit margins are hurt. Construction and private sector credit is weaker, which is a problem for the RBA as it needs to replace the slowing mining investment cycle with other sources of demand.
For those looking to sell the Australian dollar (NYSEARCA:FXA), the Canadian dollar (NYSEARCA:FXC) offers a greater opportunity than the U.S. Dollar, which will be entwined by political wrangling and FED policy for months to come.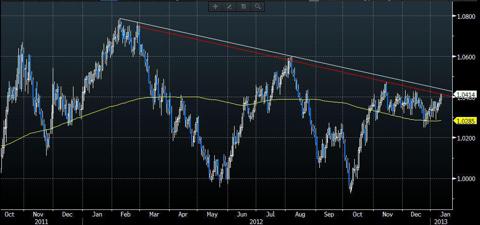 Looking at the chart (above), an aggressive trade would be to sell the cross here at 1.0414 as we test the 1 year resistance lines, with a stop loss above the August 2011 peak of 1.0600. A more conservative strategy would be to wait until after next week's Australian employment report (due 17th) and/or wait to see the cross conclusively moving lower, say a close below the 200 day moving average at 1.0285. Any sell off in "risk assets" will see the downside move accelerate fast.
So while the interest rate differentials imply a possible long term correction lower in the AUDCAD currency of as much as 25%, the medium term risk/reward trade is to look for a correction lower of 5-10% over the next 3 months, with protection offered by the long term resistance lines hovering just above current levels.
Disclosure: I have no positions in any stocks mentioned, and no plans to initiate any positions within the next 72 hours. I wrote this article myself, and it expresses my own opinions. I am not receiving compensation for it (other than from Seeking Alpha). I have no business relationship with any company whose stock is mentioned in this article.