It really is great that Japan is getting more attention, but the conventional (and erroneous!) wisdom of "buy iShares Japan (NYSEARCA:EWJ) to play the Nikkei" often brings more confusion and disappointment than matched upside. See chart below.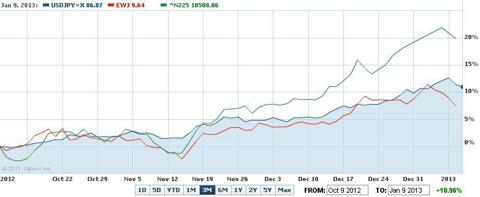 And watch out come January 22, for starters, following the Bank of Japan's monetary policy meeting -- seems the "market" will need to see perfect execution (or else?). I'm so looking forward to all the BoJ watching and hopes of more asset buying. Kidding, of course, couldn't help myself.
Meantime, the exporter- and mega bank-(top) heavy index weightings further obscure the fact that there are actually a broad selection of domestic-demand companies whose stocks offer the best value and far less cyclicality. Many such stocks have participated in the recent rally, albeit to a lesser extent, and their valuations were so cheap to begin with that they remain very compelling. So what domestic-demand stocks does the market like, maybe a little too much, too fast: real estate-related companies are in fashion. See chart below for a sample of what's getting bid up, not atypical of bigger broad market rallies. Tokyotokeiba (JP: 9672) owns a variety of real estate including horse and auto racetracks, warehouses, and amusement parks. Margins/returns aren't pretty, but the popular theme is to buy stocks with lots of real estate on the books.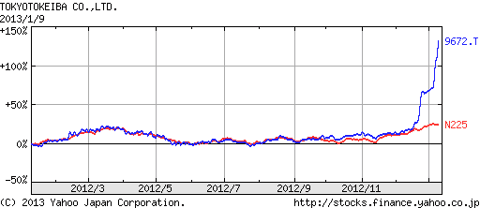 In my last article on SA, I included some figures of what a 1-yen impact is expected to have on operating income for exporters (that is, how much each 1-yen change in the USD/JPY and EUR/JPY exchange rates impacts operating income; for Toyota (NYSE:TM) its respectively +/- $350M and +/- €50M). Something to keep in mind is that the now ~10% weaker yen in general can essentially be considered as factored in. While traders are watching the BoJ, what investors will want to look for is how bullish company forecasts will be for the next fiscal year come this fiscal year end in March (when most Japanese companies' fiscals end). Further, what may not be as factored in are the overseas denominated cash/equivalents holdings on the books and in some cases the robust domestic securities holdings. Such holdings, and especially cross-shareholdings, are a favorite target of criticism in bear markets when its writedown time, but the reverse goes to work in such a sharp rally let alone (imagine) a proper re-pricing of Japanese equities that is overdue.
Quickly, among ADRs of companies focused domestically in Japan, I continue to add to my position in Internet Initiative Japan (NASDAQ:IIJI), a company I've written about over the years on SA and have no plans to sell. Otherwise NTT (NYSE:NTT) is dirt cheap and NTT DoCoMo (DCM), whose equity is 63%+ controlled by NTT, is by no means expensive, and both have 4%+ dividend yields. I'd be an NTT shareowner if I weren't so biased for small and mid-cap stocks.
Following is a selection of sound conclusions and thought provoking points of view from articles that I've read in recent weeks:
Aggressive Easing Wrong Medicine for Japan -- Stephen Roach
I don't think it's going to work. QE (quantitative easing) is good at containing the downside, addressing crisis and disruptive markets, but it definitely doesn't give you traction in regenerating demand in the real economy. [...] If Abe leans on the BOJ, he's just barking up the wrong tree.
Let's Cut the Crap About Japan's 'Lost Decade' -- Marshall Auerbach
It is also important to reexamine the goal of growth regardless of its sources. While economic growth may help to improve standards of living and to meet the needs arising from population growth, it is not clear that there is a direct relationship between improved welfare and economic growth, especially for developed economies. The case of Japan shows us that we need, alternative measures to the Gross Domestic Product, such as the Genuine Progress Indicator, (which incidentally show no significant improvement in U.S. economic welfare since the mid-1970s - so who has really experienced 'lost decades"?). Rising socio-economic and environmental problems have outweighed the gains from increased final output. It's time to move away from the simple caricature of Japan and consider whether we need a better way to measure economic progress.
The Myth of Japan's Deflation -- Undervaluedjapan (also see A Letter to Mr. Market and Corporate Japan, whose conclusion is pasted below)
Corporate Japan, you have got the true economic resources, and not the Bank of Japan, to jump- start the Japanese economy. To breath new live into the Japanese market and Japanese society. I promise you that, if you take decisive action, we (the rest of the market) will follow you. With it will come new optimism to the Japanese people. People and businesses will regain faith and trust in this marvelous country and also in its institutions. But do it now and do it properly. Windows of opportunity close faster than one thinks.
Sky's the Limit: Tokyo's unlikely new money tree -- Seth Sulkin in ACCJ Journal
The success of Sky Tree shows that even with a declining population, there are still opportunities in Tokyo's real estate market. Given the Japanese government's substantial debt load, the private sector can no longer rely on public works spending to create new development opportunities.
Other interesting thoughts:
Yuji Saito, director of foreign exchange at Crédit Agricole in Tokyo, said Mr. Abe's team is sending "a wise message that what they want is just to correct the extremely strong yen-not to pursue weakening the yen. The ¥85-¥90 range should be a comfortable zone for everyone including exporters, importers and banks as well as international partners such as South Korea and the U.S." (WSJ - "Global Currency Tensions Rise")
Paraphrased: The new Abe government incorrectly believes it's "out of money." So no outright fiscal expansion. In turn, BoJ pressured for more QE, but that's asset swapping and doesn't weaken the currency. Yen has dropped in past month or change due to "dumb" money shorts following the three stooges: Schiff, Merk, and Bass. Meantime, the govt is believed to be readying a restart of nuclear reactions; keep in mind the energy shortage is what has been driving the trade deficits in Japan. (Mike Norman -- "Me against Jeffrey Gundlach")
Regarding the yen, however, a falling yen doesn't necessarily cause trade to reverse. In fact, initially, the rising price of oil, for example, exacerbates the fall, as the quantity purchased doesn't immediately fall. (Warren Mosler -- "Yen tailspin")
Longtime Japan economist Jesper Koll adds a wish to his 2013 forecast for Japan: "I wish Japan could start to celebrate and embrace success more openly. I often get the sense the Japanese regard success primarily with jealousy and suspicion. It is almost assumed that those who succeed must have done something wrong, must have somehow broken the rules of group behavior to create success. And yes, to be exceptionally successful, you must break the mold of convention. But is that not a refreshing, liberating and exemplary source of pride, both for the creator and the group that gave them the strength to create?" (Jesper Koll -- "Japan 2013 Forecast")
Steven Towns is a co-founder of Nippon Value Capital, an activist hedge fund startup seeking to enhance Japanese equity valuations through a combination of improved asset efficiency, excess capital allocation, and corporate action. Steven is also the author of Investing in Japan: There is no stock market as undervalued and misunderstood. The only such book published in English in recent history, the author believes it will prove timely in light of historically-low equity valuations and timeless for its comprehensive explanation of the market's structure and various idiosyncrasies.
Disclosure: I am long IIJI. I wrote this article myself, and it expresses my own opinions. I am not receiving compensation for it (other than from Seeking Alpha). I have no business relationship with any company whose stock is mentioned in this article.
Additional disclosure: Author manages a portfolio of Japanese stocks focused primarily on domestic-demand Japanese companies that may only trade on Japanese exchanges. No position or plans to initiate positions within the next 72 hours in EWJ, NTT, or DCM. No specific positions around USD/JPY.