I've been concerned about the world's addiction to oil for about 10 years now. After studying the problem in great detail, I decided to support natural gas transportation as the best and quickest way to solve the economic, environmental, and national security problems that America, and the entire world, faces as a consequence of our oil addiction. But every once in awhile I get a new perspective on the problem. This happened again recently when a comment to one of my recent articles suggested this YouTube video of Yossie Hollander discussing "Fuel Freedom". It is a must see for anyone interested in energy policy.
Hollander begins the presentation by comparing various asset values (world totals). These are summarized in the following table:
World Asset Values

Gold

$8 Trillion

Bank Deposits

$14 Trillion

Global Mkt Cap of Listed Co.

$65 Trillion

Government Debt

$102 Trillion

World Oil Reserves

$180 Trillion
His point: there simply isn't enough money in the world to buy all its oil. Oil is already so expensive it has bankrupted the U.S. He points out that oil is 70% of the total U.S. fuel budget. We import a $1 billion a day in oil - more than half of the U.S. trade deficit. Although the media reports on an almost daily basis about our trade deficit with China, it is a distant second to our foreign oil dependency. It is good to hear someone agrees with me and what I have been saying for years here on Seeking Alpha: America's addiction to foreign oil imports is the main reason for its trade and fiscal deficits, the decline of U.S. economic power, and the financial crisis we find ourselves living with on a daily basis.
In terms of total dollars, Hollander comes to the conclusion that the problem is petroleum-for-transportation not coal-for-electricity. Since 70% of total U.S. oil use is consumed in the transportation sector, I absolutely agree with him that petroleum for transportation is the big problem. However, even though coal is only 3% of the American energy budget, I do believe coal-for-electricity is a big problem from an environmental standpoint. As my readers well know, I am certain natural gas is the solution to both problems
What Should We Do Now?
Hollander describes the political standoff as follows:
In the Red corner, we have "Drill Baby Drill" and nuclear energy

In the Blue corner, we have global warming with conservation, efficiency, solar & wind
Hollander doubts we can drill fast enough to meet new oil demand from countries like China, India, and Indonesia. He points out that shale oil requires large capital investments and is still very expensive and therefore gasoline is still very expensive. As my recent Seeking Alpha article Natural Gas Trumps Gasoline points out, 2012 average gasoline prices were the highest ever despite growing American shale oil production. This is because, says Hollander, total world oil demand is growing faster than total world oil supply. He thinks trying to drill our way to success is like trying to outrun a bullet train on a bicycle. There may be a 1,000 year supply of oil at $1,000/barrel. But the real question is how much oil do we have at $50/barrel. The answer is: not much.
With respect to global warming, Hollander compares oil with coal:
| | |
| --- | --- |
| OIL | COAL |
| Use: Transportation | Use: Electricity |
| Direct cost: ~$500 billion | Direct Cost: ~$30 billion |
| Emissions: #1 emitter of greenhouse gases and urban pollution (toxic particulates - "smog") | Emissions: Distant #2 to oil |
He then asks the question: why is the government focusing so much on coal? And why does the global warming crowd figure we can solve the emissions problem by wind, solar, and nuclear only without addressing the transportation problem?
So, perhaps neither party has it right. Hollander suggests we must break the monopoly on gasoline by using:
Natural Gas

Ethanol

Methanol

Electricity
in the transportation sector. (NOTE: My fans know I think ethanol is terrible energy policy, electric cars are not a solution, and that natural gas is the only domestic fuel capable of scaling up to significantly reduce foreign oil imports).
Hollander says all these fuels are domestic and cheaper than gasoline without subsidies. But why aren't the economics winning? He sites three interconnected market barriers:
Petroleum Only Cars

Gas Stations' Relationship with Oil Brands

Emissions Regulations (EPA)
Why aren't there more flex-fueled vehicles available in the U.S.? Why aren't more fuel stations selling cheaper fuels? And why does the EPA have restrictions that prevent cleaner vehicles from being adopted? Competition is the key, and he uses the analogy of AT&T in the telephone industry and as a case study in how much prices dropped on calls once real competition was allowed.
In Italy, the cost of converting a car to run on CNG is around $2,000. Here in the U.S. it is between $6-$16,000. This exorbitant price delta is due entirely to regulatory interference by the EPA. Tesla had to pay a $275,000 fine to the EPA because the company did not have an emission certificate. Of course there was no certificate because there was no exhaust pipe to put something in to measure emissions! You simply cannot (legally) change or improve your car in the U.S. without a costly hassle. Thus, we need these regulations to change in order to allow fuel competition:
For a modest cost, your car could run on $2/gallon fuel tomorrow

Standing in your way are outdated regulations and the existing fuel distribution system

We need regulatory reform and fuel competition

Fuel Freedom means fuel choice at the pump AND at the dealership
You can decide which long-distance carrier to chose, or which TV to buy - why can't Americans have choice at the pump? How do we get there? The Fuel Freedom Foundation was created with the sole mission to get cheaper, cleaner, and American-made replacement fuels to the market. This must be done by Americans as there is no chance this will happen in Washington. He ends his presentation by asking everyone to please visit www.fuelfreedom.org and register to get information and to become active in making "Fuel Freedom" a reality.
How to Invest?
While natural gas has been very successful in penetrating the vehicle fleet and long-haul trucking sectors, suffice it to say that the world remains addicted to gasoline (NYSEARCA:OIL) in the transportation sector. But I do believe 2013 will again see big growth natural gas transportation. My best picks for investors to participate in this growth trend were given in my recent Seeking Alpha article 5 Natural Gas Transportation Picks for 2013: Cummins Inc. (NYSE:CMI), General Electric (NYSE:GE), Westport Innovations (NASDAQ:WPRT), Exxon Mobil (NYSE:XOM) and ConocoPhillips (NYSE:COP).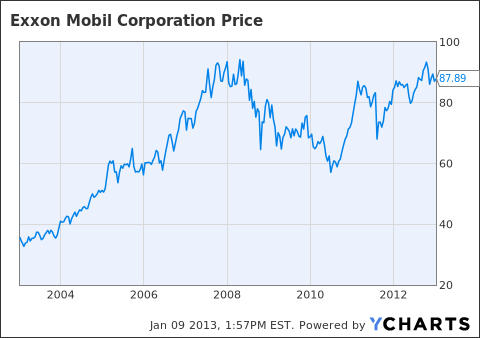 XOM data by YCharts
XOM = $87.89
P/E = 9.2
Dividend (Yield) = $2.28 (2.6%)
EPS (ttm) = $9.47
Mkt Cap = $400.5 Billion
Please read that article to get the full rationale behind those selections. Basically, given that gasoline remains dominate today, investors should have some exposure to oil. XOM and COP provide that exposure, while also being in position to benefit from the transition to natural gas transportation. Let's hope that transition picks up speed in the coming years. With involvement from people like Boone Pickens, Robert Hefner III, and Yossie Hollander, we might actually make the change before oil hits $200/barrel. I sure hope so.
Disclosure: I am long COP, XOM. I wrote this article myself, and it expresses my own opinions. I am not receiving compensation for it (other than from Seeking Alpha). I have no business relationship with any company whose stock is mentioned in this article.
Additional disclosure: I am an engineer, not a CFA. Please do your own research and contact your investment adviser. I am not responsible for investment decisions you make. Thanks for reading and good luck!