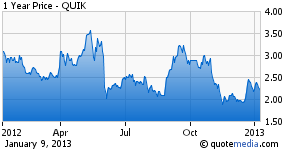 QuickLogic (NASDAQ:QUIK) announced slightly lower new product revenue in the 4th Quarter. Even though no explanation was given, it appears QUIK's new ArcticLink III family did not ship as expected, which we already knew might happen in the fourth quarter 2012. On a positive note, the press release also confirmed QUIK initiated production shipments for the new handset design that was forecasted to start in Q4. Most likely, some of the shortfall came from delayed shipments in this product. I am pleased to see this forecast was accurate and the handset design win moved into production.
In the Q3 2012 conference call, QUIK's CEO Andy Pease stated they were having difficulty addressing RGP and MIPI bridge designs for the ArcticLink III family of products. In the December 3, 2012, press release, we were informed QUIK made the necessary changes to fix bridge design problem. However, in yesterday's press release, Andy stated QUIK has received three new production orders for the ArcticLink III platform in December. Mr. Pease stated two of the production orders are using the MIPI Bridge. This is excellent news because we now know QUIK is in fact winning MIPI bridge designs. QUIK made an initial shipment to support one of the three new production orders during the month of December 2012. It is evident the MIPI bridging issue affected revenue and persisted into Q4. The positive takeaway is, the problem is now resolved.
This revenue shortfall is an opportunity to add to your shares, because the momentum of three new designs in just one month demonstrates how quickly devices can adopt and incorporate this revolutionary technology. We should find out more in the February 6, 2013 conference call about whether these designs incorporate VEE/DPO and the potential size of the orders.
This revenue shortfall appears to be mostly attributable to QUIK taking longer than expected to resolve technical issues with customers using ArcticLink III MIPI bridge. I really think this revenue shortfall will be behind us. I expect designs wins will become a trend in 2013 to drive the growth of the company exponentially.
I am going to take advantage of any weakness in share price today, as an opportunity to add to my positions hand-over-fist, as we may never see this opportunity again.
Disclosure: I am long QUIK. I wrote this article myself, and it expresses my own opinions. I am not receiving compensation for it. I have no business relationship with any company whose stock is mentioned in this article.