Look for commodities to have a strong day today as the data out of China appears to indicate more and more that a rebound is in fact underway. We might look to add uranium in the coming days, but do not plan to make a move this very day. If we do for some reason we will make a comment in the comments section found below this article and announce any trades via Twitter (we can be followed @theinvestar). Silver has moved up a bit since we began discussing our bullish thoughts on it, however a few trading sessions with success does not necessarily make a trade and this is a long-term trade on our books so 1-2% gains are not going to excite us except for the fact that they are stepping stones to our upper estimate of 50% returns.
Commodity prices this morning are as follows:
Gold: $1663.60/ounce up by $8.10/ounce
Silver: $30.58/0unce up by $0.331/ounce
Oil: $94.36/barrel up by $1.26/barrel
RBOB Gas: $2.7995/gallon up by $0.0206/gallon
Natural Gas: $3.145/MMbtu up by $0.032/MMbtu
Oil & Natural Gas
The chart we highlighted in yesterday's article highlighting that although dry natural gas rigs are down sharply year-over-year and since 2010, the fact of the matter is that dry natural gas production is up. Not because it is profitable to drill for the resource and certainly not due to companies targeting the dry nat gas shales but simply because it is a by-product of the liquids production that everyone is shifting towards. If you are a decision maker and you evaluate a well based off of liquids production only and the ROI blows away the company's required ROI you will go ahead and approve the exploration even if you get stuck with a bunch of dry natural gas as a by-product (in fact one might even be pleased with this as it can be used to get the right blend into the pipeline for transporting and can be sold and further improve your well economics.
So dry natural gas does not matter to those in the Bakken, Eagle Ford and Utica plays as they are skewed towards liquids production (oil and NGLs)and are not the gassy areas which got many companies into trouble. Even companies making the transition right now are facing headwinds and those smaller companies still heavily skewed towards dry natural gas, or even perceived to still be dry natural gas producers/explorers, are taking a beating in the current market.
Natural gas stocks had been rallying a bit, but yesterday saw an end to that and we saw names like Quicksilver Resources (NYSE:KWK) fall 6% to close at $2.81/share and we have had some ask us if the stock can move above $3/share in 2013. Keep in mind this was when the shares were rallying towards $3/share, not as they have fallen back. Another drop like yesterday's however would put this company right back at its 52-week low though, and even at those levels we do not see value when compared to peers.
The same could be said of EXCO Resources (NYSE:XCO) which until it gets some foreign properties or really cranks up the liquids transformation we would have to steer clear. Yes one can always play Wilbur Ross's coattails and hop along for the ride, but up to this point that trade has been nothing but a nightmare. The company might do better at this point to get rid of their dividend which amounts to $0.16/share and yields 2.30% and simply invest that money in higher margin wells. Dividends are great, it is hard to argue against income streams except when they may be unsustainable in the future and when reinvesting that capital into ventures with margins above the yield can help the overall company achieve a greater of return for shareholders.
On a separate note we want to highlight EV Energy Partners, LP (NASDAQ:EVEP-OLD), which we are unitholders in. Chesapeake rose on news that JP Morgan believes they will soon close a big deal and this sent shares of EVEP, which were already pretty strong during the day, higher into the close. The company should be announcing a deal for their Utica acreage in the near future and there is much anticipation surrounding this. We think the deal is for somewhere between $10-15/acre as the first package they are trying to sell is 100k contiguous acres with easy drilling requirements as it relates to capital expenditures due to the HBP status surrounding the acreage.
Uranium
So with Japan talking a good game regarding economic expansion and China turning a corner with economic growth we now have three of the world's top five economies appearing to be on solid footing and achieving actual growth in the next few years. This news has pushed our junior uranium companies higher and has our trigger finger itching in regards to Ur-Energy (NYSEMKT:URG) as we think it could be a very nice spec play here. We have owned the stock before both as a long-term and short-term trade but took profits (and some losses on a few tranches) in the shares after the Fukushima tragedy. If the uranium and nuclear sectors can pick up where they left off at that point in time (which we think is very possible with the supply issues set to occur and the demand growth we see in the coming years) then we are prepared to buy these a couple months ahead of schedule to at least have some position in case they do take off a bit early.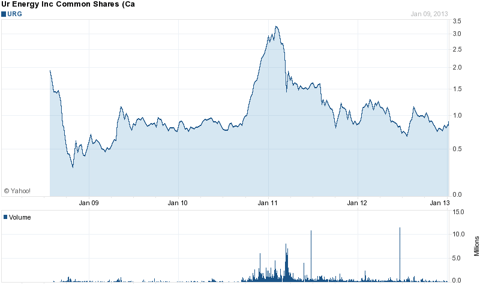 Chart courtesy of Yahoo Finance.
The above chart shows the stock's action since beginning trading in the US and with the recent action it sure looks like we have built a bit of a base to set us up for a breakout as Russia is set to take supply off of the market.
Coal
With growth in China ticking higher and energy needs (especially electricity) only increasing with that growth, we would expect coal to be setting up for better times ahead. Not long ago China was building coal plants at a breakneck pace and at the height of all of this building they were able to commission a new coal power plant almost every day. Domestically thermal coal may have issues, internationally not so much. The issue now is getting that coal overseas and whether one's production has enough of a profit margin available to even think about shipping it around the world. With that said, Alpha Natural Resources (ANR) is a buy here so long as we can pop back above $10/share and it does not break lower towards $9.50/share. Any more like that and it would be short-term bearish (for our traders) but presents an opportunity to accumulate for long-term investors.
Disclosure: I am long EVEP-OLD. I wrote this article myself, and it expresses my own opinions. I am not receiving compensation for it (other than from Seeking Alpha). I have no business relationship with any company whose stock is mentioned in this article.
Additional disclosure: I also own physical silver.