Both Asian and European shares are higher this morning on news out of China showing that they are in fact turning a corner and economic activity is ticking higher. The news immediately sent Asian shares higher last night near the beginning of their trading sessions and has sparked a rally in Europe as well. This should be welcome news in America and one would expect the commodity stocks to lead the way higher. Also look to machine and equipment makers to have good days as they are direct beneficiaries of China's largess.
We have economic news due out today, and it is as follows (these are the consensus estimates):
Initial Claims (8:30 AM EST): 364K
Continuing Claims (8:30 AM EST): 3200K
Wholesale Inventories (10:00 AM EST): 0.2%
EIA Natural Gas Inventories (10:30 AM EST): N/A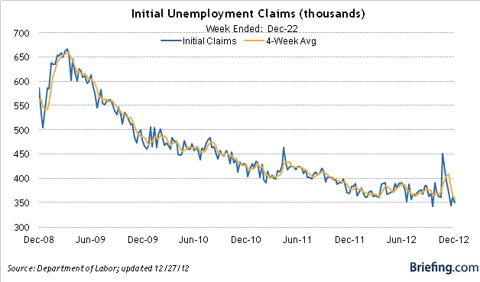 Chart courtesy of Briefing.com.
We have discussed long-term the need to get to the 300k level for initial claims for this economic expansion to be comparable to 2000 and 2005, however, the truth of the matter is that these numbers will not tell the whole story and even if we do get this measurement down to the 300k level, it is the unemployment rate which will be of the utmost importance. With the length and depth of the last recession there is a ton of labor on the sidelines waiting to trickle back into the labor market once jobs are readily available.
When the true unemployment rate begins to go down is when one needs to seriously begin to worry about inflation as the ordinary person begins to experience higher take home pay and a competitive market for their services.
Asian markets finished mostly higher today:
All Ordinaries - up 0.23%
Shanghai Composite - up 0.39%
Nikkei 225 - up 0.59%
NZSE 50 - down 0.77%
Seoul Composite - up 0.55%
In Europe markets are mostly higher this morning:
CAC 40 - down 0.09%
DAX - up 0.26%
FTSE 100 - up 0.14%
OSE - up 0.26%
Technology
Shares in Facebook (NASDAQ:FB) closed above $30/share for the first time since mid-July 2012 after the company announced that it would be throwing an event January 15th at its headquarters. No details were supplied as to what the media event entail, but the news was enough to excite both investors and analysts and get the discussion started on the company's brightened revenue outlook. Initially it was fears concerning the transition from the desktop to mobile which drove shares lower, however, it is now optimism surrounding mobile and the company's ability to connect advertisers directly to their target audience which is driving optimism which is a complete 180 degree turn from only four months ago.
Sometimes it is better to be lucky than good, and that turned out to be the case once again yesterday after we wrote up Dragonwave (NASDAQ:DRWI) with cautious statements due to Clearwire announcing that they would delay taking any financing from Sprint while they investigated the Dish offer. Our comments were admittedly directed at the company possibly being the biggest loser in the cellular takeover saga over a longer period than say one day, but we could see a nice correction here after the company missed on their earnings. These were the same earnings which the company already pre-announced to the downside and yet they were still able to fall short. It only seems fitting and with the company lowering next quarter's numbers too it leaves us wondering if that guidance is worth the paper it is written on. Note to management: When you pre-announce to the downside, you are not EVER supposed to disappoint. How is that even possible?
Consumer Goods
For those who have wondered why hedge funds are so secretive about their trades and do not like their positions to become public knowledge, even if in some cases it would seemingly help them if they did make that knowledge public, look no further than Herbalife (NYSE:HLF). We have had our own questions concerning the MLM structure, but Bill Ackman had the audacity to act upon that thinking and announced to the world that his firm had shorted around 20 million shares. It was later revealed, after critics and the company started to question the hedge fund's timing and intent, that Pershing Square was actually short the shares and their position did not include any puts.
It seems that his fellow 'hedgies' are beginning to team up by taking the other side of the trade and may try to create a short squeeze with Ackman owning such a large bearish position. This thinking seems even more logical after yesterday's news that Third Point, run by activist investor Dan Loeb, has accumulated 8.2% of the outstanding shares and will treat it as a passive investment. The company will present its case to investors and the market today and all that news would seem great except for the fact that the Wall Street Journal reported yesterday that the SEC has opened an investigation into the firm (read article here and if that does not work simply Google: 'Showdown Over Herbalife Spotlights New Wall Street' and you should be able to view the article free of charge).
Financials
Yes, American International Group (NYSE:AIG) finally did the right thing when presented with the opportunity for a shot at easy money and doing what was right. The company announced that they were not going to pursue a lawsuit against the federal government as they wanted to put that chapter of the company's history behind them and move on to what they think will be a bright future. Not only are they not going to join the lawsuit that their former CEO Hank Greenberg had filed, they are going to prevent him from suing on their behalf, to which we say BRAVO! Yes, there was a lot of backlash when news that the company was going to look into this at yesterday's board meeting, but the company took the right path by steering clear of the litigation route as well preventing someone else from effectively doing for them something they themselves would not do.
Steel
It would appear that ArcelorMittal (NYSE:MT) is taking a page out of AK Steel's (NYSE:AKS) book and looking to get debt to more manageable levels prior to the recovery we see in 2013 via an combined offering of common stock and mandatory convertible subordinated notes. It seems counterintuitive, however, cleaning up the balance sheet prior to turnarounds happens all the time and should be viewed by investors as a function of getting the company into fighting shape. Shares finished lower for the day by $0.70 (3.99%) to close at $16.83/share after the company announced the anticipated $3.5 billion offering. After the market closed, the company announced that they had priced the offering and would raise $4.0 billion prior to expenses being paid. Yes there was dilution, and yes there will be further dilution down the road, but investors only need to ask themselves if this deleveraging move will help the company exceed the expectations they previously had for the company or not; that is the question which should be used to gauge whether staying long in this stock is the right move for those who were in fact diluted.
Chart of the Day
The below chart is the S&P 500 which we took as far back as possible to put in perspective where we are today and just how far we have come in the last five years as well as the last two decades. It is an impressive chart to say the least, but it sure looks like we are approaching our third try at top area. With the strength in the market and recent economic news we think 2013 could be the year where we break out of the recent trading range.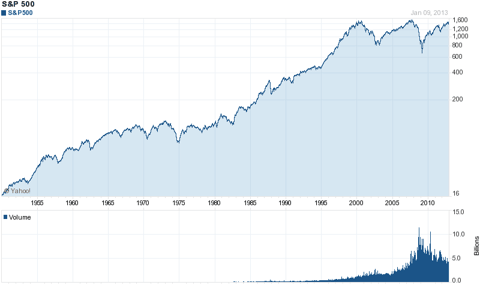 Chart courtesy of Yahoo Finance.
Disclosure: I have no positions in any stocks mentioned, and no plans to initiate any positions within the next 72 hours. I wrote this article myself, and it expresses my own opinions. I am not receiving compensation for it (other than from Seeking Alpha). I have no business relationship with any company whose stock is mentioned in this article.