We believe that Astex Pharmaceuticals' (NASDAQ:ASTX) shares represent an excellent buying opportunity. Despite positive recent developments at Astex, the company has seemingly gotten lost in the shuffle, with shares slumping sharply - more than 35 percent - during the fall biotech correction. Since then, Astex has rebounded nicely. However, given that the company has reported significant positive developments in the interim, we would not be surprised to see the share price catch up with the excellent news flow, taking Astex to a new 52-week high above $3.50/share.
And, unlike almost all other small biotech firms, there is limited downside should Astex's upcoming catalysts not play out. The company is profitable, cash flow positive, and has a tremendous amount of cash on the balance sheet, $130 million, that ensures the company can maintain its R&D budget for years to come.
Given that Astex's market cap is less than $300 million, investors can purchase a company with an excellent existing property - Dacogen, and a strong developmental pipeline including four Phase II and one Phase I drug, all entirely owned by Astex, along with various discovery and development agreements with a variety of large pharmaceutical companies for an enterprise value of only $155M. On paper, Astex looks like an obvious bargain. But we needed to dig deeper through the bear case to see if there was something we were missing before we got too comfortable with Astex.
Dacogen's Patent Cliff: Not So Steep
Just as the United States' fiscal cliff served as a distraction that needlessly galvanized investor panic over what ended up being a minor event, Astex's so-called patent cliff has been a focal point that has driven unfounded investor concern. At the moment, Astex's primary driver of value creation is Dacogen, a drug that treats a variety of blood-related cancers generally termed Myelodysplastic Syndromes (NYSE:MDS). In 2006, the FDA gave Dacogen approval for treatment of all types of MDS. Partnered with Eisai (OTCPK:ESALF) (for the North American market) and Johnson & Johnson (NYSE:JNJ) subsidiary Janssen Pharmaceutica (all other markets), the drug has been a commercial success. It is currently approved in more than 30 countries, and Astex enjoys a generous 20% royalty rate on worldwide sales. Dacogen generated royalty revenue of $60 million in 2011, and appears to be set to rise to nearly $70 million for full-year 2012.
Astex's primary source of revenue, Dacogen, currently has Orphan Drug exclusivity. Unfortunately for Astex, this is set to expire in May 2013, though it may be extended to November 2013. After this, Dacogen will be vulnerable to competition from potential generic entrants. A lot of investors have looked at this and have written off Dacogen almost entirely. Once exclusivity expires, it seems, a lot of people anticipate that Dacogen revenues will almost immediately slump to zero. This is the only reasonable way to arrive at such a low present business valuation for Astex, given the company's strong balance sheet and pipeline. As long as the company can remain profitable and cash-flow positive with Dacogen while financing a robust series of clinical trials, it should only be a matter of time until some of the pipeline candidates begin to bear fruit.
Our take is that Dacogen will not experience a sudden plunge in sales at the end of 2013, but rather a much more measured decline; the market's fears are substantially overblown. Taking a look at the MDS market, we find that there are two significant players, Dacogen, and Celgene's (NASDAQ:CELG) Vidaza. Vidaza has roughly 60% market share, while Dacogen takes the other 40%. This balance has held steadily for a number of years. Therefore, Vidaza is a good point of comparison from which we can extrapolate future Dacogen sales trends.
Notably, Vidaza went off patent back in May 2011. Despite being off patent for a year and a half, there is still no generic version of Vidaza on the market, nor has any generic been approved to come to market. Since patent expiry, Vidaza sales have, contrary to expectations, continued to surge, rising 32% in 2011, and Vidaza sales have continued to grow at a double digit clip into 2012. Given that Vidaza is a very successful drug that produced more than $700 million in FY '11 revenue for Celgene, and that it controls the larger share of the MDS market, it would seem like Vidaza would be a great candidate for a generic drug maker to target. And yet, 18 months later, there is still no generic alternative for Vidaza. We think it is far too pessimistic to assume that Dacogen will immediately face generic competition once it loses exclusivity since Vidaza has avoided genericization for so long - particularly since Vidaza has greater market share than Dacogen. Rather than seeing Dacogen sales go off a cliff in November 2013, we anticipate that a much longer tail, perhaps reaching well into 2015, will develop for Dacogen's sales.
Furthermore, in a development thus far largely ignored by the market, Dacogen received a major boost in the intellectual property department recently. In September, Astex announced that its partner, Janssen-Cilag, had received approval from the EU to market Dacogen for acute myeloid leukemia (AML). Dacogen has been used off-label for this indication previously, and now it has become the first drug to be approved and labeled specifically for AML. Astex earned a $5 million milestone from the approval, and will now have a 10-year window of exclusivity for Dacogen for treating AML in Europe. We'd also point out that one additional competitor in the AML field, Campath, was recently pulled from the market. Though Campath was not labeled for AML, it did have some off-label usage for that indication which may now migrate to Dacogen.
While Astex was reticent to give too specific an estimation of how quickly sales will ramp up for Dacogen in Europe during a recent conference call, all signs point to it making a meaningful impact. Management did guide next year's Dacogen royalty revenues to $60 million, a small decline from this year's near $70 million run rate. We'd note, however, that management has a history of guiding low and then raising guidance gradually through the year. Given the new revenue stream coming online in Europe, and the continued success of Vidaza more than a year since it has gone off patent, we anticipate Dacogen sales will surprise expectations to the upside. And in the worst case scenario, where the bears are right and Dacogen sales plummet in the United States next year, the new approval in Europe should ensure that Dacogen continues to generate a meaningful revenue stream to Astex for years to come.
Looking Beyond Dacogen
While Dacogen sales are likely to remain firm longer than anticipated, Astex's pipeline also offers great promise. The present-day Astex was formed in July 2011, when a company named Supergen bought out Astex, a privately-held UK firm. Supergen had its Dacogen franchise, but little else in the pipeline, and as such was cash rich and drug prospect poor. To fix that imbalance, they acquired Astex, which had a wide range of development programs, and the combined company has been able to accelerate its research efforts.
In our view, the most exciting of the development programs is SGI-110. SGI-110 is a follow-on drug to Dacogen. The highlight thus far of the SGI-110 program has been the change in delivery method, from IV to subcutaneously. This change has led the drug to be longer acting. SGI-110 has shown up to 400% longer half-life than Dacogen. Interim results, announced in April, of Astex's Phase I/II trial showed multiple AML patients with complete responses.
The full results of that trial were presented December 10th at the American Society of Hematology (NYSE:ASH) annual meeting. The results were excellent for shareholders, and Astex shares have risen steadily since December 10th. With many people concerned about patent expiry for Dacogen, investors seem to be missing the fact that with SGI-110, Astex has already developed its Dacogen follow-on that will likely be able to fully replace Dacogen and even gain market share. We were particularly pleased to find that SGI-110 showed efficacy for AML in patients who had already been treated with other hypomethylating agents on the market (such as Dacogen and Vidaza). Currently many AML patients are treated with off-label Dacogen and Vidaza prescriptions, but if SGI-110 can become the first drug to be approved and labeled for AML in North America, it should be able to take significant market share from Vidaza, and prevent the treatment of AML from becoming generacized when a Vidaza or Dacogen generic finally reaches the market.
Since SGI-110's trial results demonstrated encouraging efficacy, we would not be surprised to see news of a partnership for the drug. In the longer run, if SGI-110 can merely continue taking the 40% market share that Dacogen gets currently, Astex would have another highly successful drug on its hands. A study published December 24th adds even more potential for the Dacogen franchise. The study found that treating a relapsed stage 4 patient with neuroblastoma with Decitabine (Dacogen) was followed by complete remission. Quoting from the study abstract, we find that "This is the first report combining demethylating chemotherapy to enhance tumor antigen expression followed by a cancer antigen vaccine."
What this means in practical terms is that Dacogen/SGI-110 has now, for the first time, demonstrated potential to be used in combination with antigen vaccines to treat bone marrow cancer, breast cancer, and so on. This would, clearly, open a huge new market for Astex and potentially rerate shares to a far higher valuation than if Dacogen/SGI-110 is used only in direct treatment of MDS and AML.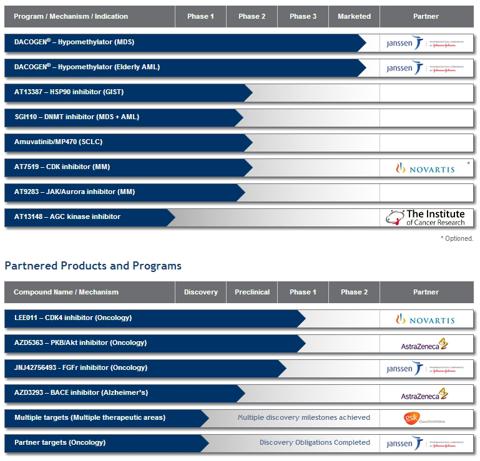 And in addition to SGI-110, Astex's 2013 will offer investors plenty of opportunities; there are numerous other programs to look forward to. For example, AT13387, which is an oral HSP90 inhibitor used to fight gastrointestinal tumors. In 2009, Astex received a 5 year grant from the prestigious US National Cancer Institute to develop AT13387. While there is not enough data to make a judgment on how AT13387 will perform in the clinic, we are optimistic given the NCI's involvement.
As you can see from the above graphic, Astex has a lot going on. There is far more to the story than just Dacogen, with the company having four wholly owned Phase II oncology drugs. In addition, the company has a whole roster of partnered programs, with a wide variety of quality collaborators, including Novartis (NYSE:NVS), AstraZeneca (NYSE:AZN), and Glaxo SmithKline (NYSE:GSK).
SGI-110 To Offer Great Upside, While Cash Shelters Astex From Negative Surprises
We are confident that Astex will perform strongly, because unlike most baby biotech companies, Astex has lots of cash, no debt, does not frequently dilute its shareholders, and is profitable and cash flow positive. Astex has $1.39/share in cash that should serve to insulate the company's shares from too much downside during market turbulence. And the company has many opportunities to generate shareholder value in coming months.
The SGI-110 data gives every sign of showing that Astex has a blockbuster follow-on drug to Dacogen in the making. A successful Dacogen replacement would likely be worth more than Astex's entire current market cap. And even if that were to not pan out, the company has a variety of Phase II programs in oncology and other fields; it is hard to predict which of these will bear fruit, but with so many balls in the air, there is a good chance that one or several of the ongoing studies will yield positive results. Finally, the market has badly misread the sales curve Dacogen will follow over the coming couple of years. As the market prices in a much slower decline in sales than analysts anticipate, we expect Astex to be revalued sharply higher. With Astex, there are many ways an investor could win, and even if they all fail to work out, downside is limited thanks to the solid balance sheet.
Disclosure: I am long ASTX.
Business relationship disclosure: My research firm provides research services to clients and manages funds for compensation, and I therefore benefit to the extent shares in ASTX rise.