Introduction:
When we started the Portfolio For Do It Yourselfers (Part 1 of this article is available here), the goal was to create a portfolio of stocks that would be the centerpiece of a retirement investment for my children. After receiving an inheritance from my sister's estate and an additional contribution from me, the children had 100k to invest as they saw fit.
Now, with dear old dad being a DG investor, I tried to steer them toward that strategy. Each of the three children took on a separate task of finding 10 companies that were investment candidates. Not to be undone, I also selected 10 companies and when we sat down at the kitchen table to compare notes, what we discovered is that there was a common thread between all four of us, in terms of stocks that we had selected.
Deciding on the final 10 was not that difficult. We agreed on the stocks to purchase and we initiated our purchase orders. The rest, as they say, is history. We've reported our updates for this portfolio here at Seeking Alpha and we hope that you have enjoyed those updates.
What I Know:
The kids have all left high school behind. Two of them are in college, one at Ole Miss and the other at Mississippi State. The oldest is at work is the nursing profession. The last two weeks have been good, with everyone at the house over the school break. But, since we aren't always together on a regular basis anymore, we actually made some additional purchases in the fourth quarter of the year.
One of the things that we have been doing lately is looking for stocks that have been beaten up on price. As part of that exercise, we try to look at the reasons why a particular stock has been beaten up and if there is a "turnaround potential" to be had with the company. We are in the habit of running stock screens.
The problem is that a stock screen can give you a list of companies that have great criteria, but have a terrible story. At the same time, in those same lists, you might be able to find some gems, once you delve a little deeper into the "story."
Not too long ago, Norfolk Southern (NYSE:NSC) reported earnings that were less than the market had expected. Over the following week, the share price for NSC fell to $56.34 by 11/16/2012. Now, NSC is a Dividend Contender with a history of increasing dividends for 11 years.
The company pays a dividend of $2.00 a share which is a 3.1% yield. But, had you put NSC on your watch list and purchased the company back on 11/16, you would have bought the company with a dividend yield of 3.5%.
Now many investors, growth investors in particular, like to use the cliche, "Buy Low, Sell High."
The "Dave Crosetti" cliche looks like this: Buy low (at a value to intrinsic worth), get a dividend (one that is increasing at a rate that is larger than inflation), look for a Dividend Growth Rate (DGR) that has been consistent over 1, 3, 5, and 10 year periods of time, hold until the story changes (dividend cut, reduction, elimination), and reap the benefits of an increasing dividend stream as you approach retirement.
What You Should Know:
The Portfolio For Do It Yourselfers has been a very interesting project on many levels. The portfolio is primarily a DG portfolio, but purchasing stocks at a value has always been a big part of the equation. We don't chase yield and we don't "buy at any price."
Following a number of disciplines, we try to find situations where we can purchase with some level of confidence, based on those metrics that we have created over the years or that we have learned from other investors.
Here is a look at our portfolio as of 1/4/2013 with the cost basis for each of our holdings and then the 1/4/2012 price point.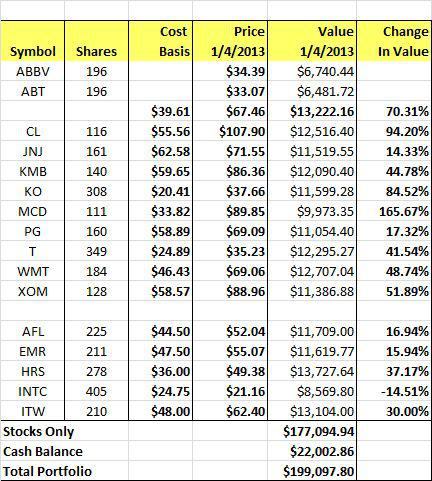 Here's We're Doing: (With Our Oldest Holdings)
Abbott Labs (ABT): Like other ABT owners, the recent spin-off into two separate companies is interesting. We have decided to sell our position in both companies on Tuesday, January 8th and look elsewhere. The selling price for ABBV was $34.50 and the selling price for ABT was $33.50 netting us $13310 from the sale. This money will be made for a purchase on January 8th, before the close of the market.
Johnson and Johnson (JNJ): The company currently pays a dividend of $2.44 a share for a yield of 3.4%. We think that JNJ will increase the dividend in the 2nd Qtr this year by 7% which is consistent with their historical DGR. That would put the dividend at $2.62 and would give an investor a little more yield at current prices, but an enhanced yield of perhaps 3.75% if JNJ should pull back to $69.50, where we think it would be a buy.
Procter and Gamble (PG): Is currently paying a dividend of $2.25 a share for a 3.3% yield. Like JNJ, I think that PG will raise the dividend around 7% in the 3rd quarter which would bring it to $2.40 a share and at I would target a 3.5% yield point for additional shares.
All Other Positions: We will continue to hold the remaining 7 positions and will look for weakness to potentially add to those existing positions as those conditions present themselves.
The 5 Recent Holdings: (The Game Plan)
Overview: With the exception of Intel (NASDAQ:INTC) the five positions that we added last year have done nicely for us.
Intel : We haven't given up on Intel yet. We think we will hold and see what the New Year brings. In the meantime, the 4+% dividend is good and I think we will see an increase in the dividend later this year and am looking for 8-10% dividend increase.
Aflac (NYSE:AFL): I wish that we had added to our position in AFL back in June when the shares were selling for $40, but we didn't. I think the company is a buy here and look for it to be at $60-$63 by the end of the year. We would want to add to our position on any softness under $50.
We will continue to hold the remaining stocks in the portfolio.
New Additions:
We are taking a bit more of a "value" slant as we move forward. We have been looking at different companies for about 6 months and while we have a preference for the Dividend Champions, Contenders, and Challengers, our focus is a little more skewed.
In November of this year, we made a purchase of 5 companies that intrigued us for a number of reasons. Here is our list.
Staples (NASDAQ:SPLS): Is an office supply company that competes with Office Max and Office Depot. The company pays a dividend of .44 a share which yields 3.7% currently. We like SPLS as a value play with a good dividend. While the company is not a CCC stock, it has been raising dividends since 2009.
Safeway (NYSE:SWY): Is a grocery retailer that has stores in California, Oregon, Washington, and Alaska. Safeway is a Dividend Contender, having increased dividends for the last 8 years. The 1, 3, and 5 year DGR has been consistently at the 20% rate which is outstanding. The most recent increase was also 20% and we feel that SWY is a value stock at this point.
CA Technology (NASDAQ:CA): Is an information technology stock that provides software and services to companies, helping them maintain their IT infrastructure. The company pays a dividend of $1.00 a share and has upside with their focus being on cloud computing solutions. As the economy strengthens, we feel that CA will prosper and attract new business.
CSX Corporation (NYSE:CSX): Is a transportation company that is a railroad. The company currently pays a dividend of .56 a share which is a 2.7% yield. While this is a little below our preferred dividend yield, CSX is a company that has had a DGR greater than 20% for their 1, 3, and 5 periods. The company is a Dividend Contender and has been increasing dividends for the last 8 years.
Western Union (NYSE:WU): Is a money transfer company that provides global opportunities for people to transfer money, pay bills, and print money orders. The company recently renewed its relationship with Safeway insuring that its equipment will be in every Safeway store for consumers to use. The stock pays a dividend of .50 a share which is a 3.7% yield. After disappointing earnings, the market price for WU dropped to $11.35 on November 2nd from $17.00 per share. We see WU as a value play.
As stated earlier in this article, we made the decision to sell both ABT and ABBV on January 8th. We placed market orders for both, with ABT at $34.50 and ABBV at $33.50. Both orders were filled and we ended up with $13,328.
New Purchase: January 8, 2013:
Norfolk Southern (NSC): We placed a purchase order for 160 shares of NSC at $64.20 a share. Our order was filled and we own NSC with a dividend of $2.00 a share with a yield of 3.1%. NSC is a Dividend Contender with a history of increasing dividends over the last 11 years. The historic DGR for NSC is 16.9%, 12.6%, 15.1%, and 22.3% for the 1, 3, 5, and 10 year periods. This purchase cost us $10,272 and that currently leaves us a cash position of $3363.
Our completed portfolio now looks like this, as of the close of business 1/8/2013: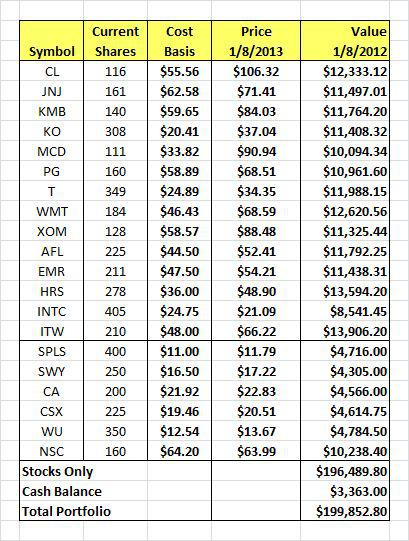 Conclusion:
The Portfolio For Do It Yourselfers has been a wonderful family exercise. It has taught a number of lessons for the family and has gotten the children very interested in the stock market and investing.
While out new investments are not all CCC companies, SWY and CSX are Challengers and NSC is a Contender. We think there is some upside potential to each of these holdings and at the same time good dividend yields to keep us warm at night.
While these picks may not be for everyone, we think that they will do well for the remainder of the year and we will update this list at the end of the first quarter.
Disclosure: I am long AFL, T, JNJ, PG, KO, CL, KMB, WMT, MCD, XOM, SPLS, SWY, INTC, CA, CSX, NSC, WU, EMR, ITW, HRS. I wrote this article myself, and it expresses my own opinions. I am not receiving compensation for it (other than from Seeking Alpha). I have no business relationship with any company whose stock is mentioned in this article.